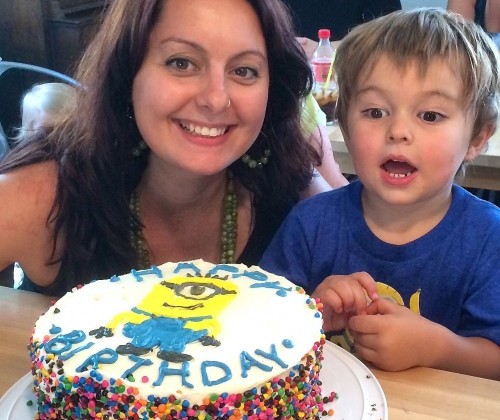 It is so cliche to talk about how quickly time passes. But seriously time just seems to fly by. The saying "the days are long and the years are short" proves itself to be truer and truer in my house. Kasper turned THREE this month. I still can't believe it. He is one rambunctious life-loving dude.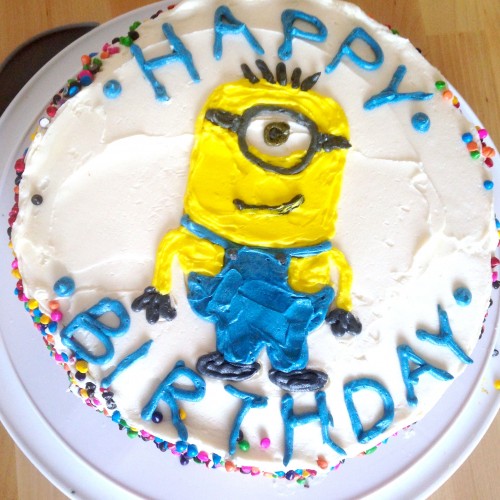 Three is such a fun age. He is really starting to understand things. For the last month he told everyone he saw that it was almost his birthday. This was the first year that he told me what he wanted on his birthday cake. "I want a rainbow cake with an one-eyed minion." Oooookay. I certainly had my work cut out for me!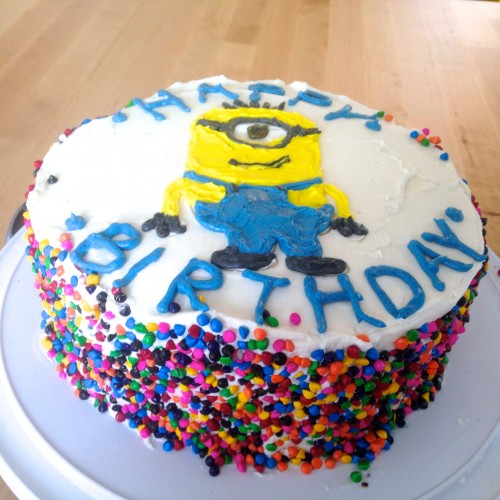 Decorating the kiddos' cakes is one of my favorite things to do for them. Birthdays are special and I want to give them exactly what they want for a cake. I always keep the cake a surprise until it is time to blow out the candles.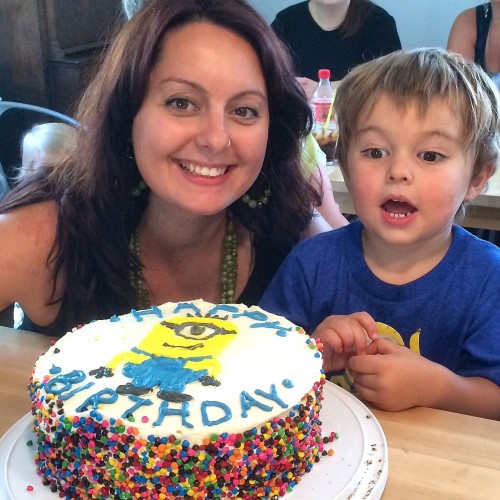 Doesn't that look like a boy that loves his cake? But wait! I still had one more surprise up my sleeve! You didn't think that the rainbow sprinkles on the outside were the only rainbow portion did you?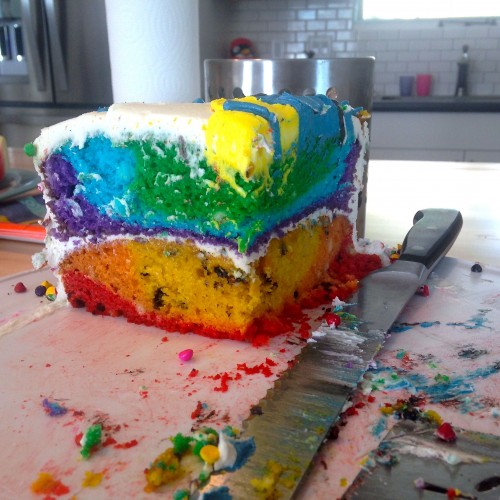 No way that would suffice. I had to go one step further and give him an actual rainbow cake. It was such a fun surprise to cut in to it and show him the colorful insides. This wasn't my first rainbow cake experience though I actually made one FIVE years ago for Sasha's third birthday. Sasha and Kasper are the most alike out of my four kiddos and this just proves it even more so.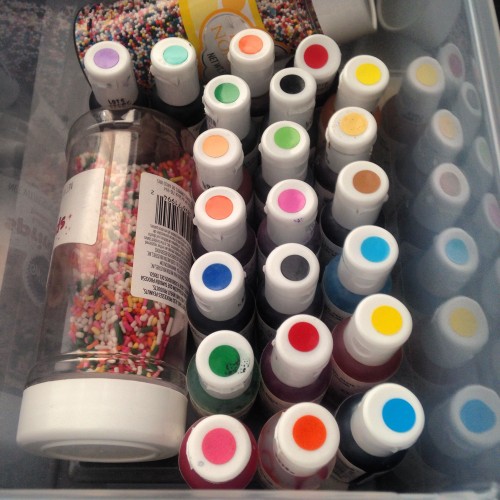 I used my favorite AmeriColor gels to dye the cake batter. These gels create the most vibrant colors. I love them! This box of colorful dyes brings a smile to my face.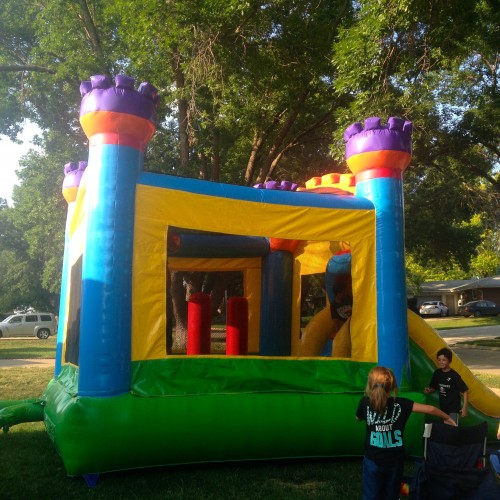 One last birthday surprise for Kasper was this HUGE bounce house we rented for the day. I mean it was his golden birthday after all. If you're local we rented our bounce house from Bounce Ninja. They came and set it up and took it down. Easy peasy. The guys were super friendly and easy to work with, definitely give them a call if you're looking for a bounce house. This provided over five hours of bouncing entertainment for all the kiddos.  It was a good day to be three!
Making the cake was crazy easy. All it took was a boxed cake mix and diet lemon lime soda. Seriously that was it. The cake was so moist. I decorated it with a fluffy vanilla buttercream frosting. The best buttercream frosting if I do say so myself.
Here is a little video that my husband put together of Kasper's day. Everyone had such a fun time!
OTHER BIRTHDAY CREATIONS:

Sasha:
Elmo Cake
Rainbow Cake
Seahorse Cake
Dolphin Cake (designed by Sasha)
Lorax Cupcakes
Apple Pie
Penelope:
Penguin Cake
Ariel Cake part 1 and part 2
Kasper:
Robot Fruit Pizza and First Birthday Recap
Chocolate Cupcakes with Peanut Butter Frosting
My MIL:
Perfect Chocolate Cake