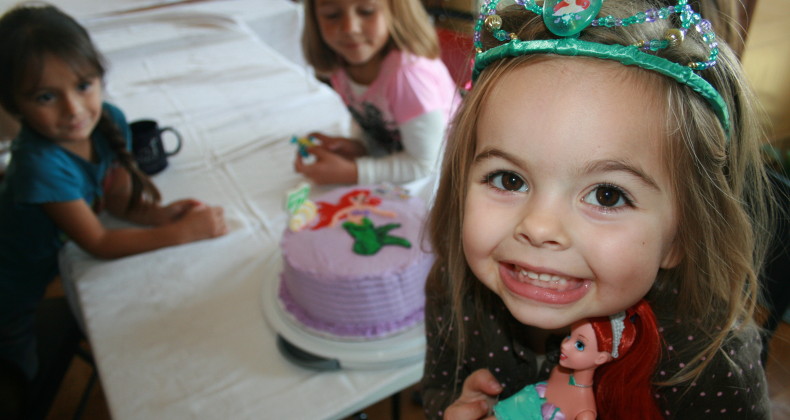 Happy Birthday Penelope (part one)
I love birthday parties, I think they rank right up there with holidays. There is only one day a year where a party is held in your honor and it should be special. Since my children are still young they don't have complete control over how their birthdays are celebrated, but they do give me suggestions of what they want to eat or what their cake will look like. I do my best to give them what they asked for.
Six months ago Penelope told me she wanted an Ariel (The Little Mermaid) cake. She has not wavered on that. Countless times since Spring I have heard her say that she wants an Ariel cake for her birthday. Since she obviously wanted an Ariel cake so badly I knew that I would have to make her one. This was a huge challenge since I am a complete amateur cake decorator with no drawing ability. The process of getting Ariel on the cake was time consuming but in my opinion pretty ingenious (I will share more on that in another post).
In the past I used "American" style buttercream (butter and powdered sugar based) to frost cakes. Although tasty I always found it to be entirely too sweet. Even though this cake wasn't especially for me I still wanted to enjoy the cake as a whole instead of scraping off most of the frosting (like I usually do). For Penelope's cake I tried Swiss buttercream instead of using and heating egg whites I used meringue powder and it turned out wonderfully. I am so happy I have found a delicious slightly sweet new "go-to" buttercream recipe.
So without further delay I will give you the details and recipe for this delicious Ariel cake. The recipe for the cake is easy, it is Pillsburry's Funfetti boxed cake mix (Please do not take away my food blogger credentials for using a boxed cake mix I was tired and still had lots of party preparations to do!)
What is your favorite icing or frosting for cakes?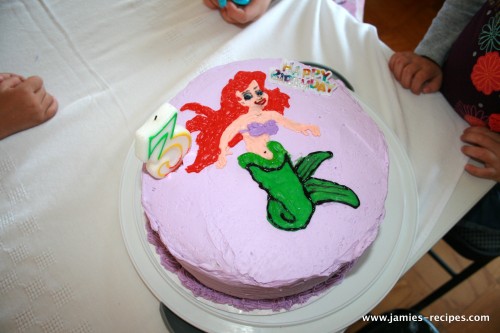 IF YOU WANT A CRUMB FREE FROSTING EXPERIENCE MAKE SURE TO FIRST APPLY A CRUMB COAT.