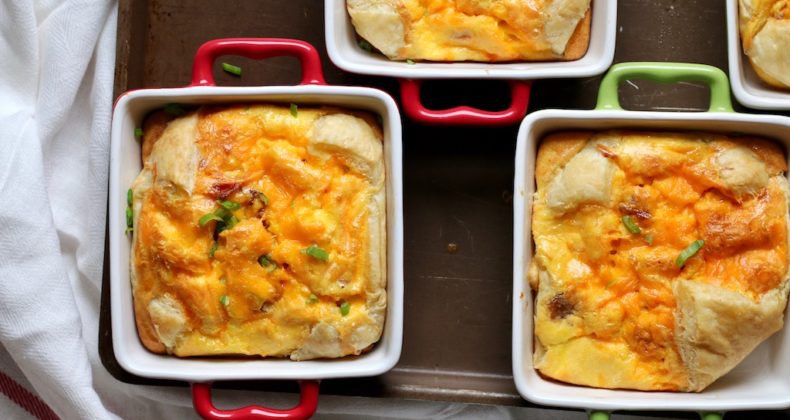 Puff Pastry Egg Souffle is the perfect breakfast to make it look like you tried harder than you actually did. 🙂 Served individually, these souffle look like something you would be charged $10+ for at a fancy brunch place. 💁🏻‍♀️ This is an extra special breakfast without all the work. Let me tell you, your weekends just got a whole lot better!
What I recommend is grabbing a bottle of bubbly, a quart of OJ, and make these for brunch this weekend. Seriously, THIS weekend! I am a mega brunch fan but sometimes staying home, not wearing a bra, and skipping the pretentious brunch crowds is truly what makes for a great weekend. (can you agree?)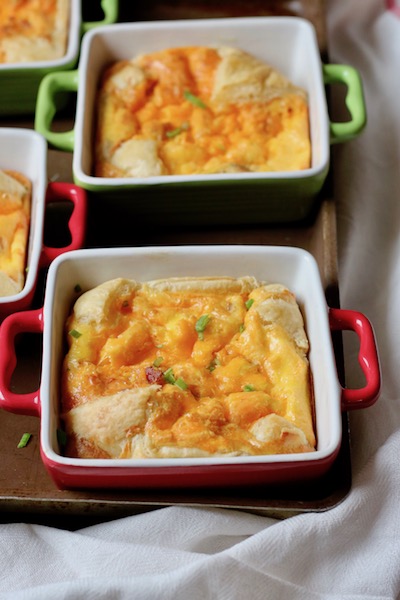 Have you ever made puff pastry from scratch before? It is one of those labor-of-love type recipes but the end results are totally worth it. If you have the time, energy, patience, and gumption to make your own, who am I to stop you. For this recipe though, I took help from the freezer aisle. No shame in my recipe game!
For me, I had all these items in the fridge or freezer so I didn't need to make a special trip to the store for ingredients. The puff pastry might be the only thing you don't keep on hand regularly. So if you need to pick some up grab a couple and store in the freezer for next time.
Add what YOU like to the Puff Pastry Egg Souffle!
This version I am sharing I kept it pretty simple with crumbled bacon and cheddar cheese. Honestly, though, the options are endless. Another good version is chopped baby spinach + feta. I can't wait to do one with fresh garden tomatoes, mozzarella, and basil. YUM!