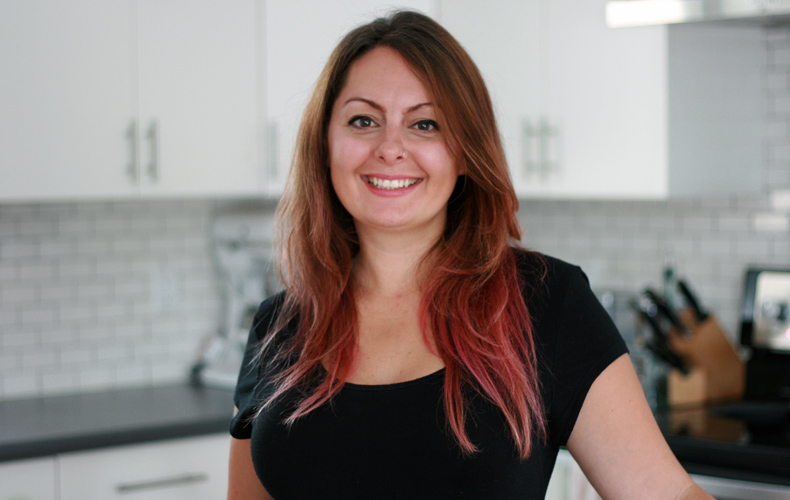 Welcome! I'm Jamie and I am the creator, recipe developer, and photographer behind The Kitchenarium. To sum me up I am a wife, mother, friend, coffee drinker, cookie baker, and frequent dinner party host. I first started writing about and developing recipes in 2007 not knowing how much I would absolutely love it.
I am married to an awesomely funny dude named Alex. He's in charge of taste testing and tech support. I have four young children that keep me on my toes and inspire my various culinary experiments. Creating fun new recipes over the last ten years has helped me keep my meals diversified and introduce my family to a variety of vegetables, spices, and cuisines.
I spend my days washing dishes and folding laundry, and my evenings are full of cross country, ballet, and swimming lessons. I am a PTA/PTO mom who will happily bake the teachers dozens and dozens of cookies or cupcakes.
Food is my passion. As a food lover, I will try anything at least once. Breakfast is my favorite meal of the day. Food doesn't have to be fancy to be good. Using fresh local ingredients, especially those I have grown myself, will make the simplest dish seem glorious.
Majority of my recipes are approachable and for the everyday home cook. Many can be put on the table in 30 minutes. Since I am cooking for a large family many of my recipes will serve six people. Don't need to feed six people? No worries because my recipes work great as leftovers for lunch the next day. This mama isn't a fan of wasting food. My recipes run the gamut from healthy to indulgent. It is all about balance.
I also frequently host large dinner parties. I am most comfortable in the kitchen being host to family and friends. Good food, cold drinks, and endless laughter fill my heart with joy. Entertaining is my niche and I hope to inspire you to break bread with your family, friends, and neighbors.
I live in Omaha, NE with my husband, four kiddos, smelly dog Marley (RIP, June 2017), and new puppy Cosmo (adopted August 2018). Each recipe I share has been tested and given the seal of approval from my toughest critics (my family). I am a self-taught cook and photographer and have had my fair share of mess-ups. Each recipe flop pushes me harder to keep creating and finally getting it just right.
When I am not in the kitchen I enjoy listening to podcasts, gardening, reading, attempting to sew, traveling with my family, scrolling through Instagram, and binge-watching series on Netflix.
I love hearing from YOU! Leave me a comment, get in touch through my contact page, Facebook, Twitter, Instagram, or email me [jamie] @ [thekitchenarium.com]
Amazon Associates Disclosure: The Kitchenarium is a participant in the Amazon Services LLC Associates Program, an affiliate advertising program designed to provide a means for sites to earn advertising fees by advertising and linking to Amazon.com