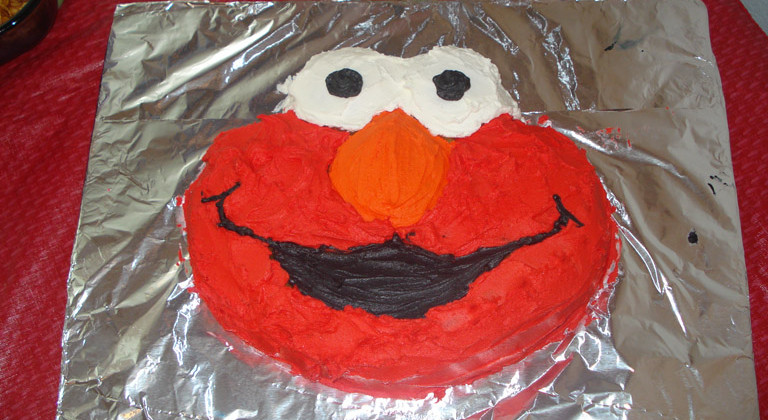 This past weekend was Sasha's birthday, she turned two. We had a nice party with our family and friends. I served barbecue pork sandwiches and cheesy potatoes. Sasha has really been into Elmo lately, so I decided to make her an Elmo cake. She loved it. It was a successful party and a very lovely weekend.
BARBECUE PORK SANDWICHES
4 Hormel Always Tender Mesquite Barbecue Tenderloin
your favorite barbecue sauce
Grill tenderloins until internal temperature reaches 160 degrees F. Take meat off grill and rest 10-15 minutes, so the juices can redistribute. Thinly slice meat. Place sliced meat in crock pot (slow cooker) on low; cover meat with your favorite sauce, add as much or as little as you like. Heat until warmed through.
I served my tenderloin on whole wheat kaiser rolls.
CHEESY POTATOES
30 oz package of shredded frozen hash browns
1/2 stick of butter, melted
1 can cream of chicken soup (any cream soup will work)
1 c sour cream
3 c shredded sharp cheddar cheese
1 1/2 c corn flakes
salt, pepper, onion flake or powder to taste
Preheat oven t0 350 degrees F. Mix together hash browns, soup, sour cream, 2 c cheese, and seasonings. Put hash brown mixture into a lightly greased 9 x 13 pan. Top with remaining cheese, corn flakes and melted butter. Bake for 1 hour.
These are delicious!
*I used fat free sour cream and cheese and 98% fat free soup to cut calories, they still tasted great.
ELMO CAKE

1 box of funfetti cake mix
Preheat oven to 350 degrees F. Mix cake according to package instructions. Pour cake batter into a well greased and floured Elmo cake pan (can be purchased off Wilton's website).
Bake for about 35 minutes. Or until a toothpick inserted in the middle comes out clean. Allow pan to cool 10 minutes on wire rack. Turn cake out onto another wire rack and cool completely.
I decorated my cake with dyed buttercream frosting. Instructions for dying your frosting come with the Elmo pan.
Sasha loved her cake, I hope your little one loves it too!