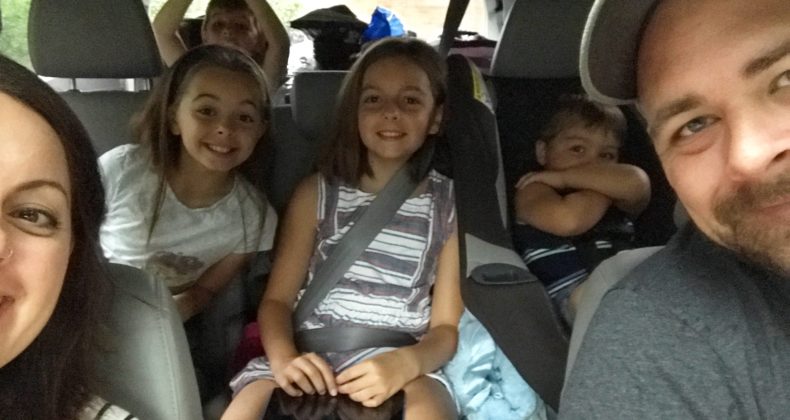 Road Trip: Family of Six Packed in a Mini Van
Summer is coming and that means for many families it is time to start planning a family vacation. Multi-state road trips are how my family of six has traveled for the last several summers. Many people think I am crazy for packing four small children into a minivan and driving across multiple states. I have repeatedly been asked, "how do you do it?"
Today, I am going to tell you how we manage it.
We have driven to Colorado (twice), over by Dillon, Montana, and to Charleston, South Carolina, and down to Texas on our last family vacation road trips. By now, I feel like we have this road trip thing down. In fact, this past year we packed the least amount of stuff ever and there were only a few things I forgot. When traveling great distances we like to mix in a few days camping among hotel stays. This lets us have city life and country life together.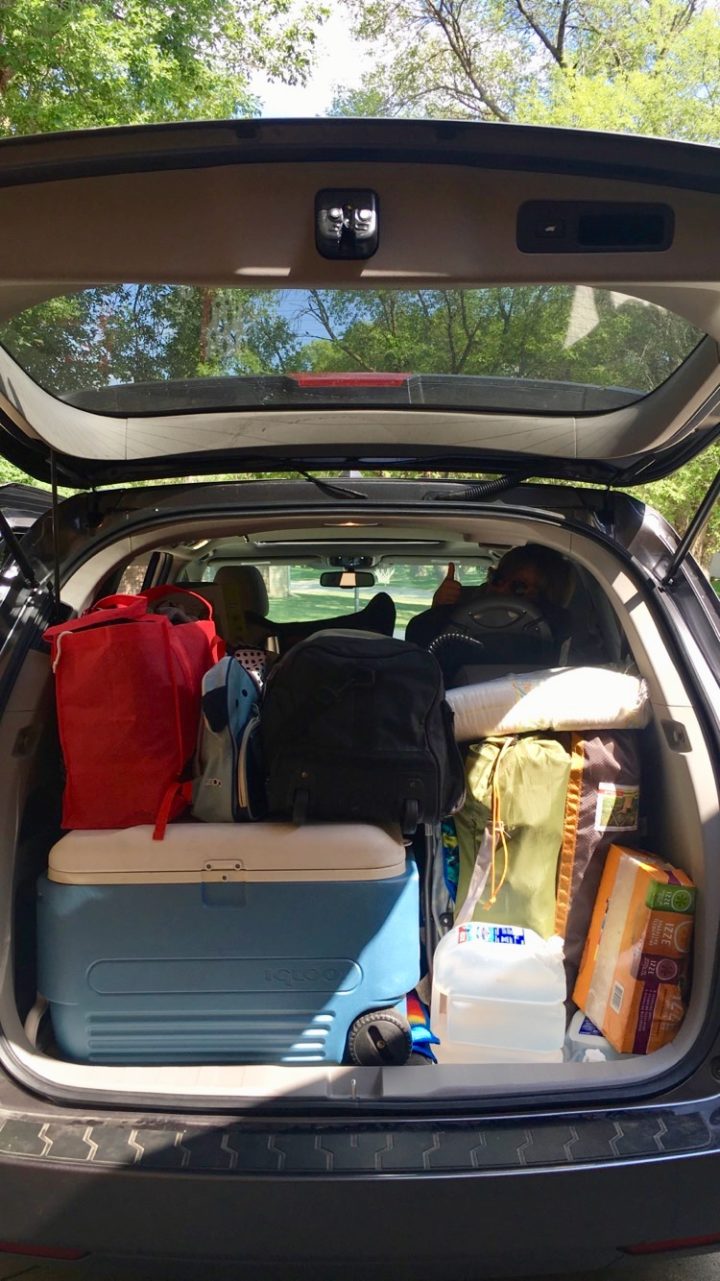 Plan and Prep
During this stage, my husband and I perfectly compliment each other. He likes to plan where we stay ahead of time so we don't end up in dingy motels (we had a bad experience in Chattanooga once). And I like the prepping part. I have totes of all sizes for all our travel gear. Everything is expertly packed into those totes so the packing-the-van-tetris is easier.
I highly recommend packing as much as you can in totes/bins instead of suitcases. Totes stack nicer into a vehicle than suitcases. Before you start packing up your vehicle make sure to give it a good cleaning. It is so nice to start the travels with a clean vehicle. In fact, I think it helped motivate my children to keep our van clean while we were traveling. At every gas station, they gathered up any garbage or loose paper and threw it away promptly.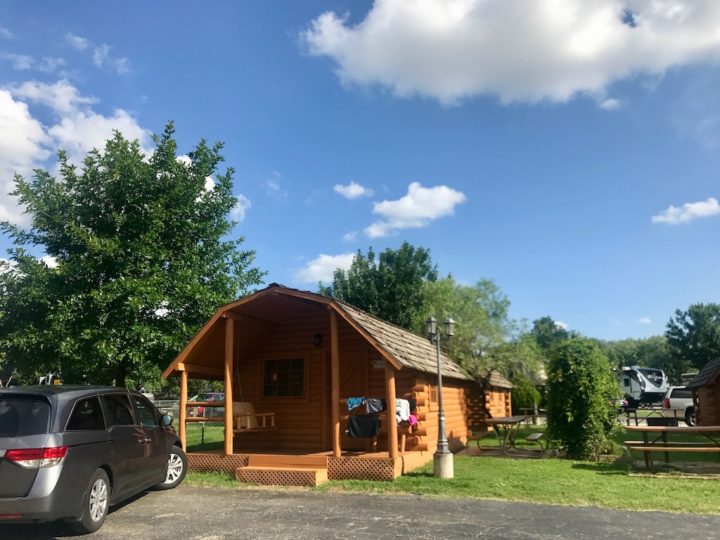 Where to stay
I mentioned we like to mix in camping among hotel stays. The first time we drove out to Colorado we brought our tent and all the gear that goes along with that with us. That was when we only had three children so they easily fit in the second row and we folded down the third-row seats allowing for more packing room. We now have four kids so that doesn't work anymore. On one road trip, we stayed at a KOA campground and saw they had little cabins. The basic 2-room cabins are perfect for us. They have one full bed, two sets of bunk beds, and air conditioning. All we need to bring are our linens. I throw the sleeping bags and a set of sheets into a large 18-gallon tote and call it good.
Most KOAs have swimming pools and playgrounds which the kiddos love. We generally grill our meals and can have a campfire at night too. It is all the good parts of camping without the hassle of packing your tenting supplies.
After a few days of camping, we are usually ready for a hotel stay and a real shower. Last time around we stayed in hotels that offered suites since we now need the extra space with four kids. The hotels where we stayed offered breakfast which was a major bonus for us since eating breakfast at a restaurant with six people can be crazy expensive.
When we were in the Great Smoky Mountains a few years ago we rented a cabin (airbnb-style) for a few days. We also Airbnb a house when we were in Boulder last March.
What to pack
Almost all our stuff is packed into shoe box size totes. These are the perfect size to stack three into reusable grocery bags. I had a first aid tote and a toiletries tote in one grocery bag. In another bag, I had a camping items tote, cooking tote, and a snack food tote. As for our pillows and swim towels, I put them in a jumbo size space bag and vacuumed it flat before leaving. When traveling we always go to a car wash and use the vacuums there to suck all the air out again. Sometimes it is free or many times it is $0.25. It is totally worth it and saves space in the van!
Usually, we were gone for about 10 days so everyone packs 4-5 outfits (including 1 nicer outfit), pajamas, swimsuit, sandals, and tennis shoes, and a hat. Halfway through our trip, we do laundry. Many hotels offer coin laundry and all the KOAs we have stayed have had coin laundry machines. Just make sure you grab a couple rolls of quarters before you leave town.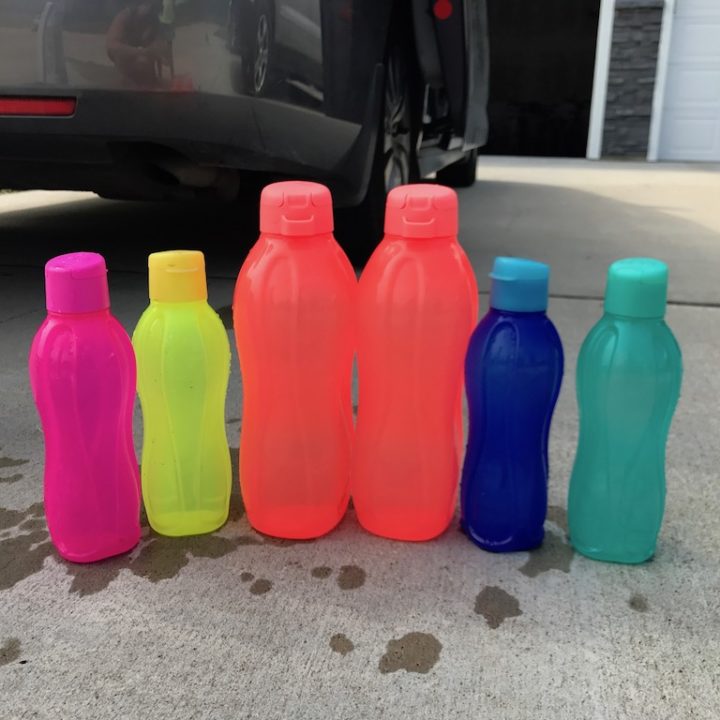 We always bring our own water bottles and just purchase gallons of water at the gas station. This saves so much money. I have found that a gallon of water is usually priced around one dollar and no more than two dollars, while a 20 ounce of water is usually around $1.49. Crazy, isn't it?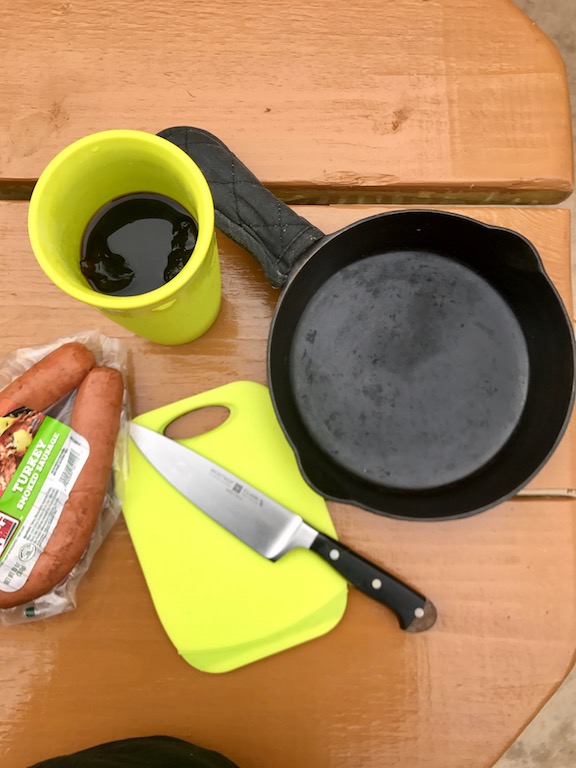 Camping Supplies
Since we stay in the cabins we don't have to haul all the tent camping gear with us. This makes traveling lighter a little easier. After traveling this way for five years this is what are my "essentials".
For Cooking and Eating
cast iron skillet, I usually bring two
2 pot holders, 1 washcloth, 1 towel, and a small thing of dish soap
a small cutting board, a sharp knife, cooking tongs
six plates, six forks, 2 spoons, 1 medium-size bowl, six water bottles, two insulated tumblers (for iced *coffee), wine/beer opener
our old phone book (for starting fires) and matches
ziplocks and foil
cooler and ice
*one year I brought my camping coffee percolator on our road trip but I just found that purchasing a large thing of iced coffee was just easier to store
Other Camping Items
bagged chairs
sunscreen and bug spray
pillows, sheets, and sleeping bags
lantern/flashlight
a few easy to travel with games
everyone gets their own towel which is used for showers and swimming
I keep all of our camping stuff together and all of our hotel stuff together. That way if it is a hotel day that stuff is packed last so we can easily grab it out and vice-versa.
part two will be coming soon so stay tuned!
Do you road trip? What are your tips and tricks?