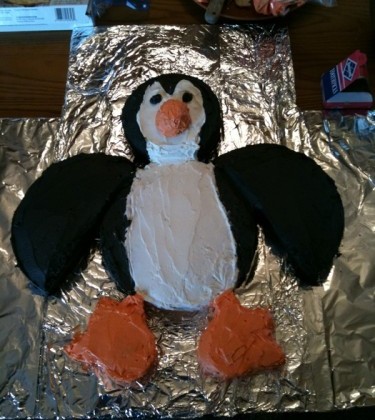 My Penguin Loving Penelope
Two years ago Penelope was a newborn. She is 24 hours old in that photo. In the last two years she has grown and changed so much. She is a very sweet, loving, funny, opinionated, wonderful toddler. She loves penguins.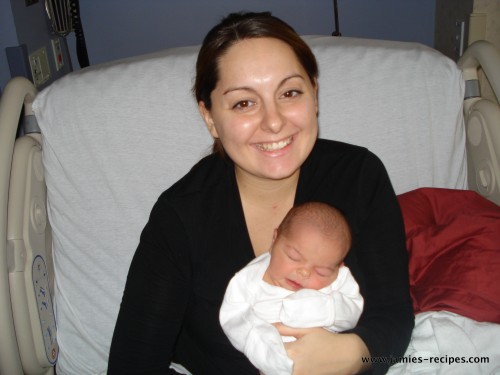 For Sasha's birthday we had a fiesta theme, and I thought it would be fun to go with a penguin theme for Penelope. Little did I know that it would be impossible to find penguin party supplies. Who would have thought? I called several large party supply stores in the area, and none of them had any penguin stuff. Happy Feet wasn't released that long ago, and The Penguins of Madagascar is a popular cartoon so I thought I was going to have to settle for having one of those penguins featured at our party. How wrong I was. So we didn't have any penguin plates, napkins, or balloons. Instead I made cute little penguin appetizers and a giant penguin cake. Penelope loved them both.
I took the easy way out when it came to Penelope's cake. I used two cake mixes (devil's food and funfetti) to make the penguin's body and wings.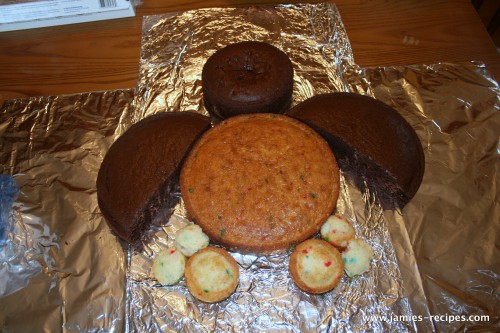 The penguin's head was baked in a 6 inch round cake pan, and the wings were baked in a 8 inch round cake pan then cut in half. I used the funfetti cake mix to bake a 8 inch round cake for the body, two regular sized cupcakes and 12 mini cupcakes which were used for the feet and beak. I actually used 3 mini cupcake per foot and I turned one mini cupcake upside down to make the beak.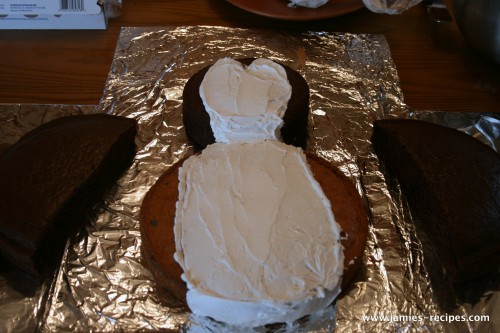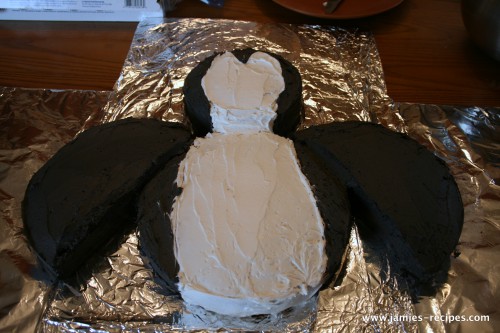 I frosted the cake using  vanilla buttercream and chocolate buttercream.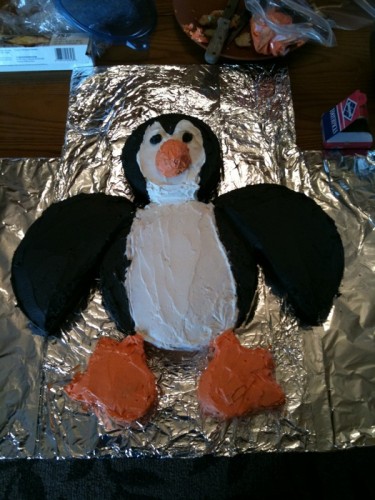 When assembling the penguin's feet, I found it to be easier to secure the cupcakes together using toothpicks, then frost each foot as one unit.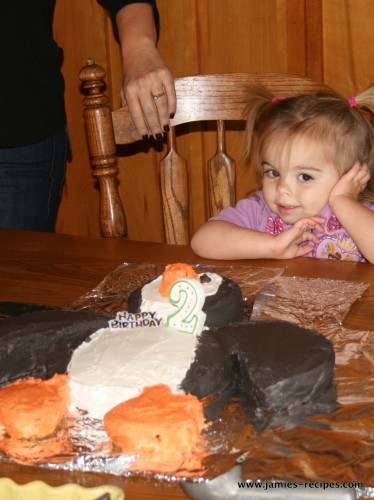 My penguin loving Penelope had a great second birthday. Thank you to all who helped us celebrate.