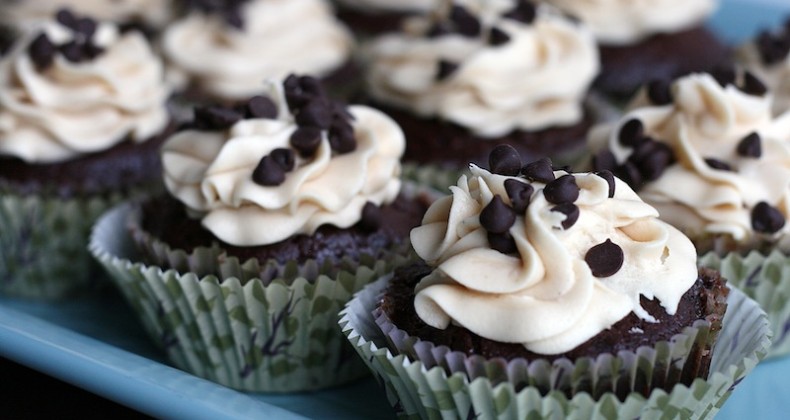 Chocolate Cupcakes with Peanut Butter Frosting
This weekend was such a busy one that I needed an extra day to recover. We had family in town to celebrate Kasper's birthday. Kasper was a lucky little dude he got cupcakes on his birthday and a nice big cake for his party. Both were chocolate since he is my little chocolate fiend. I am a firm believer that on your birthday you should be able to eat your favorite things. Since he is a two year old with a limited vocabulary I made things that I know he likes.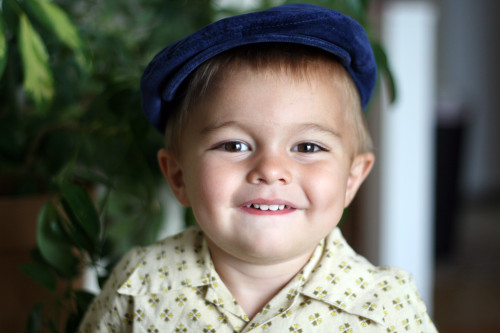 Each of my kiddos birthday parties start with a theme for inspiration. My girls love this part of party planning. Since Kasper is clueless about party planning I let the girls help. The inspiration theme was Gnomes & The Woods. Hobby Lobby had the cutest gnome stamp and brown card/envelope set. I got busy stamping the invites which I colored in with Sharpies –I need to work on my fancy handwriting.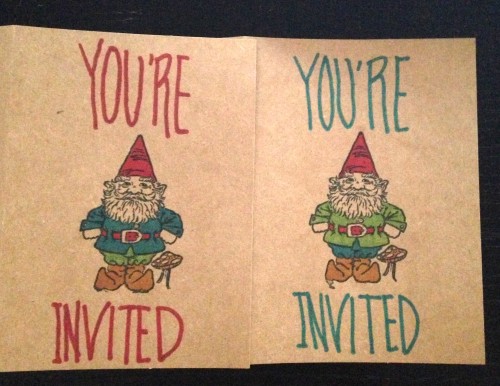 My daughters wanted to make a banner that hung over the buffet table. Of course they kept with the party theme too. There is a gnome and little woodland creatures on the banner.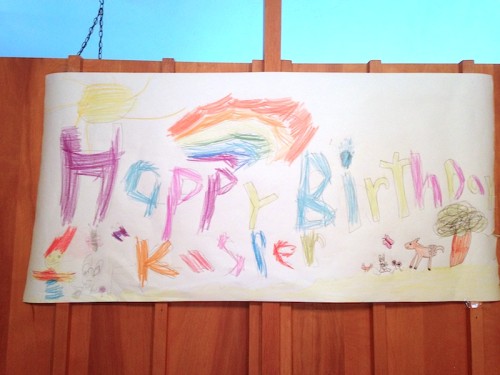 The birthday party was mid-afternoon so I opted for a snack/appetizer buffet. There are several recipes from the party that I will share in separate posts, so stay tuned!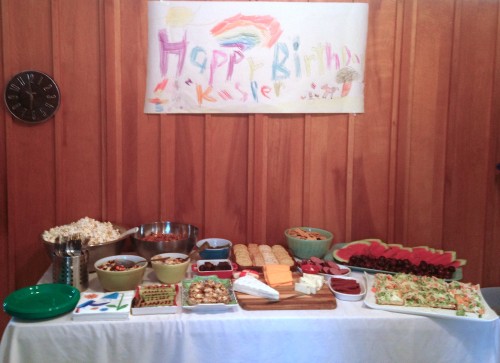 Sorry for the camera phone pictures! I snapped these quickly as guests were arriving. I always feel bad for trying to take photos of food when I have guests over.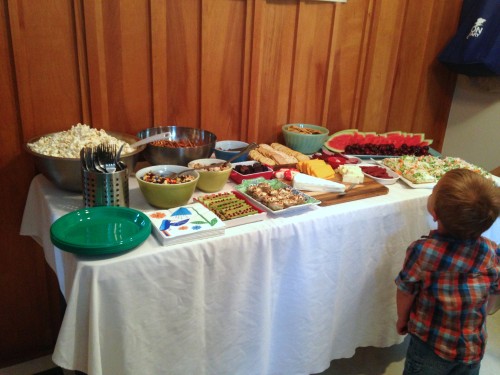 Kasper had to scope out the goodies before picking what he wanted to eat. Here is a run down of what I served:
–Skinny Pop Popcorn
-Pretzels Rods (Gnome walking sticks)
-Trail Mix
-Gummy Worms
-Mixed Nuts
-Ants on a Log (make with mini chocolate chips)
-Cheese, Crackers, and Meat Sticks
-Stuffed Mushrooms
-Watermelon Slices and Bing Cherries
–Vegetable Pizzas
-Iced Tea and Lemonade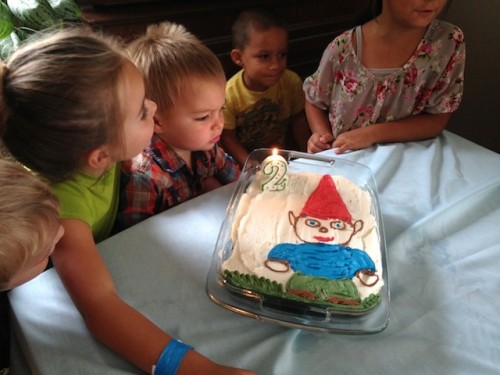 For his birthday cake I baked a chocolate cake using the Hershey's Perfectly Chocolate Cake that I've made before. If you haven't tried it you should give it a shot the next time you need chocolate cake. I guarantee it will satisfy your chocolate craving. Remember I am not an artist so my gnome looks a little wonky.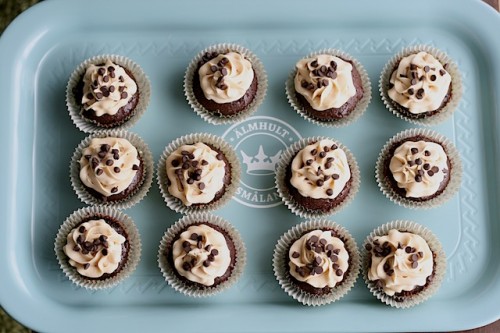 These cupcakes I served on his actual birthday. I didn't want to have a ton of cupcakes leftover since we were eating cake the next day so I was on the hunt for a small batch recipe. My hunt ended when I saw these Ferrero Rocher cupcakes that yielded only 12 on Just Putzing. I skipped the Ferrero Rochers and did a peanut butter cream cheese frosting instead. Chocolate + Peanut Butter is a match made in heaven. My birthday boy was a happy little dude too.