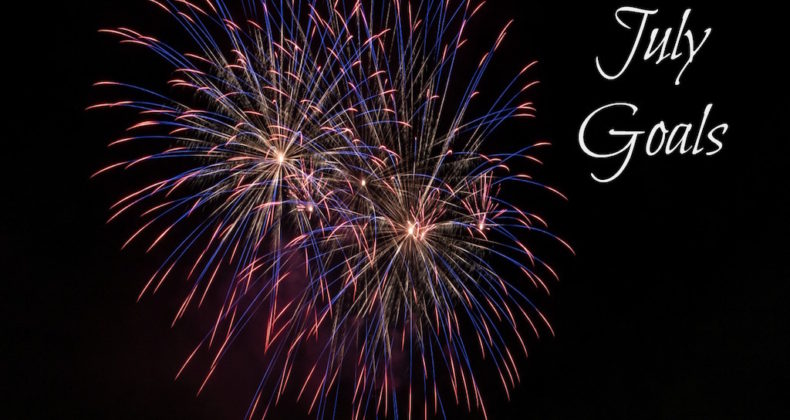 This year I am breaking down my resolutions into (hopefully) attainable monthly goals. The first of each month I am going to update you on how I did the previous month and what I hope to accomplish during the current month. My June Goals have been updated with what I was able to accomplish. **spoiler alert** not very much goal crushing happened last month. 
fireworks image from Ice Flow Studios
Summer is here and along with that is all the busyness that goes with it. I enjoy winter but I think I would enjoy it even more if it rushed pass us as quickly as summer did. Every month I tell you on repeat how much I love doing this monthly goals so I will save you the speech this month. But in all seriousness you need to be writing monthly goals.
We just returned from a pretty epic 3,100 + mile family road trip and some of my Instagram photos reflect that. This year we were able to visit 20% of these great United States. Talking with the kiddos during our road trip it has been decided it would be a good goal to visit all 50 states as a family before Felix (age 2) graduates. That road trip to Hawaii will be interesting 😉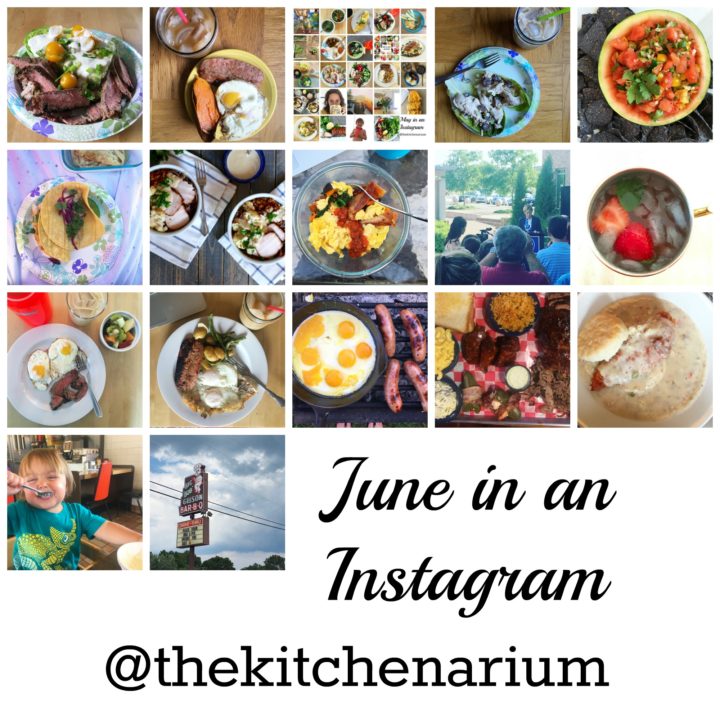 Not only do I reflect each month on my monthly goals but I also take a scroll back through my Instagram account to see what I captured. I am always snap, snap, snapping photos on my phone and it is so much fun to look back through and be reminded of the last month.
To sum up June's feed:
I am still focusing on starting each day with a good breakfast
We had a fun picnic in the park while watching a talent show I made fish tacos with fresh fish my dad caught
We saw Jane Kleeb declare her intent to run for Nebraska Democratic Chair
Summer is about cocktails and this strawberry mule was so refreshing
When camping I always bring my cast iron skillet with me. It doubles as a cooking utensil and weapon if needed 😉
Some top-notch barbecue in Nashville
On my birthday I enjoyed the Charleston Nasty Sandwich from Hominy Grill
Felix was grooving on grits for breakfast
I finally got to try Alabama White Bar-B-Q at Big Bob Gibson's
Recipes featured:
Fresh Watermelon Salsa
Miso Pork Soba Noodle Bowl
Breakfast Bowls (freezer friendly!)
July Goals
drinking half my weight in water, 

some days were better

read 2 books (I am on Goodreads!) 

I actually was able to read two! A Thousand Falling Crows and The Devil You Know

do some administrator blog stuff (boring) 

Started but man, oh man, is there a lot to do

work on my Newsletter project 

Didn't get this done

just enjoying the next few weeks with my kiddos before school starts at the end of the month Absolutely enjoyed our last days before school started. We went to the Omaha Zoo, Omaha Children's Museum, hiked through Fontenelle Forest, and to two swimming pools and a splash park
July is going by quickly already and I am not putting to0 much pressure on myself to get things accomplished. I really just want to focus on time with my kiddos. Last month I only read one book A Walk in the Woods and do not have high hopes of reading a ton this month. Bring on the sunshine and humid outdoor time!
Let me know your goals in the comments or shout it out to me on social media. Sign up for my email newsletter to stay up to date on all things The Kitchenarium. I hope your summer is going well friends! 🌞
*this post contains Amazon Affiliate links. By purchasing these items The Kitchenarium will receive a few pennies at no extra cost to you. Thank you for supporting The Kitchenarium <3