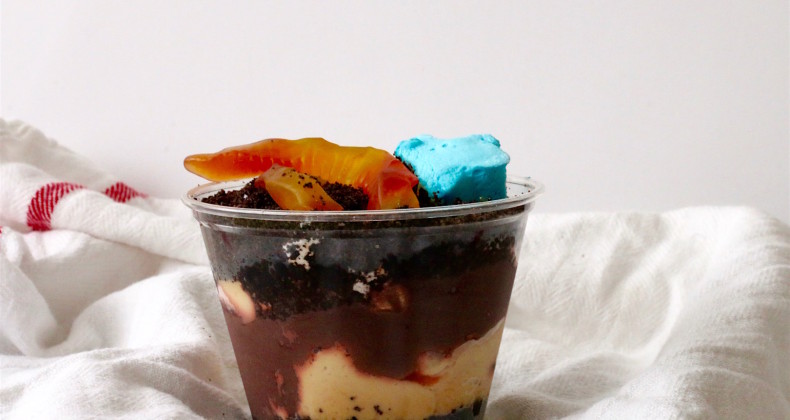 Peanut Butter Chocolate Dirt Cake
Peanut Butter Chocolate Dirt Cake will delight kiddos of all ages. I took this throwback recipe and gave it a fancy upgrade by adding a peanut butter layer. Peanut Butter + Chocolate has to be one of the oldest (and truest) cliches out there. Best news is this can be a totally gluten free dessert too. Just use some gluten free "oreos".
Adding Peeps or your favorite Easter candy as a decoration makes them a wonderful addition to the dessert table this holiday. I originally served these for Sasha's birthday. It is tradition in our family to let the kiddos pick what type of cake they want me to make and how they want me to decorate it. In the last few years my older two have figured out that this birthday dessert isn't limited to cake only. It is fun to see what they choose every year.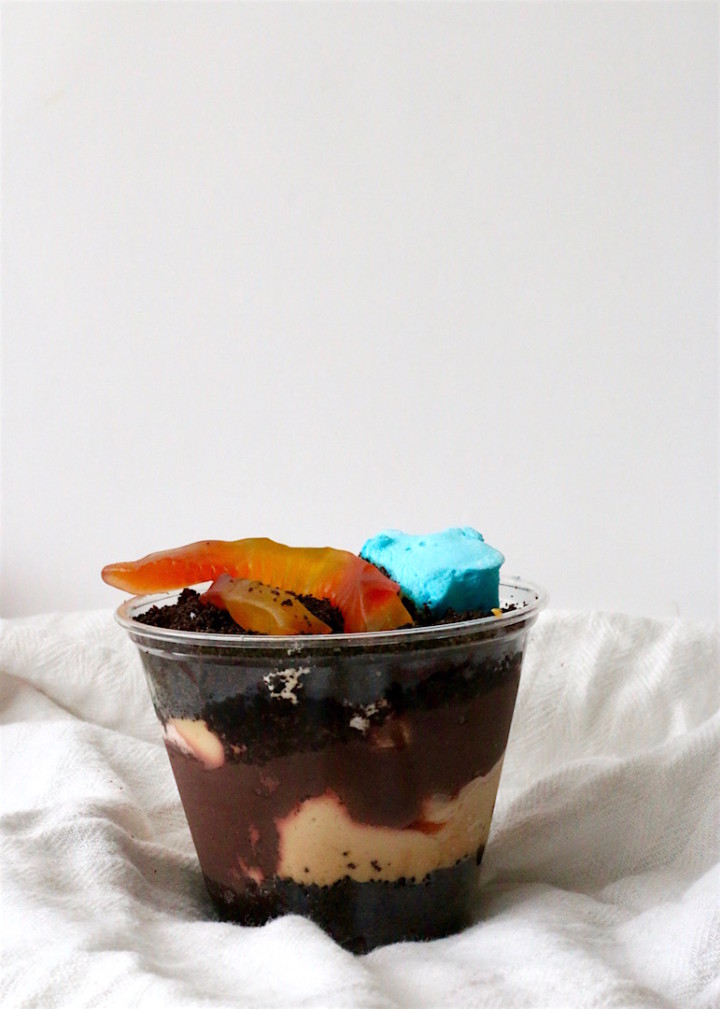 Sasha had mentioned getting some of the Peeps bunnies to stick in her dirt cake and that is where the idea to make our own marshmallows came from. Making marshmallows is something I have always wanted to do and I was shocked at how easy it actually was. We dyed the marshmallows her favorite color and cut them out with a flower shaped cookie cutter. When it came to the marshmallows I consulted the queen of entertaining Ms. Ina Garten. She has a short video about marshmallow making that I recommend you check out (the recipe is there too)!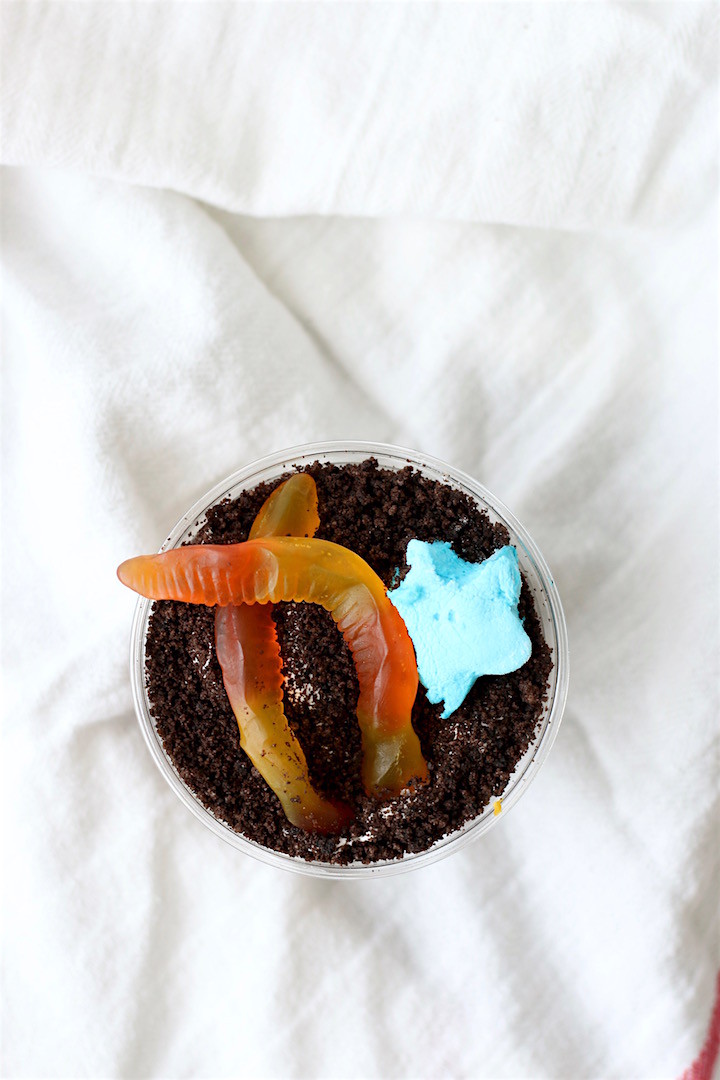 I opted for individual serving in clear plastic cups so everyone could see the layers. We did peanut butter and chocolate pudding in some and just chocolate pudding in others. Having them in the clear cups helped make the ones without peanut butter easily identifiable. I even used fat free -sugar free pudding and low fat cool whip to keep it lighter 😉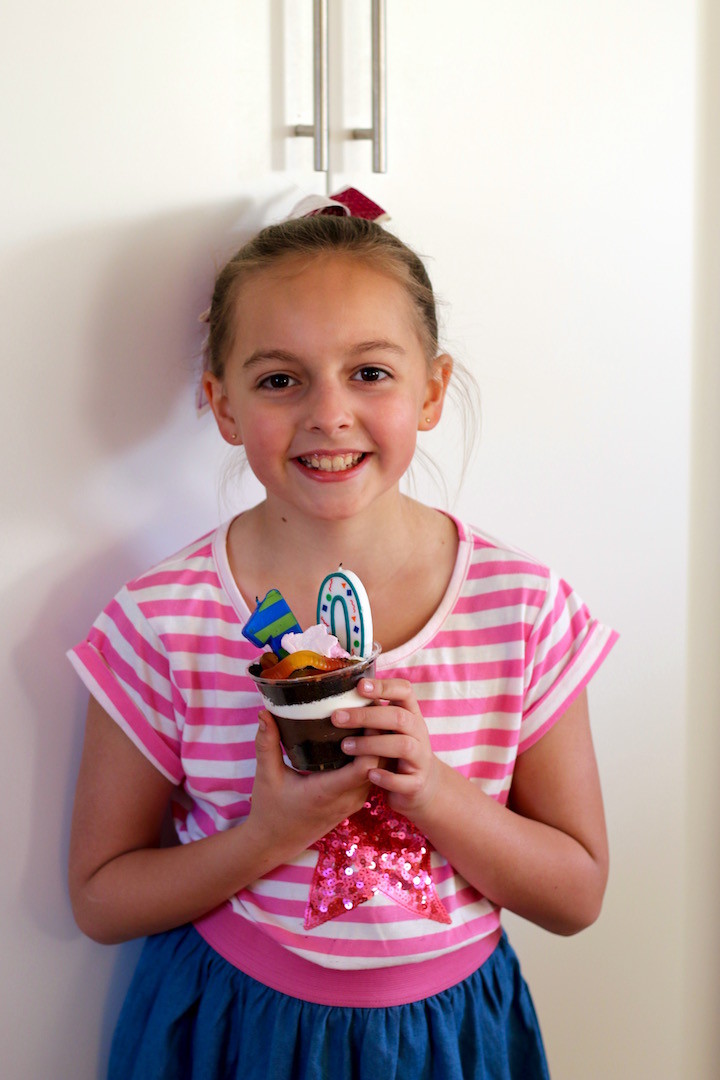 The birthday girl actually asked to help me assemble all of them. If you want to serve in the individual plastic cups set them out on a baking sheet that will fit into your fridge. < this is an important step! We assembled them right before the party and chilled them for a couple hours while we ate dinner and socialized. Hope your family will enjoy as much as we did!
Here are other birthday desserts that Sasha has picked:
9 – Ice Cream Parlor
8 – Caramel Apple Pie
7 – Yellow Cake
6 – The Lorax theme
5 – Dolphin Cake inspired from her drawing
4 – Seahorse Cake
3 – Rainbow Cake
2 – Elmo Cake
1 – Chocolate Covered Strawberry Cake
What is your favorite birthday dessert? I loved getting Dairy Queen ice cream cakes 🙂