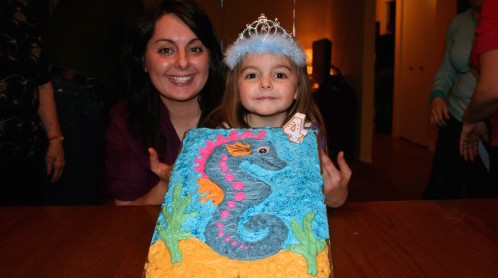 Almost two months have past and I haven't shared pictures of Sasha's birthday cake –oops. Both our families came to help her celebrate. It is always fun having a house full of people since I love to entertain. I made two different kinds of lasagna, Caesar salad with homemade croutons, and garlic bread.
My inspiration for the cake was her current favorite animal. We searched high and low for a seahorse piñata, and after visiting every party store in Omaha we came back empty handed. She was so sad that she wasn't going to have a seahorse piñata at her party. I wanted to surprise her with a seahorse cake. I made a white sheet cake using a recipe from allrecipes.com. I love the use of almond extract in the cake batter it adds a little something special to a plain cake. The cake tasted good although it was a tad dry which made me sad since I haven't baked a dry cake since high school. The frosting is vanilla buttercream and colored with AmeriColor gels*. These food gels are now my favorite way to color frosting. The colors are really bright, and I found that I had to use less gel to achieve my desired color. The best part is you don't get that yucky food coloring aftertaste. I free-handed the seahorse on the cake first, and added everything around it after the seahorse was complete. This method worked best for me instead of frosting the entire cake then adding the design on top.
Sasha did not know what her cake was going to look like, I wanted to keep it a surprise for her. When we went to the craft store I had her pick out the gel colors that she liked. Once we had the colors she liked I had to figure out how to decorate her cake with those colors. I think the colors she picked out worked wonderfully for an under the sea cake. With each birthday cake I make, I realize that I really enjoy the cake decorating part. I wish I was more artistically inclined but if my cake brings a smile to my daughter's face that is good enough for me.
Happy Birthday Sasha!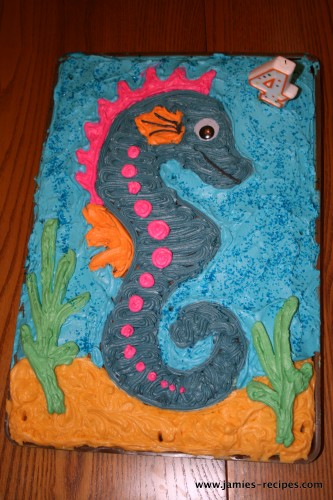 *I just want to say that I really liked the AmeriColor gels. I was not paid or compensated to share my opinion.