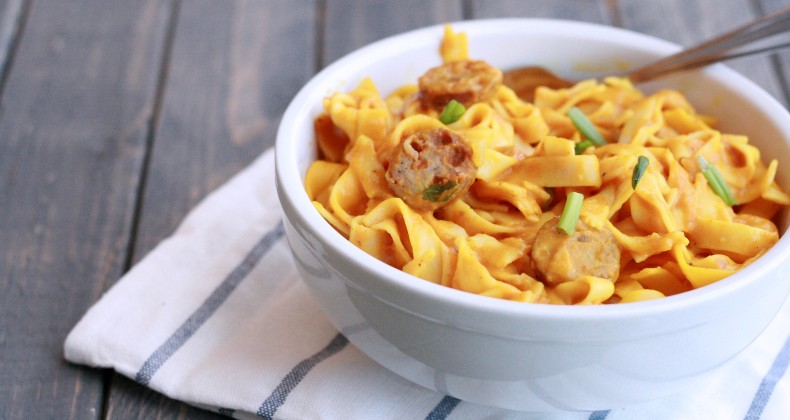 One Pot Cajun Pumpkin Pasta
Pumpkin and spice are besties as we are all aware. #pumpkinSpiceEverything amirite? But I am not talking about the famous latte here I am talking cajun instead of cloves. Spicy cajun seasoning to be exact. In this dish you have sweet apple & gouda chicken sausages, cool and creamy pumpkin puree, and spicy cajun seasoning. Throw in some pasta and cook it up in one pot and less than 30 minutes you have dinner. Winner. Winner.
Thirty minute meals have been a life saver for me. Remember last month when I pledged to skip the drive thru and cook from home? Did you challenge yourself to eat at home too? How did you do? Well I did dine out a few times last month (it was my daughter's birthday). We only had fast food TWICE as a pick-it-up-on-the-way-home-from-soccer convenience. Twice in 31 days isn't too shabby.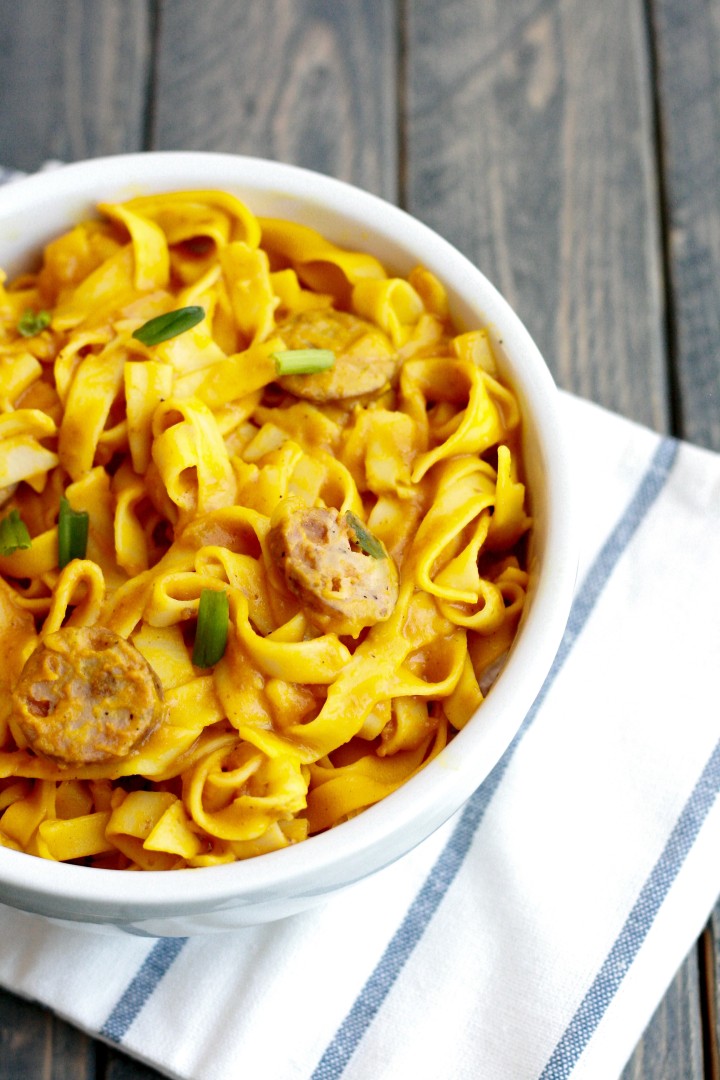 As a child I can't even think of a time where my parents picked up fast food for dinner. Occasionally we would order pizza. But fast food? Never. For my family fast food is going to return to a special treat (like when we are traveling) and in order to do that I need to arm myself with quick and easy recipes.  I love to be in the kitchen whipping up masterpieces however that is not doable every night. Meals ready in 30 minutes or less, like this pasta, are going to become the norm around here.
Tell me how often do you pick up fast food, take-out, or pizza each week?
Jamie from The Kitchenarium is a participant in the Amazon Services LLC Associates Program, an affiliate advertising program designed to provide a means for sites to earn advertising fees by advertising and linking to amazon.com. I will get a few pennies from your Amazon purchase (no additional cost to you). Thank you for supporting The Kitchenarium!