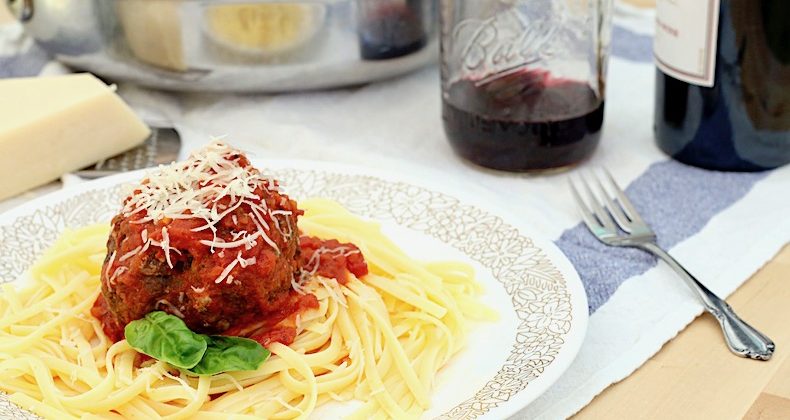 Mozzarella Stuffed Jumbo Meatballs
Mozzarella Stuffed. Jumbo Meatballs. Two beautiful sentences don't you think. Spaghetti and meatballs are a family favorite and I am so excited to share my revamped version of this favorite. What I love about this recipe is that it combines two of my favorite things: mini food and jumbo food. Is there any mini food or jumbo food lovers out there?
But first, I am so glad to be back! I unintentionally took most of the summer off to spend it with my children, road tripping, client work, and starting up my Tupperware selling adventure (need some Tupperware, let me know!).
While I have been quiet around these parts I have been B.U.S.Y. in the kitchen and I am so excited to be back and to share with you recipes I have been working on all this time. These recipes have just been sitting around waiting to get published, like these mozzarella stuffed meatballs. Now back to the meatballs…. 
Bocconcini mozzarella bites (mini mozzarella balls) are stuffed inside jumbo meatballs to create a gooey cheesy core. If only we all could look so good with gooey cores, am I right?!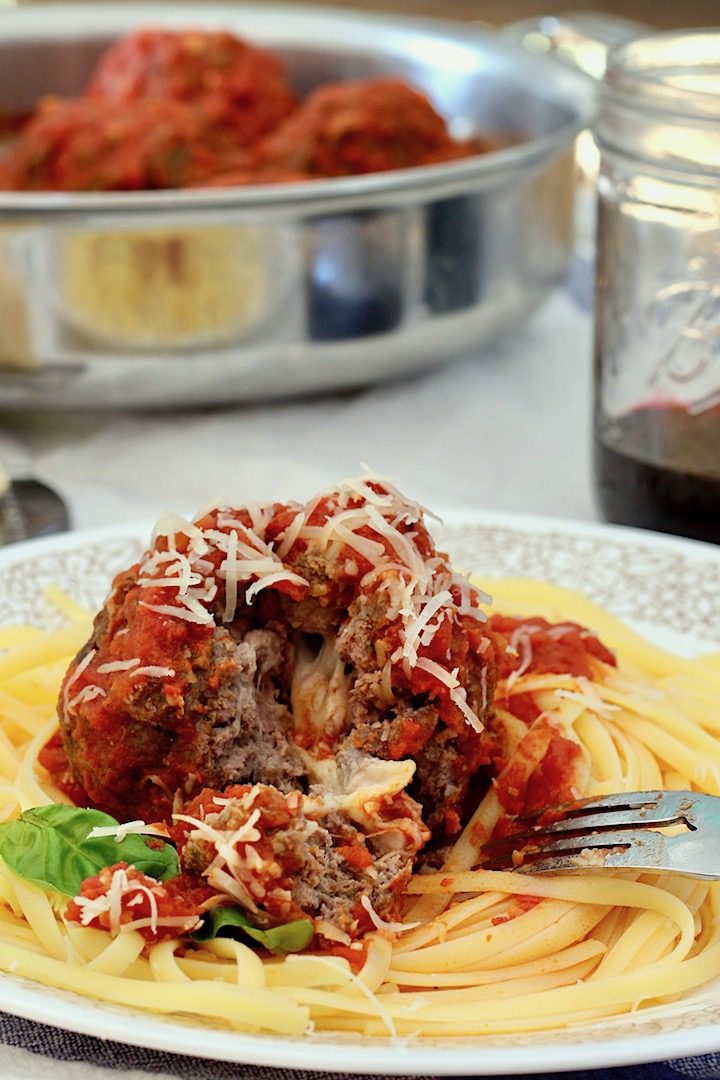 This dinner can be for a busy weeknight or for an impressive dinner party. I love the idea of presenting my guests with a massive meatball in the center of their plate. Smiles all around, guaranteed!
I am no stranger to meatballs. And it seems like you aren't either. I love them in the crockpot or "healthified" and on a sub. Other meatball favorites include Swedish and Danish versions. We kind of go meatball crazy in my house.
Looking back I think my love of this dish started with one of my favorite childhood movies, Lady and the Tramp. You know the scene, where Lady is sharing a plate of spaghetti and meatballs with the Tramp and they both slurp up the same piece of spaghetti causing them to kiss.  This scene was my favorite because it seemed so accidentally romantic. I didn't grow up eating spaghetti and meatballs but that movie moment has always stuck with me.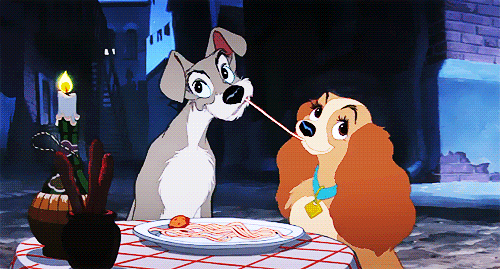 Awwwwww 😍  I sincerely hope this dish becomes your new family favorite.
What are your favorite movie scenes featuring food?