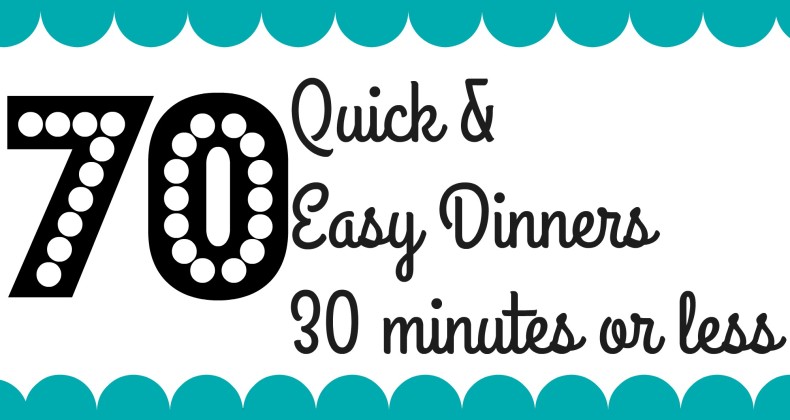 Earlier this month I told you how I was saying NO to the drive thru. I pledged to not pick up fast food on my way home from school, ballet, soccer, PTA, etc. We are about half way through October and I am still going strong. Woo! How have you done?
I shared 15 recipes to get dinner on the table in 30 minutes or less and I promised I would be back to share more recipes to get you motivated to skip the drive thru too. Boy am I delivering on that promise! I asked some of my fellow food bloggers for their favorite quick and easy dinner recipes and in total I have gathered 70 different recipes that will get dinner on the table in less than 30 minutes.
There are no more excuses! You can do this! Today's round up is full of all different recipes inspired by cuisines around the world. There should be a little something for everyone here, vegan, vegetarian, gluten free, paleo are all represented in this round up.
I hope you enjoy!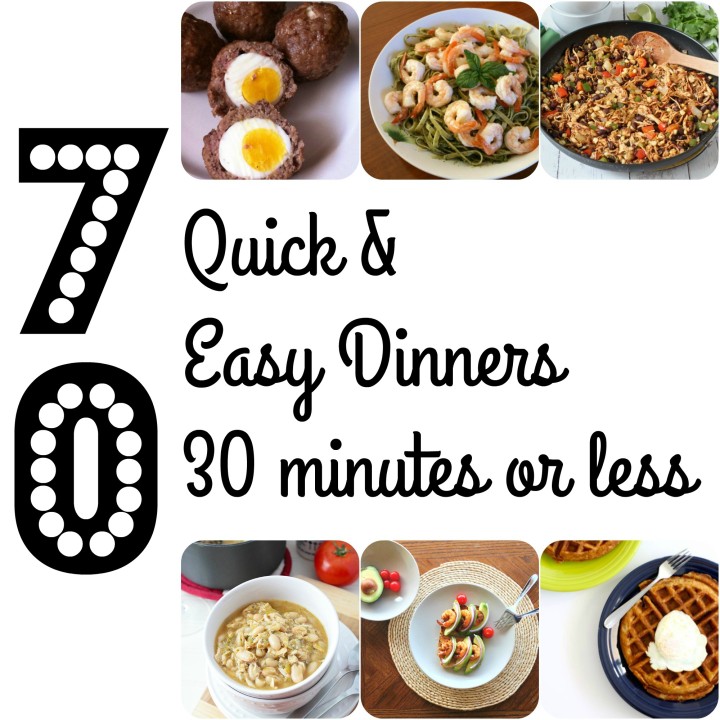 1. Scotch Eggs
2. Shrimp Scampi
3, Southwest Chicken Skillet Dinner
4. White Chicken Chili for 2
5. Shrimp and Avocado Toasts
6. Sausage Cheese filled Beer Waffles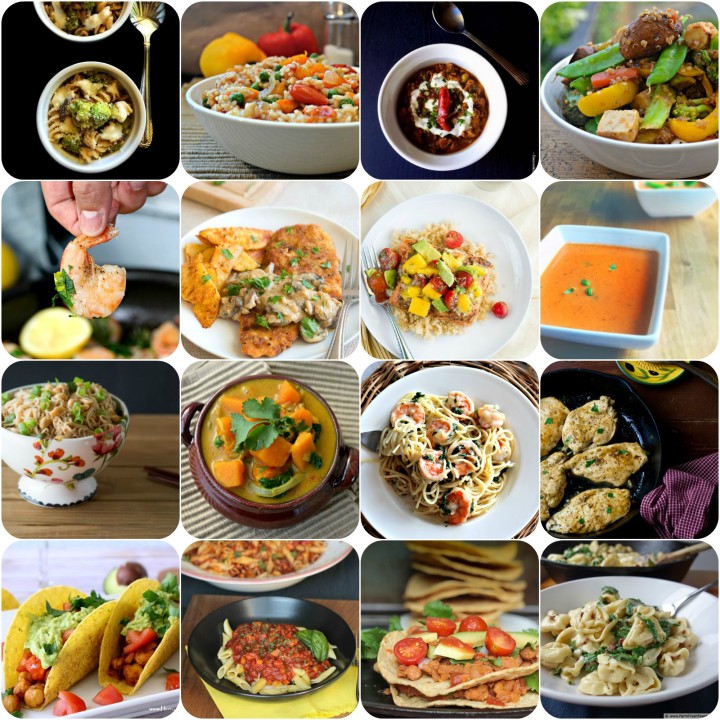 7. Broccoli Eggplant Pasta in White Wine Sauce 
8. Savory Rice
9. Indian Style Chili
10. Tofu & Quinoa Stir Fry
11. Spicy Garlic Shrimp
12. Schnitzel (Paleo, Gluten Free)
13. Blackened Salmon with Mango Avocado Salsa
14. Fire Roasted Tomato Basil Soup
15. 10 Minutes Peanut Sauce Noodles
16. Easy Butternut Squash & Spinach Curry 
17. Pasta and Garlic Shrimp
18. Cider Glazed Chicken Breasts
19. Chickpea Tacos
20. Chunky Veggie Marinara 
21. Smokey Pinto Bean Tostadas
22. Greens and Pasta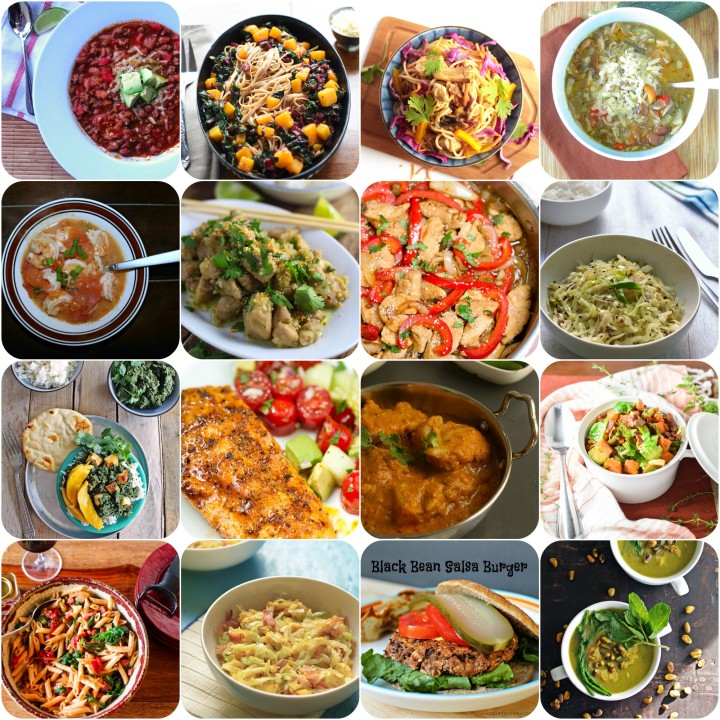 23. Tex Mex Grass Fed Beef Chili
24. Brown Butter Sage Fall Veggie Pasta
25. Chicken Chow Mein with Rainbow Vegetables
26. Summer Harvest White Chicken Chili
27. Shrimp and Tomatoes
28. Vietnamese Lemongrass Chicken
29. Sweet and Spicy Jalapeno Chicken Stir Fry
30. Spiced Cabbage
31. Kale Saag Paneer with Mango
32. Honey Chipotle Chicken
33. Rich Indian Chicken Curry
34. Sweet Potato and Brussels Sprouts Hash
35. Spanish Pasta with Sausage and Greens
36. Cabbage with Bacon and Eggs
37. Black Bean Salsa Burger
38. Roasted Asparagus Soup with Pistachio Cream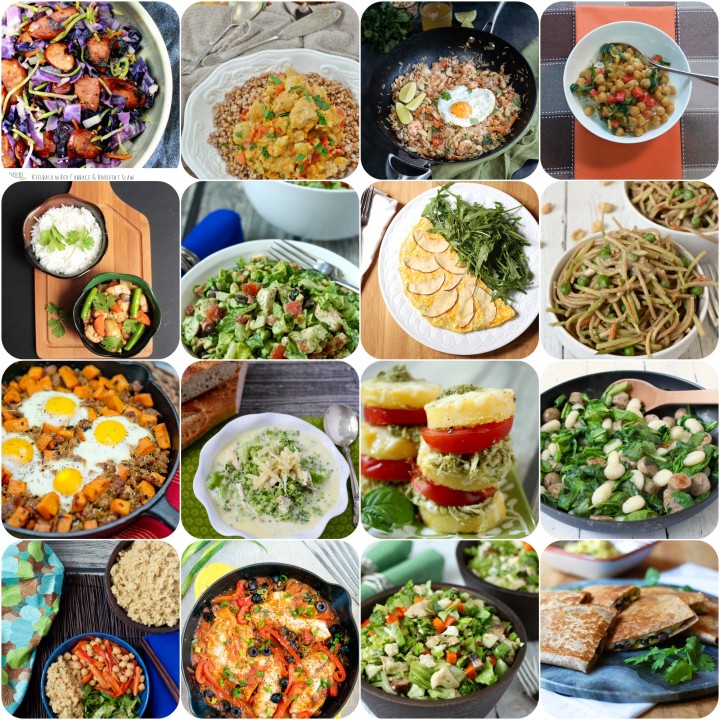 39. Kielbasa with Red Cabbage and Broccoli Slaw
40. Polish Chicken Stew with Kasza Buckwheat Groats
41. Indonesian Fried Rice
42. Chickpea Curry
43. Chicken Teriyaki with Vegetables
44. Southwestern Chopped Salad
45. Two Yolk Apple Quinoa Frittata
46. Peanut Butter Spaghetti with Veggies
47. Sweet Potato Hash with Sausage and Eggs
48. Cheesy Chicken and Broccoli Chowder
49. Pesto Chicken Polenta Stacks
50. Gnocchi with Chicken Sausage and Spinach
51. Quinoa and veggie Buddha Bowl
52. One Skillet Tilapia Veracruz
53. Asian Chicken Chopped Salad
54. Cuban Black Bean Quesadillas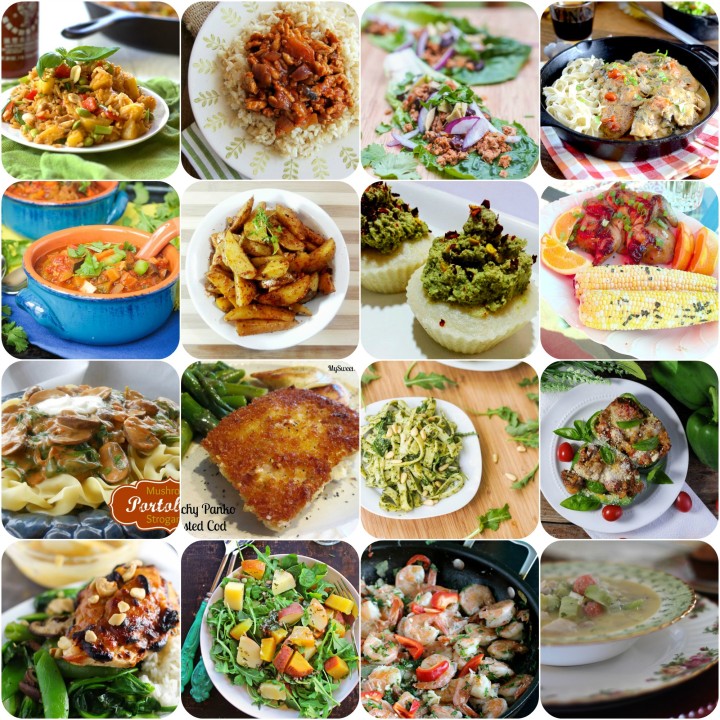 55. Pineapple Fried Rice with Basil & Peanuts
56. 4 Ingredient Chipotle Pork Rice Bowl
57. Mexican Turkey Taco Lettuce Wraps
58. Mustard Chicken
59. Spicy Beanless Garden Vegetable Chili
60. Garlic Potatoes
61. Cupcake Idlis
62. Cornish Hens with Orange Vodka Marinade
63. Portobello Mushroom Stroganoff
64. Crunchy Panko Crusted Cod
65. 10 Minute Vegan Alfredo Pasta Gluten Free
66. 30 Minute Stuffed Cheesy Italian Peppers
67. Miso Roasted Chicken
68. Golden Beet, Potato, and Arugula Salad
69. Butter Garlic Pepper Shrimp
70. Mom's Chicken and Wild Rice Soup
Let me know what are you doing to avoid the drive thru?