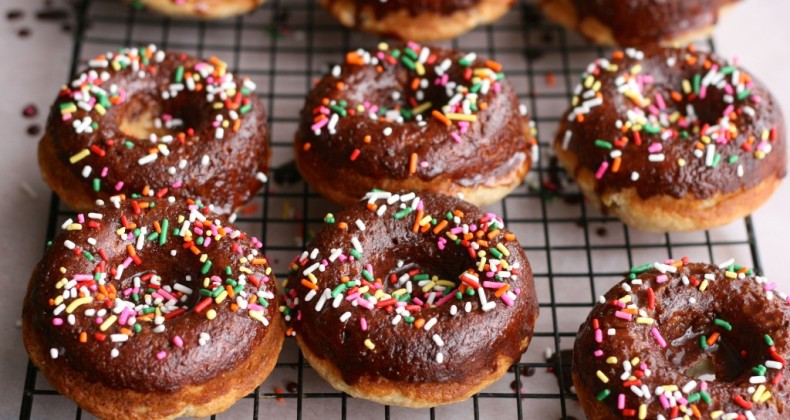 Sometimes you feel like a doughnut. Sometimes you feel like two doughnuts! You can easily enjoy a guilt free second doughnut with these baked banana doughnuts. If that doesn't put a little spring in your step then I suggest adding a little chocolate glaze and sprinkles. Mainly because how can you not love sprinkles?! Sprinkles are little slivers of rainbow happiness. Plus they totally fooled my kiddos into thinking these bad boys were indulgent.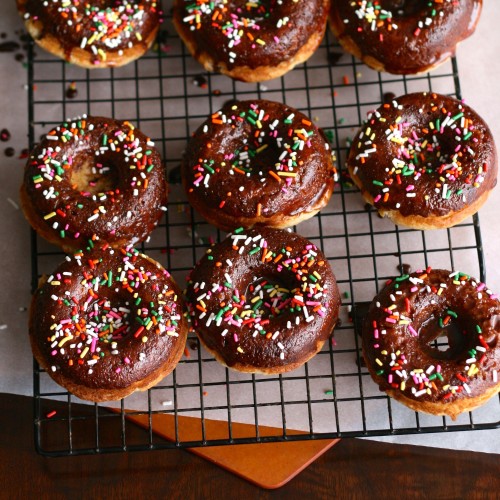 I have had some pretty ripe bananas sitting on a folding table in my kitchen (that I am pretending is a fancy kitchen island) for a few days. It was getting to the point where if I didn't use them or freeze them I would have to toss them. While I am a huge fan of banana bread (see here, here, here, and here) and banana muffins (see here, here, and here) I wanted to make something different. One of my favorite bloggers Pamela (Brooklyn Farm Girl) baked up some dandelion tea donuts awhile back I have been itching to dust off my doughnut pans.
Baked doughnuts are soft and fluffy. More like a muffin or cupcake. They do not have the crisp outer layer like a fried doughnut does. These are packed with banana flavor and taste equally delicious with or without the chocolate glaze. In fact, I bet they would totally rock with a little drizzle of cream cheese icing. Bananas + cream cheese icing work so well together. Looks like I am going to have to bake another batch to give this new idea a try!
Dust off your doughnut pan and get ready to bake some beautiful banana doughnuts. This recipe makes SIX doughnuts which is perfect because my doughnut pan also bakes six doughnuts. I made a double batch because I own two doughnut pans and new that my kiddos would want more than one doughnut. When filling the doughnut pan you can spoon the batter in or transfer the batter to a piping bag and pipe the batter in. I made a chocolate glaze since I only wanted a little chocolate taste for the kiddos instead of a thick chocolate icing. Dress these doughnuts up however you'd like.
Kitchen remodel update:
We have ordered kitchen cabinets!! Our cabinets are from Holiday Kitchens (made in Wisconsin) We are getting a frameless style slab front cabinets in white with our island/peninsula in a light grey. A very Scandinavian look. In five to six weeks, baring any set backs, our cabinets should be delivered. I. Can't. Wait.
Which brings me to the question about countertops. If you were to recommend a certain type of countertop material what would it be and why? Most likely we will be doing our island/peninsula in a light maple butcher block. Both of us are leaning towards a countertop color in a light grey. We just don't know what material would be best. We like the look of concrete countertops but just don't know how practical they are. Help a girl out!
Here is a post about what the kitchen looked like when we moved in 4-1/2 years ago. The walls are all painted white now but everything else is the same. In our new kitchen we will have an almost identical layout. The wood partition will be removed and an island/peninsula will go in its place.