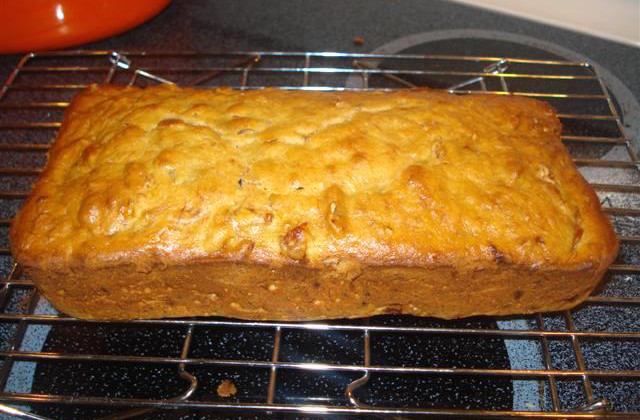 Lower Fat Banana Nut Bread
Lately I have been reading about substituting applesauce for oil when baking to reduce fat content. I've never tried this myself, and decided to try to do it with my banana bread recipe. The bread turned out delicious, a little squatty though.
I realized that I was so focused on reducing fat content that I forgot to add the baking soda. OOPS! The bread did not rise at all and was extremely dense, but still very flavorful.
Banana Nut Bread
Ingredients
1 c flour
1 c brown sugar
1/2 c butter **I used 1/4c shortening and 1/4c applesauce
1 tsp baking soda
2 eggs
1 tsp vanilla
1/2 c chopped pecans
3 large bananas mashed
Directions:
1. Â Preheat oven to 350 degrees F.
2. Â In your mixer cream sugar and butter **(shortening and applesauce). Add eggs and vanilla. Slowly add flour and soda. Stir nuts and mashed bananas in by hand.
3. Â Pour into loaf pan. Bake 1 hour, or until knife inserted in middle comes out clean. Cool on wire rack before serving.