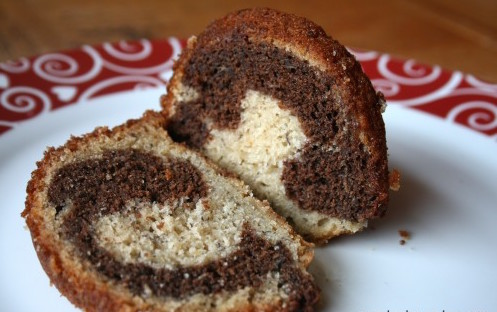 Marbled Chocolate Banana Cake
My children love helping me in the kitchen. They both like to help with the cleaning and the cooking, I'm lucky. Sasha has started figuring out that certain foods combined together can make a specific dish. When I grab celery, carrots, and onions she asks if I am making soup. If I put a big pot of water on to boil she asks if I am making pasta. One day I picked up a few browned bananas off the counter, and Sasha asked if I was making chocolate banana cake. I have never heard of chocolate banana cake before, but this continued all summer long whenever she would see browned bananas she would ask about chocolate banana cake. I finally have given in. I made her chocolate banana cake while she was taking "quiet time". When she woke up, she came out of her room saying, "What is that great smell coming from." I told her I made a surprise for her, and cut her a slice of the cake. Without telling her what it was I gave it to her.  She took a bite, and said the chocolate banana cake was delicious. I'm not quite sure how she knew that is was chocolate banana cake, but it made me so happy to hear her say how much she liked it.
I found my recipe on a delicious site called Baking Bites. Head over there to check out what other tasty treats Nichole is baking up.