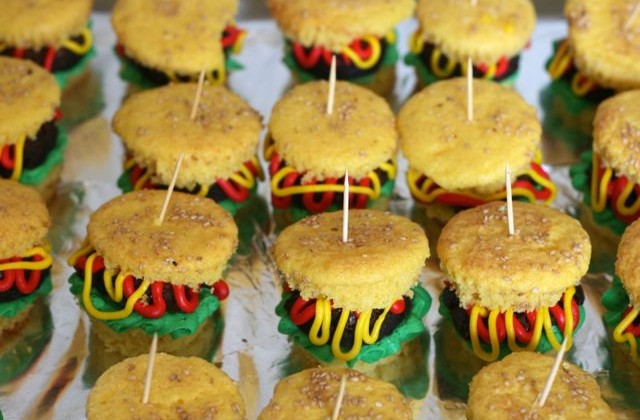 Happy Friday friends! I hope your end of the work week is shaping up nicely. The girls are out of school today and Monday which is so nice. We are headed out on a Mommy + daughter date night to see a play tonight. I am looking forward to it! What are your weekend plans?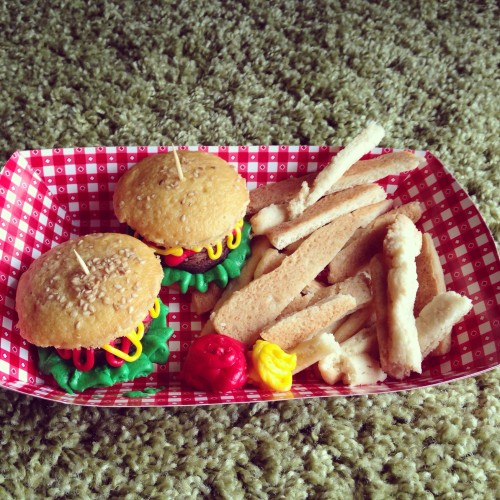 You may recognize this picture from Monday's post. These hamburger cupcakes and sugar cookie fries received lots of attention. Lucky for you I had to make two dozen more for a special order this week. That means today I am going to share with you how you can make them at home.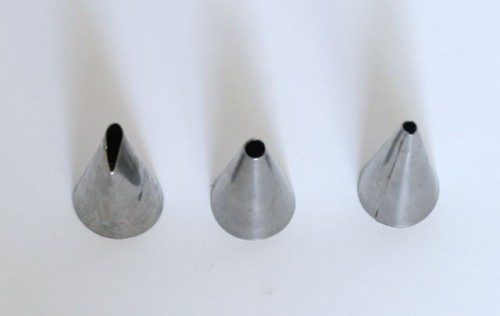 You will need three different decorating tips. Unfortunately I do not know the names of these tips. For the lettuce I used a medium-small size tear drop shape (104 is similar), the ketchup used a larger opening round tip (6 or 7 is similar), and the mustard a smaller opening round tip (4 or 5 is similar). Â You will also need three different colored food coloring. I love using AmeriColor gels, I think they mix up the best colors. For the lettuce I used Leaf Green, the ketchup is Super Red, and the mustard is Electric Yellow.
The cupcakes are yellow cake sprinkled with sesame seeds, the hamburger is a brownie, and the fries are sugar cookies. Use your favorite recipes or use boxed versions. I still don't have a perfect yellow cake recipe so I jazzed up a box of yellow cake mix. For the brownies I recommend using this recipe and leave out the Rolos and bake in a 9×13 pan for 25-30 minutes. For the sugar cookies use this sugar cookie dough recipe bake at 350 for about 8 minutes.