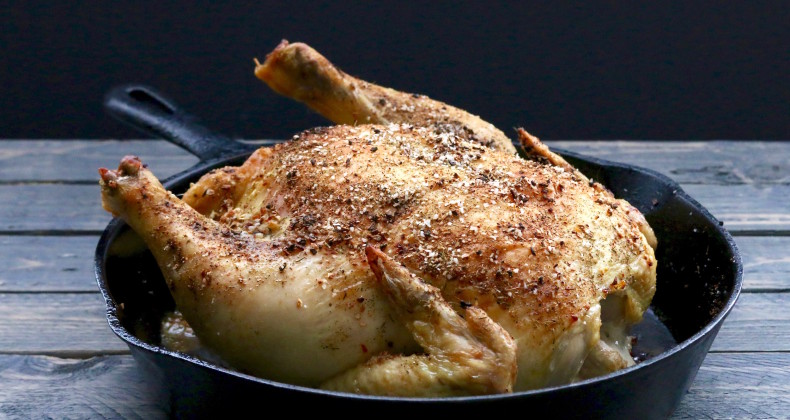 Cast Iron Roasted Chicken
This cast iron chicken is the best, it takes one pan, one chicken, and one hour to cook. Winner, winner, chicken dinner. Sorry I couldn't resist 😉 I knocked out two birds with one stone with this recipe. This month's goals include better eating habits and menu planning and this chicken fits the bill for both. Woo!
Yes we are only one week in to the new year but I am really feeling the whole menu planning / meal prepping thing. Eating better doesn't automatically happen (for me). Planning and prepping need to happen if you (I) want to maintain success.  I chopped up all my lettuce for ready to go dinner salads, roasted a chicken that I have been eating in quickly made chicken salads for lunch, made bone broth overnight in the crockpot with the chicken carcass, made homemade mayo, roasted Brussels sprouts and potato wedges, and baked a bunch of bacon for quick breakfasts.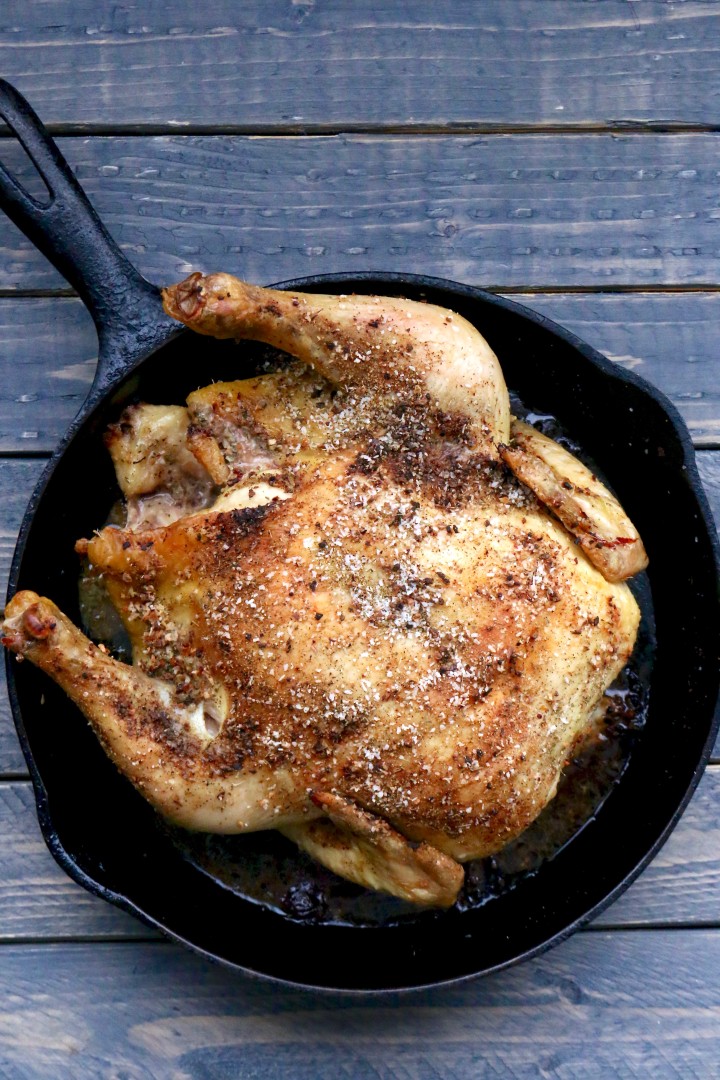 My cast iron pan is my favorite and most used pan. And by most used I mean twice a day. My mother-in-law gifted me a cast iron skillet and from then on I was hooked. My collection has grown since then and now I have eight in various sizes. I brought two with us last summer when we went on an epic two week family road trip. I cooked our meals over the fire and we had a weapon if we needed it (joking / not joking….somehow I don't think a curious bear or mountain lion would be frightened of my pan).
Hit up those thrift stores and garage sales and snag yourself a cast iron pan. Hunting down old cast iron not your thing well snag yourself one from Amazon. I promise you will want to cook everything in it!
What is your favorite thing to cook in a cast iron skillet?
*contains Amazon affiliate link, if you order from Amazon The Kitchenarium will make a few pennies. Thank you for supporting The Kitchenarium