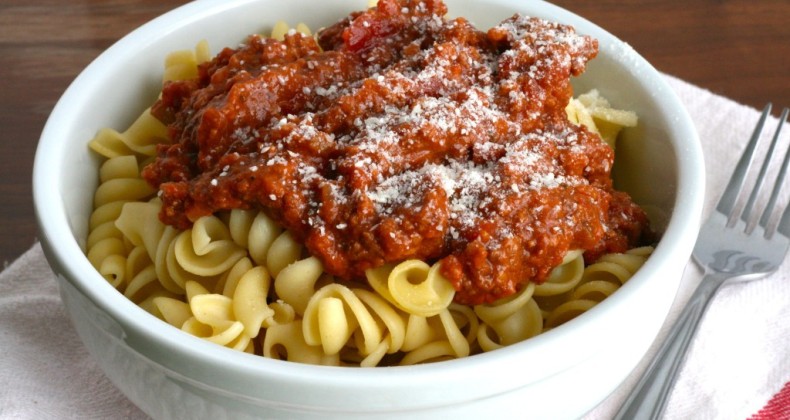 Slow Cooker Spaghetti Sauce
Happy first Monday of 2014! I hope the beginning of the year is off to a great start for you. Are you experiencing any of the extreme cold temperatures from the polar vortex? It sure is chilly in these parts (it felt like -31 outside when I got out of bed)! I hope you're staying warm and cozy wherever you are.
Do you own a slow cooker? I've had one for as long as I can remember. In fact I can't even remember when I bought my current slow cooker. My best guess is that I got it at my bridal shower or as a wedding gift. Slow cookers seem like a common bridal shower/wedding gift here in the Midwest, and for good reason, there is so much you can do with them. I haven't given mine the workout it deserves but that is all changing this year. So dust off your crock pots and be ready to have dinner ready to eat when you get home from work. This slow cooker dinner is the first dinner I made from my cooking down the pantry challenge.
This sauce tastes like an Italian Nonna has been stirring and simmering her famous bolognese sauce all day in your kitchen. I used lean ground beef but you could use a combination of ground beef, veal, Italian sausage the choice is yours. If you don't have an Italian Nonna cooking in your kitchen don't worry. This slow cooker sauce will give you the luscious and velvety sauce that will satisfy your cravings. When you come home from work all you need to do is give the sauce a good stir, boil up your favorite pasta, and crack open that bottle of wine. In about 15 minutes after you walk in the door you will be ready to eat.
A few reasons why I love this convenient meat sauce 1) you add all the ingredients in the crock pot at once (yay! no precooking the meat first) 2) it freezes beautifully
Do you have a large family to feed because this is the sauce you are looking for. Do you like to cook once and eat multiple times from your efforts because this is the sauce you are looking for. Feed an army or hoard it all for yourself. Bon appetit!