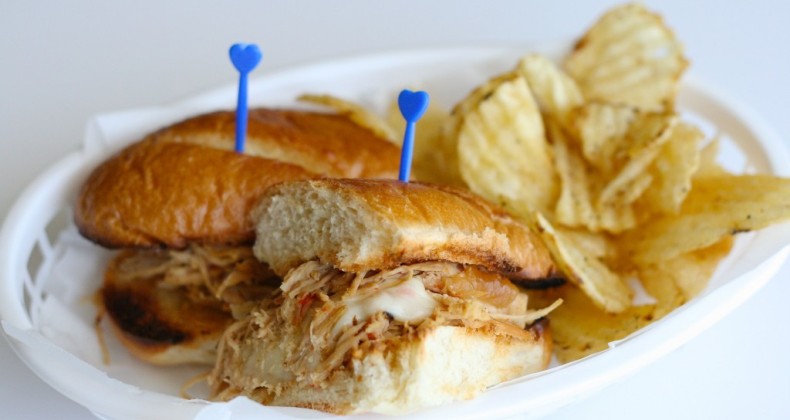 Slow Cooker Chicken Philly
How was your long weekend? Mine was relaxing which was just what I needed now that school and after school activities are in full swing. I hope your weekend was relaxing too. Just because Labor Day is behind us doesn't mean summer is over. I am going to embrace these last 20 days of summer and hold off on the pumpkin recipes.
Since school and football season have both started that means it is time to dust off the slow cooker and put it to work. These sandwiches make the perfect dinner on busy school nights. They also make the perfect game day main dish, allowing people to quickly make a sandwich during a time out or commercial break.
Not trying to feed a family of twelve or a big group of your football fanatic friends? No problem! You can easily half the ingredients or make the recipe as is and freeze any leftover meat. But wait, I have a great way to use up the leftovers that I will be sharing later in the week. Stay tuned!
Do you say slow cooker or crockpot? I tend to say crockpot. Just thought you'd like to know.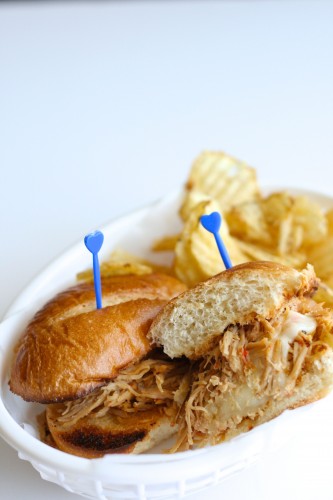 This recipe is perfect because zero planning needs to go in to it. If you are making this in the morning before you head out the door you can let this cook on low for 10-12 hours. Which is perfect for those who can't make it back home in 8 hours. Plus, you can toss in the chicken breasts while they are still frozen. Yay no thawing required!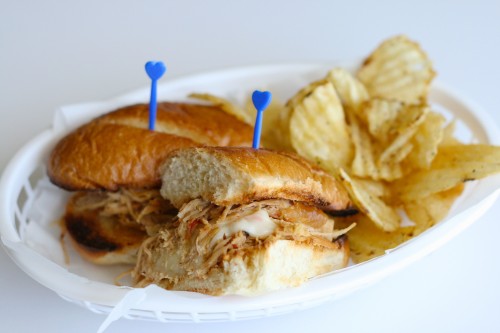 Your house will fill up with the mouth-watering aroma of the chicken, peppers, and onions. Your family will ask you a million times "is it time to eat yet?" Your dog will walk into your kitchen licking his lips half a dozen times or so.
You will be tempted to eat this straight off the fork. A few bites are fine, I won't judge, but it really makes the BEST sandwiches. I toasted up some hoagie buns under the broiler, topped them with the shredded chicken philly mixture, topped that with some provolone cheese, and popped the whole sandwich (open faced) under the broiler again for the cheese to melt. Mmmmm! I am so glad my sister-in-law told me about this dish.
Hopefully this dish comes in handy on those days where you know you won't have time to cook dinner after work.
Check back for an idea on how to use up the leftovers!