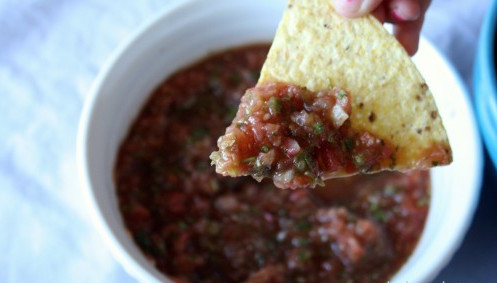 Garden fresh salsa is perfect for all your celebrations, especially cinco de mayo!
Feliz Cinco de Mayo! Me encanta celebrar herencia cultural de Mexico especialmente para incluir la comida mexicana.
Forgive me, I haven't practice Spanish since college, I am a little rusty. What I hope I said is Happy Cinco de Mayo! I love to celebrate the cultural heritage of Mexico, especially if it is to include Mexican food.
I have posted some of my favorite Mexican recipes time and time again. At 6 months old my uncle was feeding me chips and salsa. Once I got my first taste I couldn't stop. This is the first salsa recipe I've done and truthfully it is more of a method than a recipe. It is easy to make mild or super spicy, in small or large batches, whatever your fiesta requires.
This year I planted a garden which includes tomatoes, jalapenos, and cilantro so I can make garden fresh salsa. I can hardly wait!
MORE CINCO DE MAYO RECIPES:

Margarita Cake from Recipe Girl
Grilled Chicken Fajitas from Annie's Eats
Chunky Guacamole from The Cooking Photographer
Black Bean Guacamole Omelette from Closet Cooking