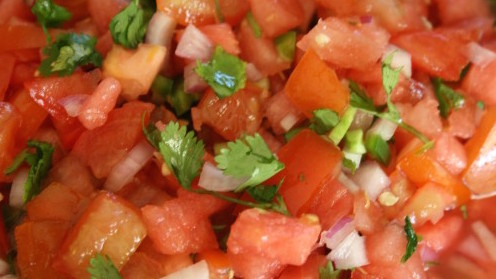 Recently we went to a friend's house for a barbecue (I am a huge fan of summertime barbecues). Wonderful food was served including watermelon salsa. I had never had watermelon salsa before and after the first taste, I knew I had to replicate it at home. To some the idea of sweet fruit combined with spicy jalapenos may not sound like a winning combination.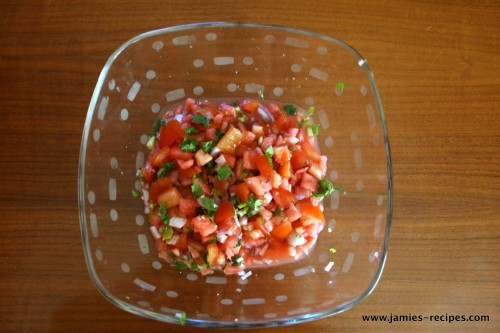 Let me stop to remind you that the tomato is actually a fruit so went you are enjoying your favorite salsa you technically are enjoying "fruit" salsa. Right? My Dad and my Grandpa (who I wouldn't classify as adventurous eaters) tried the salsa and liked it. I think they both said something to the effect of "It is different. Different but good." as they each scooped up another chip full. If that still doesn't convince you, I encourage you to follow the advice of my four year old, "Try it. You will like it."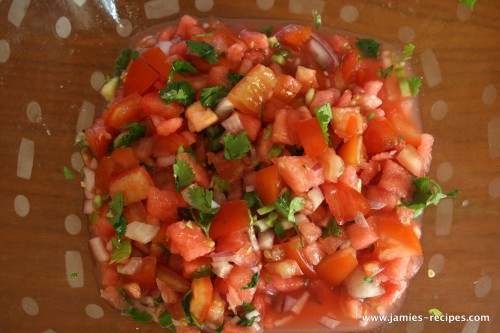 The watermelon provides a sweet coolness to an otherwise regular tomato salsa. Please make this for your Fourth of July get together or next family barbecue. This is a refreshing snack to enjoy while you are waiting for the coals to heat up, while you are sitting around chit-chatting with friends and family, and/or while you are enjoying a frosty beverage.
Have a happy and safe holiday!
OTHER SALSAS:
Fresh Salsa from Jamie's Recipes
Fresh Fruit Salsa from Guilty Kitchen
Blueberry Salsa from Kitchen Parade
Peach and Peppadew Salsa from Pinch My Salt
Mango Salsa from The Arugula Files