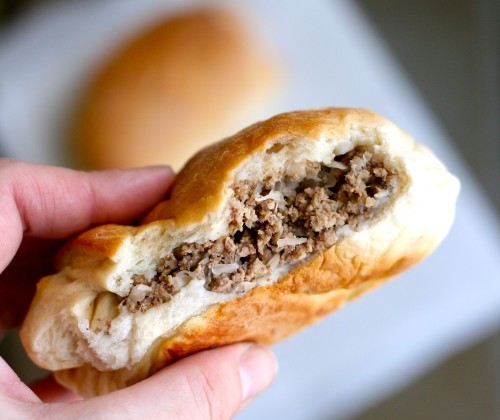 If you're not from Nebraska you might be wondering what the heck is a runza? It looks like they are called bierocks in Kansas. Does that help clarify things a bit? No? Ok, then I will explain. Runzas are a savory stuffed yeast dough.
Here in Nebraska, you can find traditional runzas stuffed with seasoned ground beef, cabbage (or sauerkraut), and onions. These sandwiches are so well loved here there is an entire fast food chain called Runza whose specialty is these sandwiches and other variations. The month of January Runza has a temperature Tuesday special where they sell their Runzas for whatever the air temperature is at 6 am on Tuesday morning. Maybe restaurants in Nebraska actually have to give away the sandwiches since it is very common for air temperatures to be below zero at that time. I have never participated in this because 1) I am sure the restaurant is a zoo and 2) I don't want to get between a homegrown Nebraskan and their free runza. These sandwiches are easier to eat than hamburgers since the filling is encased in the bread dough, making it a popular drive-thru lunch item.
To make these sandwiches I used my favorite cheat –using frozen bread dough. Allow your bread dough to thaw according to manufacturer's directions. The ground beef was cooked using the boiling method I use in my Mexican Ground Beef. It makes for such a soft and flavorful ground beef, which works perfectly in these bread pockets. It may be more traditional to used cooked cabbage but all I had on hand was sauerkraut and the fermented cabbage flavor compliments the ground beef and onions so nicely. If you are someone that likes to live on the edge toss in some shredded Swiss cheese. I refrained this time around but next time you can bet I will add it.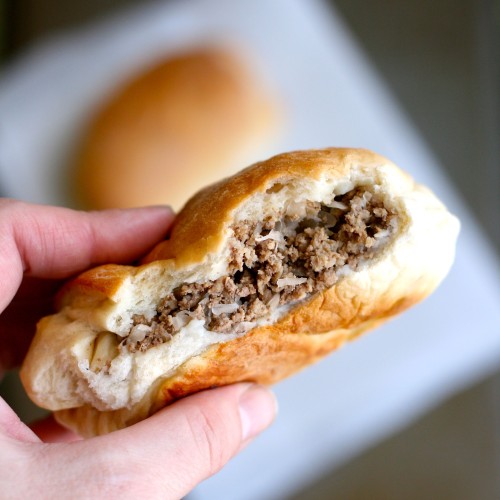 Look at that beautiful beefy filling. This batch makes 8 runza sandwiches so you can feed an entire family or have some leftovers for your work week. These sandwiches also freeze beautifully so make up an extra batch on the weekend to have an easy lunch or dinner ready in minutes.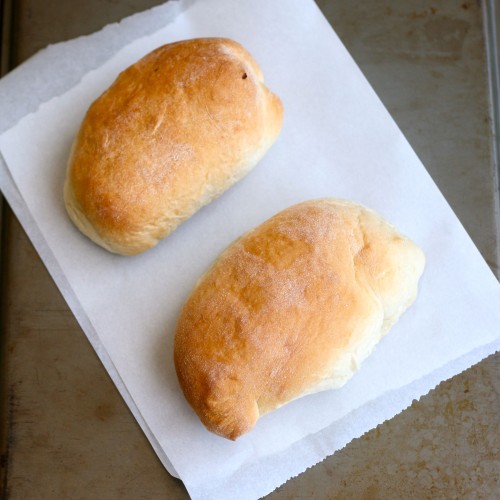 My favorite items to make this recipe easier: