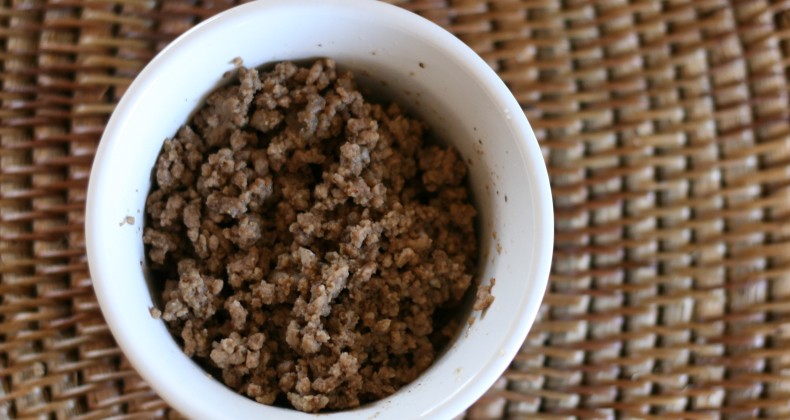 Disclaimer: I don't know how truly authentic this Mexican ground beef is. 🙂
Growing up we had only one favorite restaurant where we loved to eat. It was at a tiny bar in a small town near my small town that served "Mexican" food (this was before there were any Hispanic population in town). It was always poorly lit and cloudy with smoke, you always had to wait for a table (and there was no waiting area), and people were packed in there like sardines. But you got baskets of fresh tortilla chips with their hot, hot, HOT homemade salsa, the nachos were loaded up with cheddar cheese and jalapenos, and we (my sister, brother, and I) were able to order a pitcher of Diet Coke. I loved everything about it. I still do, the location has changed, and of course, there is no more smoking, but their food is still good if even only for nostalgic reasons. Their tacos were made with a soft finely minced ground beef and subtly seasoned. I loved it. It was nothing like the browned ground beef that was seasoned with the premixed salty seasoning packets from the grocery store that we usually had for taco night.
I think I have found the secret to this Mexican ground beef. It might sound a little crazy, but you boil it instead of browning it. This is what makes it so soft and fine. Mmmmm. There is a little preplanning that needs to occur when you cook your ground beef this way since it takes an hour to cook. Good things come to those that wait, right?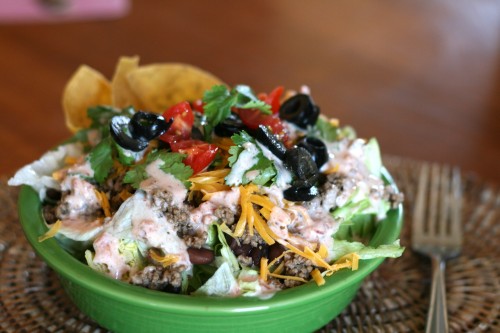 We enjoyed this Mexican ground beef for dinner in crispy, crunchy taco shells. The next day I warmed up the leftover meat slightly and had it on top of lettuce for a delicious taco salad. Use it where ever you'd use ground beef.
The bonus is you know exactly what ingredients are in the seasonings so you are guaranteed to have gluten free seasoned taco meat!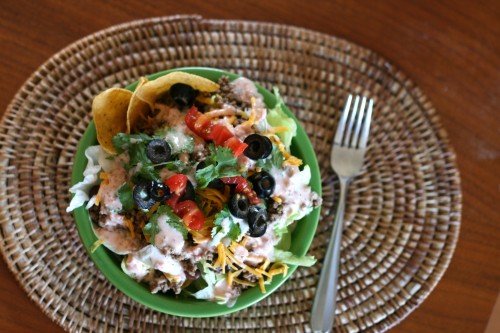 On my taco salad:
Iceberg lettuce, leftover Mexican ground beef, black beans, shredded cheddar cheese, cilantro, black olives, chopped grape tomatoes, 1 tablespoon lite Ranch mixed with 1 tablespoon Melina's salsa I also had some Melina's tortilla chips for added crunch. If you are feeling really crazy I recommend crushing up some Nacho Cheese Doritos and sprinkling over your salad. Crazy, I know.
These items helped to make this recipe easier: