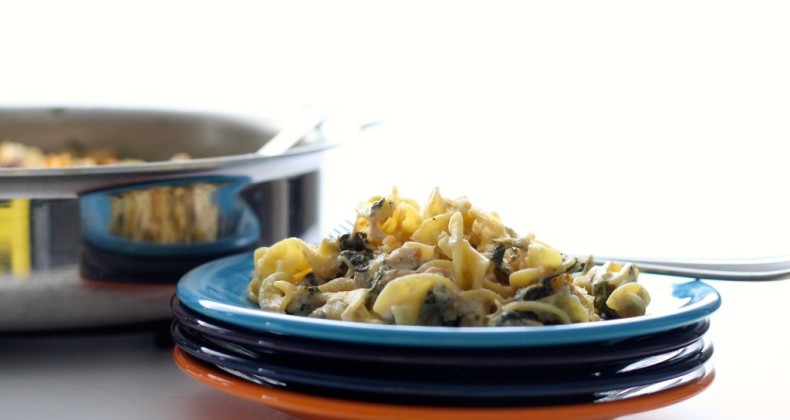 ONE POT: Tuna and Noodle Casserole
My Pinterest feed is full of good looking food and lots of time I notice some pretty tasty looking one pot dinners. These one pot dinners are part of the reason I asked Alex for a pan that can go from stove top to oven.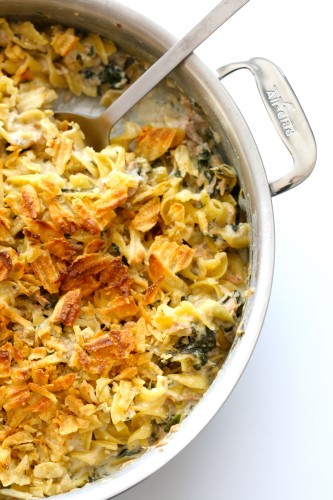 One of my favorite one pot worthy casseroles was missing in my feed. I knew I would break in my new pan with an one pot version of tuna and noodles. Traditionally this casserole is served with peas but I used up the last of my peas making baby food. Darn baby eatin' up all my frozen vegetables.
Some sautéed rainbow chard stood in for the peas and truth be told I like it this way waaaay better. Not a chard fan (why not?!) use the traditional peas my feelings won't be hurt!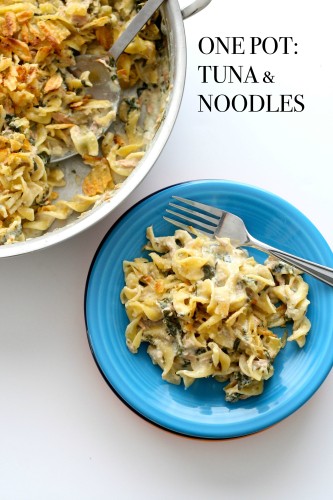 Put away the can opener because this soup contains ZERO cream of whatever soup that all the church cookbooks tell you to use in tuna and noodles. Chicken stock, milk, and a little fat free half and half give you the creaminess you need and want in this casserole.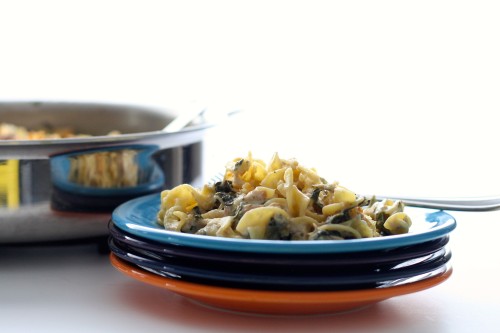 Oh and you can have this casserole on the table in about 20 minutes. AWESOME SAUCE! (sorry about the awesome sauce) This is perfect for those nights you don't know what to cook or you don't have a whole lot of time to devote to cooking dinner. 20 minutes and you can have a comforting casserole that the old church ladies would praise.