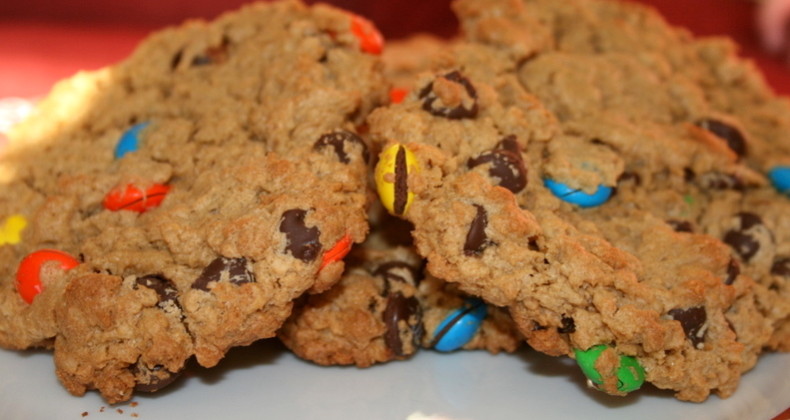 Monster cookies. What's not to love? Oatmeal, peanut butter, chocolate chips and M&Ms baked into a ginormous thin and chewy cookie, sounds like love in cookie form to me. I made a batch for my friend Michelle's 25th birthday. I know how much she loves these cookies, and I knew she would love receiving a package of them in the mail.
The first time I made them, and the first time Michelle had them was when we were in college. Being the great best friend she is, she gave me a huge ego boost by raving nonstop about how delicious these cookies were.  She asked for the recipe, I had to tell her it was a "family secret" since I used my great grandma Nona's recipe. She begged and I caved. I wrote down the recipe for her and she tried her hand at baking. I never saw her cookies, but heard that it was a failed attempt.  (I hope she doesn't mind me sharing this)
This recipe isn't difficult. I am going to blame Michelle's failed attempt on the crappy, ancient, unmaintained stove, in the crappy high-priced rented apartment she was living in at the time. Now that she has a nice home of her own, I am sure she can whip up a batch without any problems. This recipe is for you Michelle.
CHECK OUT THE UPDATED VERSION OF THESE COOKIES HERE! 
MORE OF MY COOKIE RECIPES:
Soft & Chewy Chocolate Chip Cookies
White Chocolate Macadamia Nut Cookies
Chocolate Chip Pecan Cookie Bars
Giant Crunchy Chocolate Chip Pecan Cookies
WHAT OTHERS ARE COOKIN' UP:
Butterscotch Marble Blondie Drops @Technicolor Kitchen
Vegan Pumpkin Chocolate Chip Cookies @have cake, will travel
Flourless and (almost) Sugar Free Cookies with Peanut Butter and Chocolate @Kalyn's Kitchen
Check out Cookie Madness for tons of baked goodies baked daily!