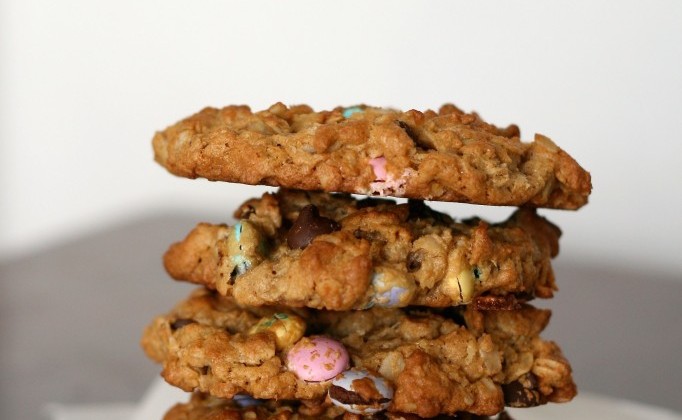 Giant cookies filled with peanut butter, oatmeal, chocolate chips, and M&M candies are the perfect treat. Don't you think? This recipe is one that has stood the test of time. I first posted about these cookies in 2009 but figured an update was due. I based my recipe off my Great Grandma Nona's recipe. She used flour in her recipe which I left out in mine and added in some more oats to help keep the cookies together. The result is a wonderful chewy oatmeal peanut butter cookie.
She was a wonderful baker and cook. She actually worked for many, many years as a lunch lady in the Spencer, IA schools, so she had tons of experience. This was back in the day when lunch ladies actually cooked and prepared real lunches instead of heating up processed food like most school cafeteria workers have to do today.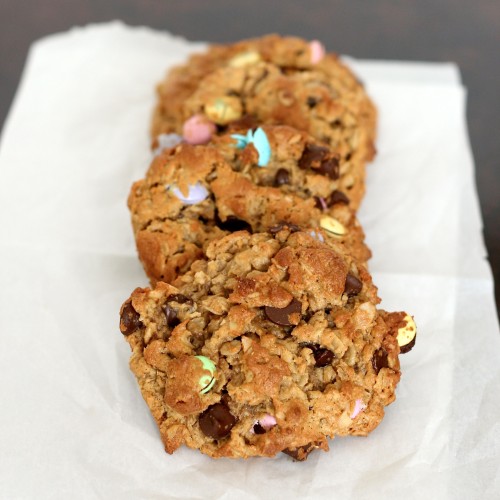 This current batch of monster cookies was baked for the teachers and staff at the girls' school. Last week was teacher and staff appreciation week at the school and PTA parents brought in baked goodies for the teachers and staff to enjoy in the staff lounge. I took an informal poll on my Facebook page wondering what your favorite cookie flavor was. Monster cookie won hands down. So I delivered monster cookies to the school and you get to benefit from an updated recipe with clearer directions! Win-win.
If you use certified gluten-free oats all your gluten intolerant friends can indulge in the peanut butter and chocolate goodness of these chewy cookies too. Remember sharing is caring. If you are looking for certified gluten-free oats check out Bob's Red Mill. I really like the easy availability of their products in the grocery store. Plus they do have the option of ordering directly from their website. I haven't been compensated to say this I just really like their products. 
These cookies freeze beautifully if you want to save them.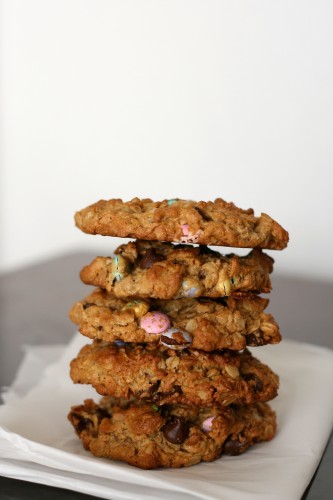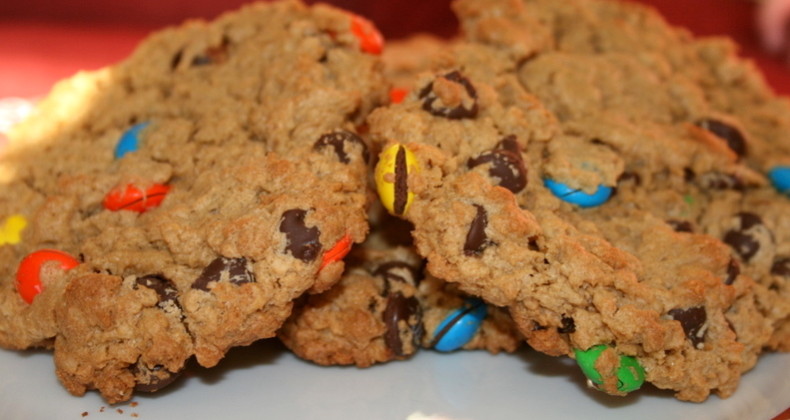 Monster cookies. What's not to love? Oatmeal, peanut butter, chocolate chips and M&Ms baked into a ginormous thin and chewy cookie, sounds like love in cookie form to me. I made a batch for my friend Michelle's 25th birthday. I know how much she loves these cookies, and I knew she would love receiving a package of them in the mail.
The first time I made them, and the first time Michelle had them was when we were in college. Being the great best friend she is, she gave me a huge ego boost by raving nonstop about how delicious these cookies were.  She asked for the recipe, I had to tell her it was a "family secret" since I used my great grandma Nona's recipe. She begged and I caved. I wrote down the recipe for her and she tried her hand at baking. I never saw her cookies, but heard that it was a failed attempt.  (I hope she doesn't mind me sharing this)
This recipe isn't difficult. I am going to blame Michelle's failed attempt on the crappy, ancient, unmaintained stove, in the crappy high-priced rented apartment she was living in at the time. Now that she has a nice home of her own, I am sure she can whip up a batch without any problems. This recipe is for you Michelle.
CHECK OUT THE UPDATED VERSION OF THESE COOKIES HERE! 
MORE OF MY COOKIE RECIPES:
Soft & Chewy Chocolate Chip Cookies
White Chocolate Macadamia Nut Cookies
Chocolate Chip Pecan Cookie Bars
Giant Crunchy Chocolate Chip Pecan Cookies
WHAT OTHERS ARE COOKIN' UP:
Butterscotch Marble Blondie Drops @Technicolor Kitchen
Vegan Pumpkin Chocolate Chip Cookies @have cake, will travel
Flourless and (almost) Sugar Free Cookies with Peanut Butter and Chocolate @Kalyn's Kitchen
Check out Cookie Madness for tons of baked goodies baked daily!