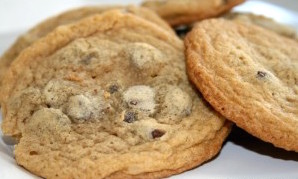 Soft & Chewy Chocolate Chip Cookies
Do you remember Soft Batch cookies from your childhood? These were an essential item at slumber parties when I was a teenager, along with Nacho Cheese Doritos, Pizza Hut stuffed crust pepperoni pizza,(or the Big Foot), Coca-Cola Classic, and peanut butter M&Ms –it is a wonder how I graduated high school weighing 100 lbs soaking wet. I like cookies pretty much any way I can get them, I do not discriminate between soft & chewy, thin & crispy, or dense & cakey. I like them ALL!
I do not have a soft & chewy chocolate chip cookie recipe in my database, and every girl needs a variety of chocolate chip cookie recipes, so my research began. I scaled down this recipe from recipezaar. These cookies were flat, soft and chewy –thanks to all the butter in them.
What others are cooking up:
Phe/MOM/enon: Peanut Butter Chocolate Chunk Cookies
Sticky, Gooey, Creamy, Chewy: Chewy, Gooey Chocolate Chip Cookies
Smitten Kitchen: Crispy Chewy Chocolate Chip Cookies
Cookie Madness: Crunchy Oatmeal Chocolate Chip Cookies