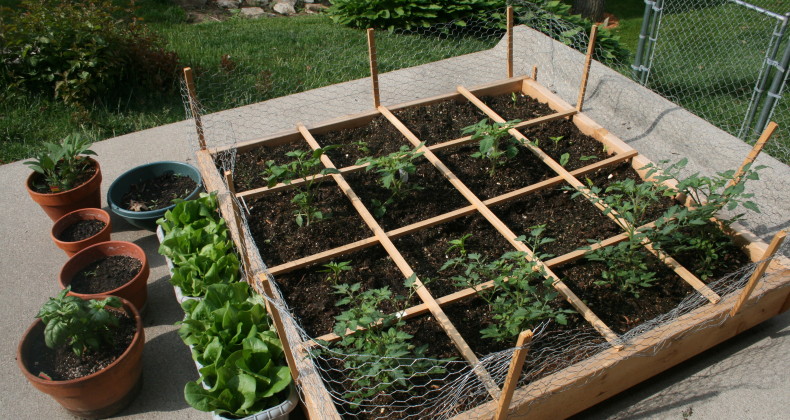 This is the first gardening season where I have a permanent space to garden. Since we haven't lived through a gardening season at our new house I thought it would be best to build a garden box instead of tilling up our yard. Have you heard of square foot gardening (SFG)? At my local library I stumbled upon a book on the topic and thought this method may be the best option for us to try our novice hand at gardening. Last year my parents had a large garden and very generously shared the surplus harvest. This year they planted another large garden which hopefully will be prolific.  With the hopes of receiving some of my parents surplus, I was able to focus on just a few items while honing my gardening skills. I didn't plant potatoes in my small garden because I helped plant about 500 hill of potatoes Easter weekend in my parents' garden.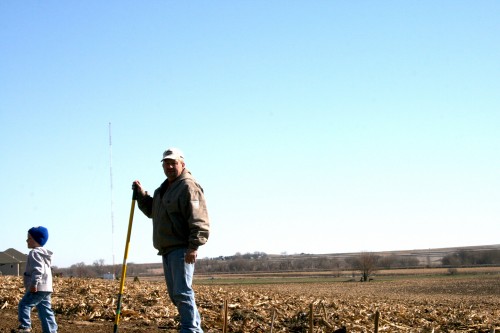 Here is my dad hoeing a row for potatoes. As you can see they have a lot more space for a garden than we do.
At the beginning of the year I ordered my seeds from Johnny's Seeds. The first gardening lesson I've learned is that in order for my tomato plants to "bulk up" for planting outside next year I will need to start the seeds much earlier. Since the tomato plants were so little I did purchase plants from Menard's. My pepper plants still seemed a little scrawny but I planted them with hopes they will still produce. I have plenty of seeds leftover so next year's garden seeds will be started earlier. I am excited about my garden. Below are pictures of the gardening box and my garden.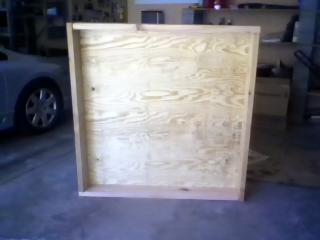 Sorry for the poor quality photo, I took it with my cell phone. I built a 4 foot x 4 foot gardening box using 2 – 8 foot long 2×6 cut in half, a 4 ft square piece of 1/2 inch plywood, and some chicken wire left behind by the previous homeowner. If you want to build your own garden box make sure that the wood you use is untreated. On the bottom of the gardening box (the plywood) I drilled drainage holes about every 3 inches. Once the box was built I moved it to a nice sunny spot on part of our driveway. I placed the box on a couple of 2×4 to prop it up to allow for proper drainage. The box was then filled with a combination of vermiculite, peat moss, and compost. Along side of the gardening box I have pots with herbs and a couple of boxes for my lettuce.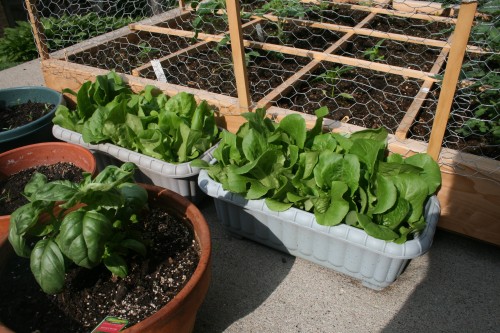 Basil is on the left side of the photo with Bibb lettuce (which will be turned into a salad tonight) in the boxes.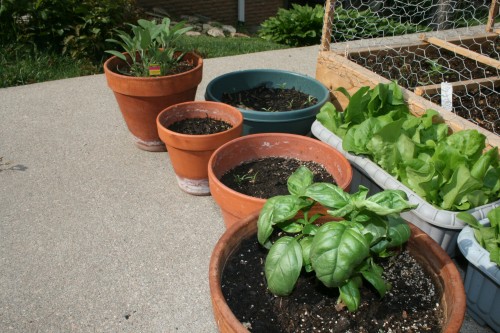 Starting at the top left to right: Sage, lavender, cilantro (in the green pot), mint, Bibb lettuce, and basil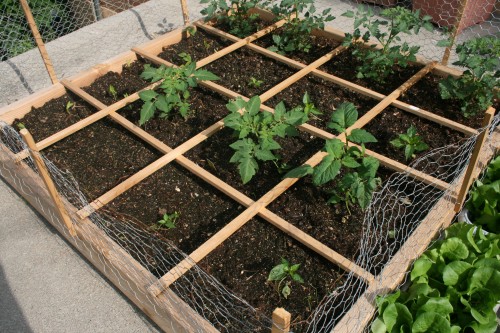 Starting from top left moving to top right:
Green beans and Burgundy beans in the top 3 squares and grape tomato in the final square
jalapeño pepper/green onions, Roma tomato, mixed colored bell pepper, grape tomato
jalapeño pepper/green onions, Roma tomato, mixed colored bell pepper, grape tomato
jalapeño pepper/green onions, Pink Brandywine tomato, mixed colored pepper, grape tomato
QUESTIONS FOR EXPERIENCED GARDENERS:
I live in Nebraska. When should I start my tomato and pepper seeds?
What is the best way to stake tomatoes in a SFG?
Have any of my readers tried a square foot garden before? I would love to hear your tips, lessons learned, and gardening stories.