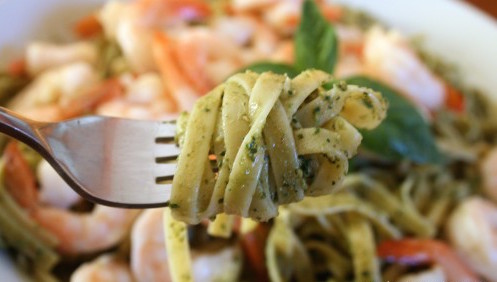 Basil & Sunflower Seed Pesto
It wasn't that long ago that I tried pesto for the first time. On a whim I bought some, it was jarred and sitting next to the spaghetti sauces on the top shelf at the grocery store. I was a little hesitant to try it and the jar sat in my pantry for at least a month after I bought it. When I finally had the courage to try it (which is weird because I love trying new things) I opened the jar and noticed there was a layer of oil just floating on top of a green mass. So far I wasn't impressed. Uncertain whether or not to stir the oil back into the pesto or pour it off I opted just to stir it back in. Finally, I was ready to try it. I stuck the spoon back into the jar and scooped up a little bit of pesto. I ate it straight off the spoon and I was pleasantly surprised how wonderful it was. Prior to this experience I really hadn't tried much basil before, but now I was in love with the garlic, basil, Parmesan cheese combination. Last summer Mom grew basil in her garden and canned plenty of pesto to enjoy during the offseason. When I was planning out my garden, I knew without a doubt, basil would be included.
Last week my basil was finally big enough to harvest some leaves for my first batch of pesto. When I did my weekly grocery shopping trip I planned to get Parmesan cheese and pine nuts (I always have garlic on hand) for the pesto. Much to my surprise pine nuts were $29.99 per pound at Whole Foods. Eek! I knew they were a costly little seed but I was surprised at the actual price tag. Not wanting to spend that much I was just going to buy walnuts since I've used them before when making pesto. As I was reaching for the walnuts I saw the sunflower seeds and recalled I still have a small stash of them at home. So the walnuts went back on the shelf. The sunflower seeds I had were salted and roasted so I skipped adding any extra salt to my pesto. The pesto was quickly made in my food processor and tossed with some fettuccine.  To make the meal a little more substantial I made some shrimp scampi (recipe here) to toss on top.
I think the sunflower seeds worked wonderfully in pesto. They are a really nutty tasting seed and combined with the Parmesan cheese and garlic I thought it was delicious. Have fun with your pesto and switch around which type of nuts or seeds you use. Give the sunflower seed pesto a try, I think you will like it. Do you have a favorite nut or seed you use in your pesto? Let me know in the comments.
OTHER DISHES WITH PESTO:
Deconstructed Pesto with Beet Greens & Garlic Scapes
Baby Bok Choy Pesto
Sausage and Spinach Lasagna Rolls with Pesto Tomato Sauce
Pesto Couscous
Tuna and Pesto Sandwich
Spaghetti and Meatballs