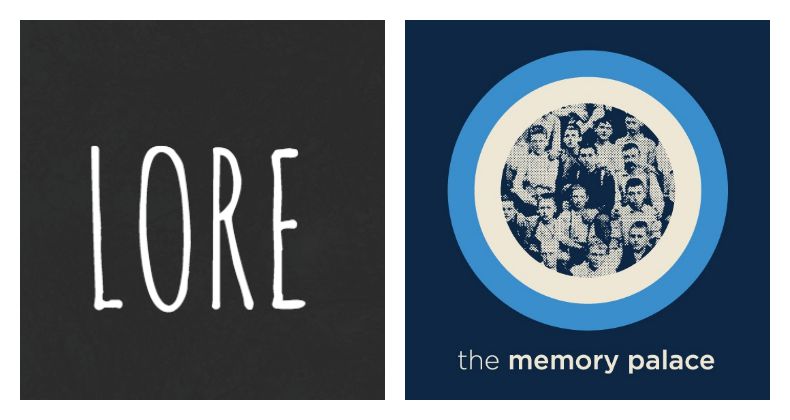 What's blasting in your earbuds lately? I am always on the hunt for the next great podcast. Of course I was obsessed with Serial just like everyone else.; murder-mystery is my genre. I stayed up way too late in college binge watching marathons of (what we did before Netflix) Cold Case Files, Forensic Files, 48 hours, and the like.
These days I don't have as much time for TV as I did back then so I need to get my fix through my earbuds. If I am cooking, cleaning, folding laundry, on the treadmill, out for a walk, or mowing the lawn chances are I am listening to a podcast. For the last five years or so I have been enjoying my ever rotating list of podcasts. I can officially say I liked podcasts before Serial. Does that make me a podcast hipster? 😉
I am ALWAYS looking for recommendations so let me know what you're listening to! This is what has been blasting in my earbuds. I hope you find something new to enjoy.
LORE: This one is new to me and probably my current fave. It is a bi-weekly podcast about true life scary stories. Episode 7: In the Woods gave me goosebumps.
BENJAMEN WALKER'S THEORY OF EVERYTHING: I mentioned TOE in this post. I really enjoyed the three part series on Instaserfs. Also the three part series on Man Without A Country was very well done too.
99% INVISIBLE: This podcast is about design and architecture, something I know very little about but still find fascinating. The Gruen Effect episode about shopping centers was fascinating as was Guerrilla Public Service.
LIFE OF THE LAW: This is an investigative reporting podcast. Telling stories about the law and those affected by it. As someone who received prenatal and postnatal care four times from Midwives and three out of my four children were delivered by a Midwife I found the Birth Rights episode very good.
THE TRUTH: Radio dramas. My inner theatre geek gets so excited every time there is a new episode. Can You Help Me Find My Mom made me choke up. So good.
THE MEMORY PALACE: Short stories of the past. Nate DiMeo is an AMAZING story teller. This podcast is put together very well. I recommend The Brothers Booth: Special Platinum Edition I have always been fascinated with the Booth brothers.
CRIMINAL: "A podcast about crime." Since it is vacation season the episode on Triassic Park caught my attention.  Also, Gil from London an interesting story about online dating.
THE CHOPPED PODCAST: Hosted by Marly of Namely Marly is a podcast about food blogging. I recommend Top Email Marketing Tips For Food Bloggers by my husband Alex P. Gates. This is something we are working on putting in to practice for The Kitchenarium!
LOVE + RADIO: Well produced interviews of all sorts. The most recent episode I listened to was Greetings from Coney Island and it was wonderful.
SNAP JUDGMENT: Glynn Washington rocks the story telling thing. I am always shocked when the hour is up.
These are ten of my favorites that have been buzzing in my ears lately. Of course I still listen to my classic favorites like The Splendid Table, This America Life, Radiolab, and The Moth.
Tell me what are you listening to? What should I add to my list?
p.s. If you subscribe to any of these podcasts you may recognize that many are from Radiotopia. I pretty much listen to/love all their work. Check it out!