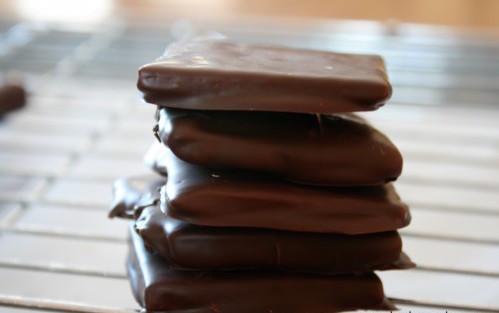 This recipe is a first for me, it is the first time I was successful making candy. The last time I tried boiling sugar I burned it. I burned it badly. I actually had to throw away the pot because the sugar had scorched the bottom. This time around I did not leave the room, I did not quit stirring, and I actually used a thermometer which my eyes never left. As soon as the temperature reached 300 degrees F, I turned off the burner and removed the pot promptly.  Heath Bars are one of my favorite candy bars, and I really wanted to succeed in making them at home. I may have actually danced with joy when I sampled these. Delicious chocolate and buttery toffee meet, and it is love.
Have faith dear reader, you can make these yourself. You need to be patient and keep a watchful eye on the candy thermometer. Some people (more experienced than I) can do this without the trusty thermometer. If that is you congratulations. The sugar mixture will turn a lovely caramely brown when it is done. Or if you are like me and prone to burning sugar when you try to do it by "eyeing it" it is done when the thermometer reaches 300 degrees F.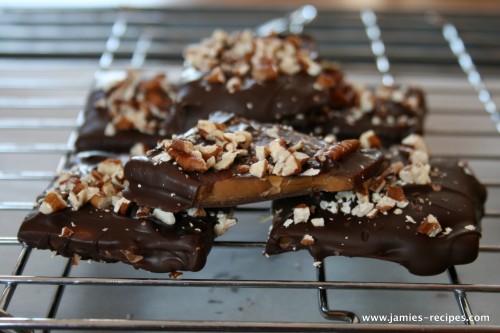 These toffee bars should be added to your holiday treat platter. Make them for your family, make them for your friends, make them for your neighbors, and snitch some for yourself. Wrap them up in pretty paper and give them as gifts.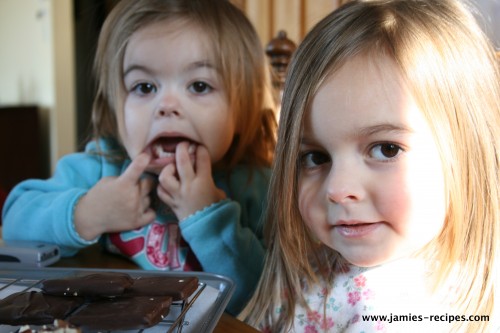 Becoming a food blogger has caused my children to want to pose with the food. They are some silly girls!