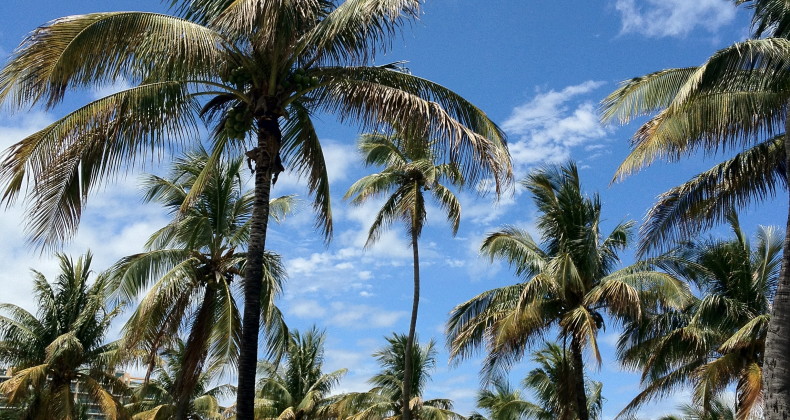 Vacation: Miami Food Tour
As I write this is it cloudy, rainy, and cold (54 degrees F) in Omaha, hard to believe one week ago Alex and I were driving down to Miami (we were staying in Ft. Lauderdale) where rain also threatened us, but it was about 35 degrees warmer. Luckily for us the rain clouds cleared away and we were able to enjoy our day in Miami without getting drenched.
We were spending a week in Ft. Lauderdale and figured since we were so close to Miami we should drive down there and see what it is all about. After some searching around Alex found a Miami Culinary Tour, which is right up my alley and I knew we had to do it. We took the scenic A1A all the way to Miami with the ocean to our left. This was a great way to see some of the amazing beach front properties, including Trump's 4 or 6 different high rise resort hotels.
Have you ever gone on a culinary tour? I hadn't and didn't quite know what to expect. We stopped at 8 different places, eating a little bite at each. Our adorable tour guide Mirka filled us in on some of South Beach's history while we were walking to our next destination. By doing this food tour we tried so many different Latin American cuisines, more than we would have been able to do in 2 1/2 hours by ourselves, I'm sure. I also learned I LOVE ceviche –which is an unfortunate thing to love when you are a land-locked MidWesterner. 🙂
Sit back and enjoy this very photo heavy recap of our delicious time in Miami! I was typing notes on my phone as quickly as I could, so I hope the information I share with you is correct.
We took the lunch time tour that started at 12:00. When you sign up for the tour you are emailed the secret location where you will meet up with your tour guide. We had a nice size group for midweek, 14 of us total. Mirka gave us a quick run down of what to expect followed by a little history of Miami and about the area where we met. When the crosswalk indicated it was safe to walk we crossed the street and walked to our first destination –Bolivar, a Columbian restaurant.
Bolivar: "Bolivar Restaurant features an environment that manages both the sleek and rustic styles of great Colombian-Peruvian-Venezuelan gastronomical fusion in a distinctly lounge-y vibe."
Here we were served our first drink a Columbian refajo. A cream soda like beverage was mixed with Aguila beer for a sweet and satisfying cold drink.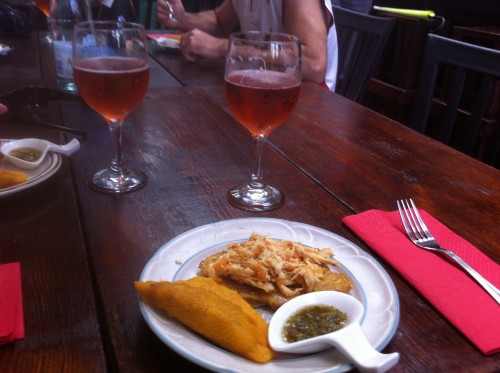 Our food at Bolivar included Patacone in the background topped with shredded chicken, tomato, and onion. Patacone is a fried green plantain. These were so delicious, I actually had to recreate them at home last night! In the foreground is a Columbian empanada, made with a crunchy corn dough and filled with a shredded beef and potato mixture. The dipping sauce is made with jalapenos, cilantro, and vinegar.
After these first few bites I knew this tour was going to be wonderful. If this is all they eat in Columbia I would be a happy visitor.
Next stop was Goyo El Pollo (I couldn't find a website!): This is a Peruvian Cuisine Restaurant and Lounge
Here we were served two bites, Ceviche and a Peruvian Asian fusion fried rice. I was so nervous and excited about eating the ceviche that I forgot to take a picture! First off, ceviche isn't RAW seafood, it is seafood cooked in lime juice, and it is DELICIOUS! I was so nervous to try it, but as soon as I gulped it down I looked around to see if there was an unclaimed spoon left so I could sneak another bite. Our ceviche had grouper, shrimp, calamari, octopus, red onion, garlic, lime juice, and a crunchy roasted Peruvian corn reminiscent of Corn Nuts. The seafood was so tender. So much YUM in one bite!
Our second bite at Goyo El Pollo was Arroz Chaufa. Which is a Peruvian stir fried rice with scallions, Peruvian spices, red and green peppers, egg, and topped with a jalapeno based hot sauce. This was good, but paled in comparison with the ceviche.
Next up was the historic Essex House Hotel. We didn't eat here but we did get to hear some good Miami/Art Deco history and see a beautiful painted mural.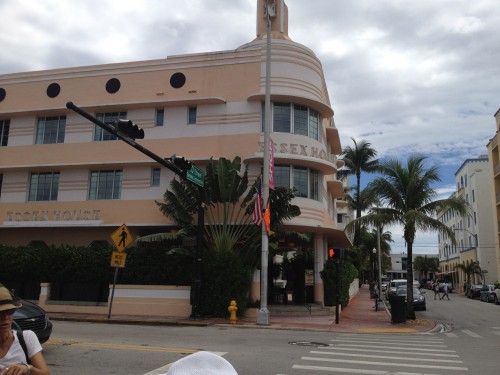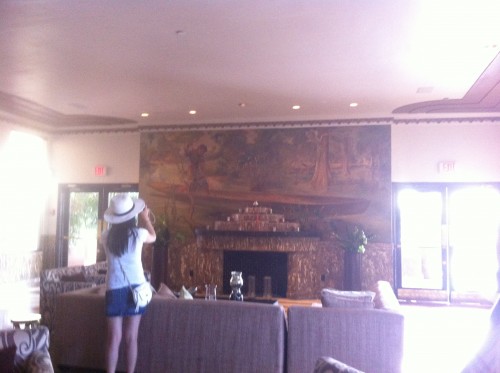 Next up was Tudor House: The Chef here is winner of The Next Iron Chef (fancy-schmancy!)
I was so excited when Mirka said we would be eating a Cuban sandwich here. That was one of the "must have" foods on my Eating in Florida list. I was slightly disappointed when I realized that the Cuban sandwich we would be eating had been "chef-afied" -meaning that it wasn't going to be a traditional Cuban sandwich of the common people but a fancy-shmancy sandwich. Don't get me wrong it was very very good.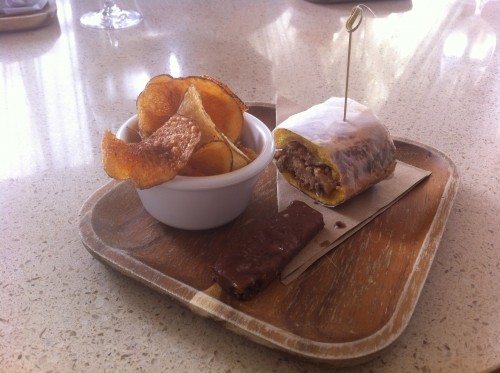 We enjoyed our fancy Cuban sandwich, house made chips, and a homemade KitKat. The sandwich was made on a sweet eggy bread with roasted pork belly, bacon, gruyere cheese, house pickle, and homemade spicy mustard. Very good but very fancy too. The chips were just your typical homemade chips. The KitKat however, excited me. I love it when people successfully recreate your favorite processed foods. Unfortunately this was not the case with the KitKat. On it's own it was a good chocolately dessert, but labeling it as "KitKat" left me disappointed. Especially since both of us thought we tasted/felt there was coconut in it. If I were blindfolded I would have never ever guessed it was a KitKat.