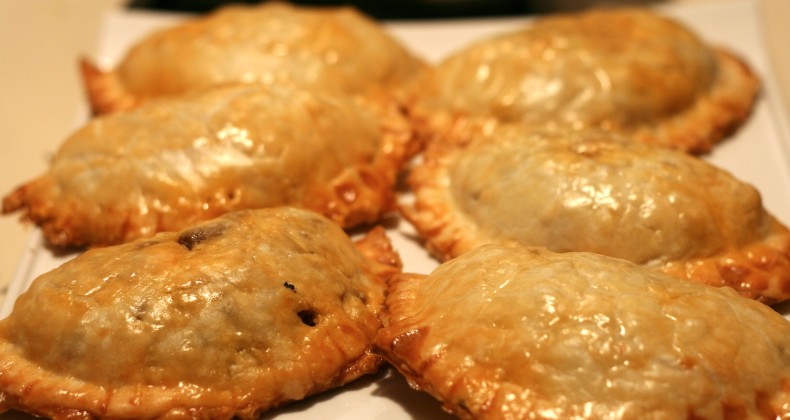 Part of the fun of being on vacation is trying all the local foods. Alex and I try really hard to avoid chain restaurants when we're eating in Omaha, so you can bet we will avoid all chain restaurants when we're traveling. I don't think of it as being a "foodie" or being snobbish, I think of it more as being practical. It is a safe bet to say that Applebee's or Olive Garden or insert chain restaurant here, is going to taste the same at home as it will in any other city you visit. The less adventurous eaters here might find that comforting. Each to their own.
When we were in Miami in May we went on a Culinary Tour –I highly recommend it. While we were trying all the delicious goodies our travel guide Mirka would fill us in on the food we were eating. Lots of times she would tell us what was in the food. At one of the stops we ate the most delicious Argentinian empanadas. Mirka, being of Argentinian ancestry, was able to tell us all of the tasty ingredients in the empanadas. I was trying to take notes as quickly as she was rattling them off.
These are my notes: Charlotte Bakery: Beef empanadas -baked Argentinian ground beef, onion, red pepper, green olives, white cheese, spices -paprika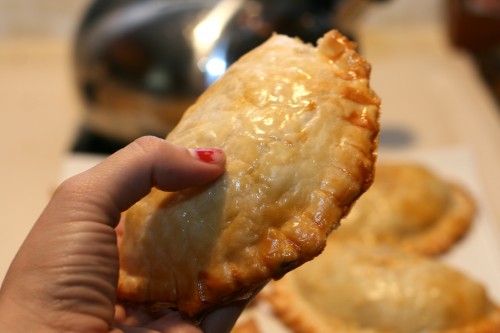 These notes are what I used for my vacation inspired dinner. You could make these smaller and serve them as an appetizer, or make them slightly larger and serve them as a main dish. Since this was a last minute vacation inspired dinner I ran out a bought some premade Pillsbury pie dough to use.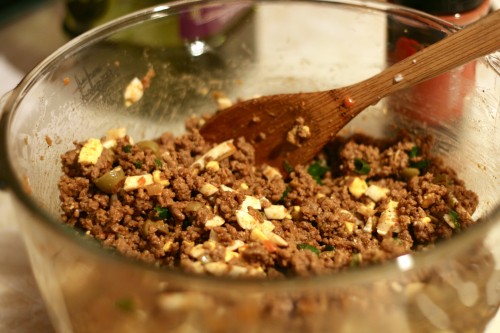 I have to say that I am not a fan of green olives what-so-ever, but these would not be the same without them. In fact, I could have added more and still would have thought they were delicious. As you can see in my ingredient list, I forgot the red bell pepper. Add it to be traditional, but if you omit it I won't tell anyone.
My other vacation inspired dinner:Â Naan, Shish Tawook, and Muhammara-YUM!