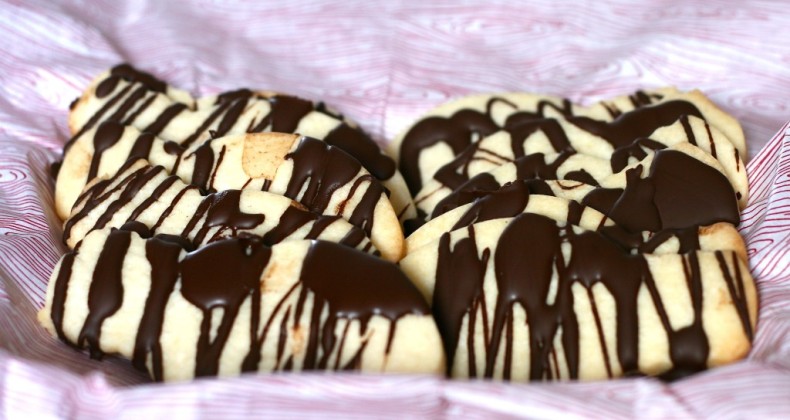 It's the most wonderful time of the year! It sounds so cliche but I love Christmastime. Everyone does seem to be of good cheer when you are out and about. One of my favorite things about this time of year is dropping off trays of goodies to neighbors and friends. That is why when I saw Lindsey from Love and Olive Oil post about the Great Food Blogger Cookie Swap I knew I needed to participate (the swap is also hosted by Julie from The Little Kitchen).
I sent out a dozen cookies to Mallory (The Chic Geek), Amanda (High Heels to Hot Wheels), and Ashleigh (Being Cheap is Easy). And in return I received a dozen cookies from Rebecca at It's Not Easy Eating Green (Candy Cane Berger Cookies), Lisa at Clawson Live (Lemon Glazed Gingerbread Madeleines), Â and Sarah from Frankly Entertaining (Triple Chocolate Ginger Cookies). Pretty great, huh? These ladies know how to bake delicious cookies! If you are needing new additions to your Christmas cookie lineup check out their recipes. It was so fun anticipating the arrival of these sweet treats. So fun getting mail that isn't a bill.
The cookies aren't the only thing sweet about this swap. The swap has partnered with Cookies for Kids Cancer, a national non-profit that is helping fund new therapies used in fighting pediatric cancers. This year the swap has raised: $13,778.40 How awesome is that?! Brand partners matched the food blogger donations dollar-for dollar. Thank you to OXO, Gold Medal Flour, Dixie Sugar Crystals, and Grandma's Molasses. for supporting such a wonderful cause.
The cookies I baked up this year are my favorite cookie from last year that I never shared with you. I know, I know, shame on me! You did get a sneak peak at them in this Christmas goodies post. Â Chocolate drizzled shortbread is probably my new favorite Christmas cookie. Buttery with a delicate crisp and drizzled in dark chocolate make it a real winner!
If you are interested in signing-up for next year's Cookie Swap sign up here. 
There was 555 submissions this year! So hop over to the round ups and check out all the delicious cookies.
Cookie Swap Round Up Part One
Cookie Swap Round Up Part Two