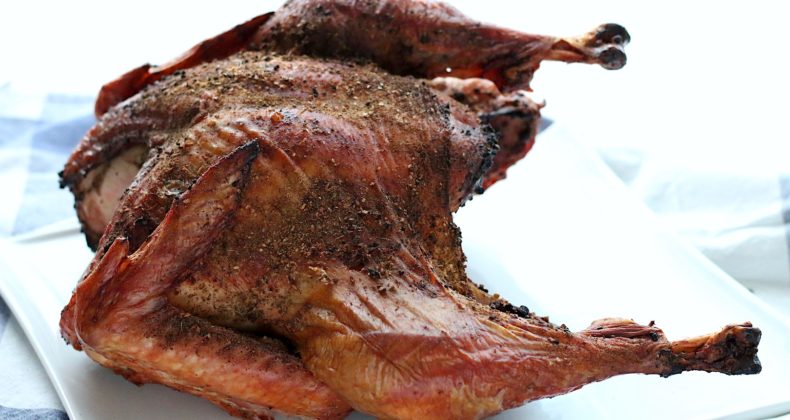 Turkey is the pièce de résistance of the Thanksgiving dinner. Give your guests something special this year by grilling the bird.
While I love the traditional old fashioned oven roasted turkey I now know after hosting a couple Friendsgivings the oven space is at a premium. Grilling the turkey will give you extra oven space and it will actually cook up faster than oven roasting. What are you going to do with that extra oven space? I recommend making an extra pan of Grandma's Make Ahead Mashed Potatoes. 😉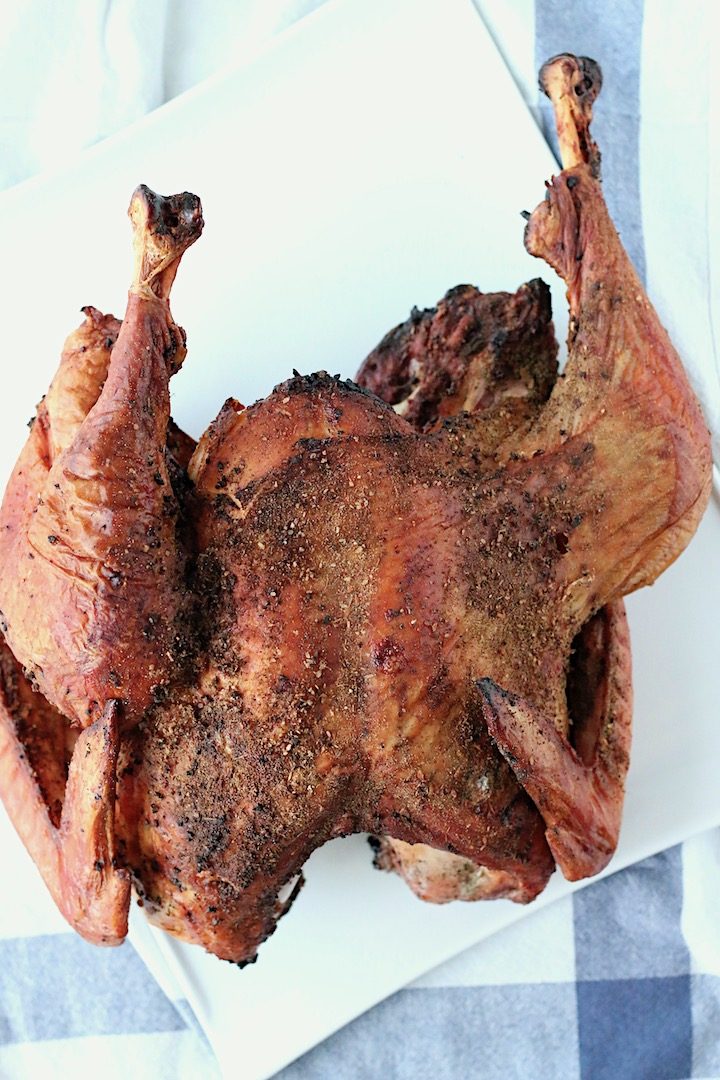 Does the idea of grilling an entire turkey cause you anxiety? Let me be the first to admit when I thought about doing it I was incredibly intimidated. A 14-pound turkey is by far the largest piece of the meat I have grilled and I was concerned about overdoing it and it being dried out. In the last month, I have grilled TWO turkeys and they both turned out juicy and full of flavor. Yay me!
How did I do it? I cut out the backbone, spatchcock style, and pressed the breast bone flat. I fired up my charcoal grill stacking the hot coals on one-third to half of the grill. Then cook the turkey over indirect heat for about 90 minutes to two hours. The seasoning I kept incredibly simple and just used Kirkland No Salt Seasoning and Kosher salt -I know, I know 😉 I also used charcoal briquettes with mesquite providing an added delicious flavor.
Some Tips:
If using a frozen turkey place it in the refrigerator on Sunday so it has enough time to thaw
Use sharp kitchen shears to cut out the backbone -don't toss it, save it for making stock
Press really hard on the breastbone for it to snap so it is laying flat (I must not have broken it completely because as the turkey cooked it pulled back together)
Cook the turkey over indirect heat with the legs and thighs closest to the hot coals
Make sure your coals are roaring hot
Make sure the vent on your grill lid is over the breast portion
For a 12-14 pound turkey cook for 90 minutes before opening the lid and checking the meat
To test for doneness insert a thermometer into the inner and outer thigh and breast. Every point should have a temperature of 175 degrees
If the breast temperature is lower than the thigh temperature carefully turn, so the breast is nearest the coals and grill for an additional 15-20 minutes before checking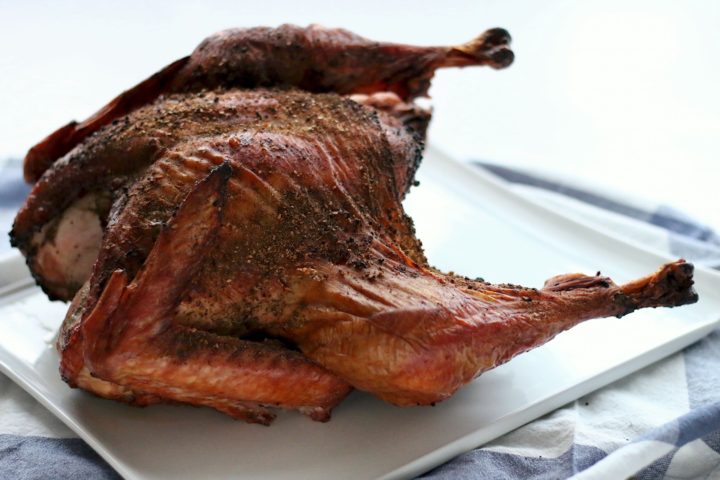 So what are you waiting for? Go get your grill on! I recommend mixing up a cocktail to enjoy while you are tending the bird, give this Harvest Cider Mule a try. Happy Thanksgiving, friends! Gobble til you wobble 🙂
How are you cooking the turkey this year?
My favorite items to make this recipe easier: