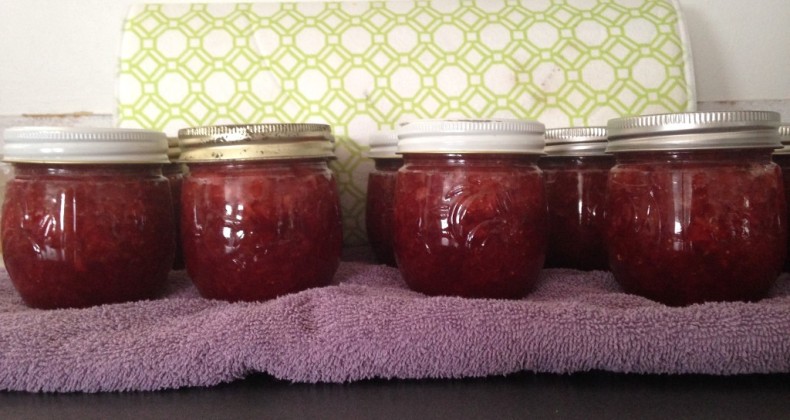 Strawberry Vanilla Bean Jam
Hello friends! How I have missed you. If you missed the memo about my radio silence you can catch up here. My kitchen model is *almost* done. Really all that is left is putting up our tile for the backsplash and getting our new dining table and chairs –which should be arriving this week. I have been so tempted to share photos of the remodel with you but I really want you to see the completed project and for that you will have to wait until after next weekend.
As my regular readers may know I am now 40+ weeks pregnant. Baby still hasn't arrived yet. My children like to take their time and then be kicked out. So in order to keep busy and pass the time I decided I would can some yummy jam. Do you have a surplus of strawberries on hand? Let's turn that surplus into something you can enjoy all year long or gift to lucky friends and family.
We be jammin' (sorry this is always in my head when I can jam). These little jam jars are sealed by boiling them in my large canner. If this is your first time canning this recipe is totally doable if you have the proper supplies. The list of supplies below is what I use when canning.
* 1 large canner  (similar)
* 6 piece canning tool set (similar)
* 10 1/2 pint jars
* 10 regular mouth lids
* 10 regular size jar rings
* Ball RealFruit Classic Pectin (similar)
Canning jars and rings need to be sanitized before you fill them. You can put them in boiling water or run them through the dishwasher and leave them in the hot dry cycle until ready to use (this is what I did). Once you are getting closer to putting the jam in the jars place the jar lids in a pan of simmering water for about five minutes. I don't mind the strawberry seeds in my jam but if you are opposed to seeds you could run your fruit through a food mill.