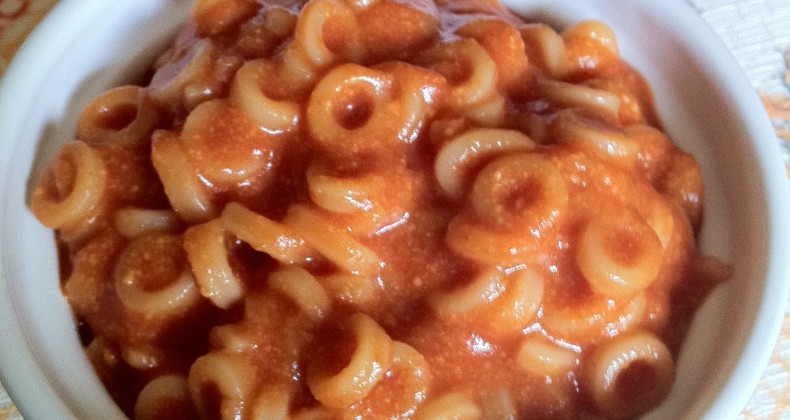 Uh-oh I'm having a blast from the past flashback. Do you remember Campbell's canned Spaghetti0's? I'm talking about back in the day before they started making them "nutritious" -yeahhhhh.  All you had to do was get out the can opener, dump them in a small sauce pan and cook until hot or if you're like me eat them straight out of the can cold. I could eat a whole can myself, and truthfully I did eat whole cans of Spaghettio's as a meal when I was in college. There is just something delicious about the sweet tomatoey-cheesey sauce that made the irresistible.
It has been a long time since I've even thought about Spaghetti-O's. My daughters may have only had them a couple times in their short little lives. I'm pretty much a perimeter shopper at the grocery store and unless they are on an endcap I really don't think about them. Well that changed three or four months ago when Isa from ThePPK made Vegan Spaghetti-O's that peaked my interest. I never thought about making spaghettio's at home before. In fact I've never even seen the little O-shaped pasta at the grocery store. Fast forward to last month I found a box Creamette large rings at the grocery store. Instantly I thought about the possibility of making Spaghettio's at home for the girls, so I picked up a box. After a month of procrastinating I finally made them. The girls loved them and I thought they tasted pretty authentic. The biggest surprise to me was how easy it was to whip up a batch, especially since I like my spaghetti-o's plain with NO meatballs or franks (ICK!).
This recipe makes enough for a small army so invite some friends over and enjoy a food from your childhood.
*I read the ingredients on the back of a can of Annie's Organic Bernie-O's to figure out what I needed to do to make them at home