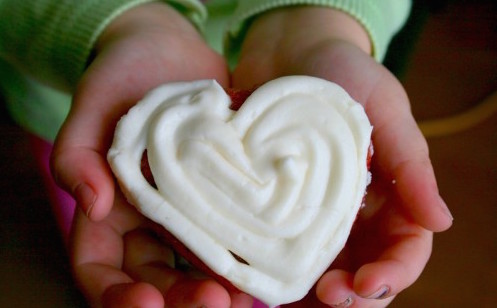 Gluten Free Red Velvet Cake
Does your special someone have a gluten allergy? Are they unable to enjoy tasty Valentine's Day treats because of this allergy? Don't leave them out this Valentine's Day, make them some gluten free red velvet cupcakes.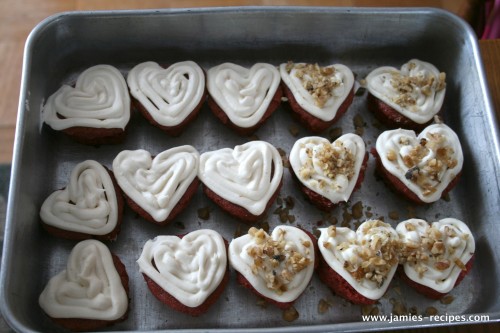 The first time I tried this recipe was last year for Valentine's Day, and it was my first attempt at making anything gluten free before. We invited friends over (who also have young children) for a Valentine's dinner party. Being Valentine's day and all I knew I wanted to make a dessert. I found the recipe on Gluten Free Cooking School's website.
This year instead of making a whole cake I made little heart shaped cupcakes for my husband to bring to work. I am assuming everyone liked them, because the cake pan came back empty.
You could make this in two round cake pans, and have yourself a beautiful red velvet layer cake. I however, chose to make mine into heart shaped cupcakes. My mom bought me some silicone heart shaped cupcake molds and I was excited to use them for the first time. Needless to say, some of the cupcakes got stuck in the mold. Looks like I am not the only one that has had an unfortunate experience with silicone cupcake molds. There is a whole discussion at The Kitchn about baking with silicone molds –they actually made red velvet cake in theirs too. Maybe it is the cake and not the mold? 🙂
OTHER RED VELVET (not gluten free) CREATIONS:
Red Velvet Cupcakes from Rue le Sel
Red Velvet Macaroons from delectable deliciousness
Red Velvet Bundt from Recipe Girl