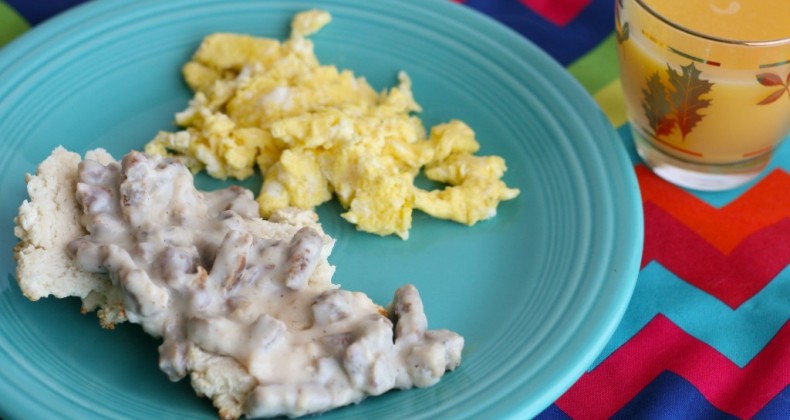 Sausage Gravy with Biscuits
What is your breakfast routine like? Is it different during the week than it is on weekends? Weekends are reserved for special breakfasts in my kitchen. Tasty egg bakes, breakfast pizza, frittatas, quiche, Nutella rolls, and cinnamon rolls often make their appearances on the weekends. If you have been a reader for awhile you then know what a breakfast/brunch lover I am and I would be remiss if I did not include a recipe for the indulgent sausage gravy with biscuits.
Making the sausage gravy is so easy and it whisks together very quickly. The longest you need to wait is the time it takes to brown the sausage. So toss out those powdered gravy packets and whisk up some creamy gravy yourself! Usually ground sausage is the preferred meat in the sausage gravy however I was completely out of ground sausage and staying true to my cooking down the pantry challenge I just used an equal amount of sausage patties which I sliced into small bits. Ground turkey sausage works well in this gravy too, however you may need to add a little extra butter to make the roux. Homemade biscuits would be the perfect sponge for this creamy gravy but this time around I just used the drop biscuit recipe on the back of the Bisquick box.