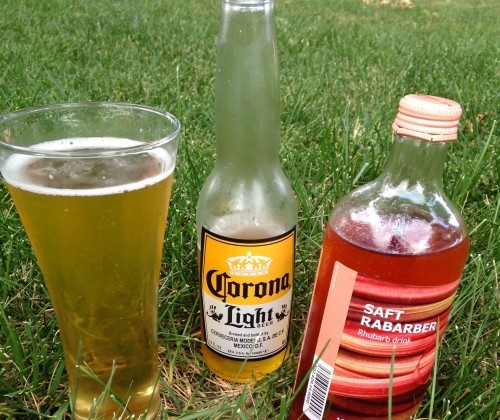 Today I am going to give you a tour of my kitchen remodel, but first since you are visiting my home I must offer you a cold beverage. I hope you are okay with that.
Summer shandy seems to have grown increasingly popular over the years. The basic shandy formula is beer + lemonade. Now I know you can buy pre-made shandies at the store I have a few in the beer fridge in the garage right now. When the sun is hot and it is a bajillion degrees out a shandy is incredibly refreshing.
This summer shandy has Saft Rabarber in it. What on Earth is Saft Rabarber you ask. Well that is just Ikea for rhubarb syrup. You could always make your own rhubarb simple syrup though.
Grab a glass and your favorite light beer and we will mix up a shandy.
Warning: This is a very picture heavy post. If you are on a slower internet connection it may take time for all these photos to load
Now that you have your cold beer cocktail let's take the tour, shall we? Need a refresher? This is what my kitchen looked like before: Original 1960s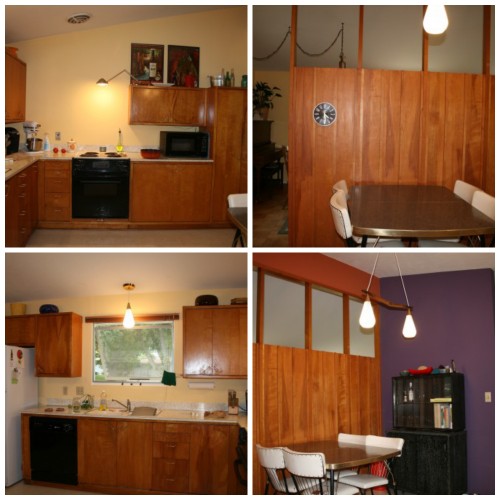 May 4, 2014 my husband tore the wall down while my wonderful sister came over and helped me paint.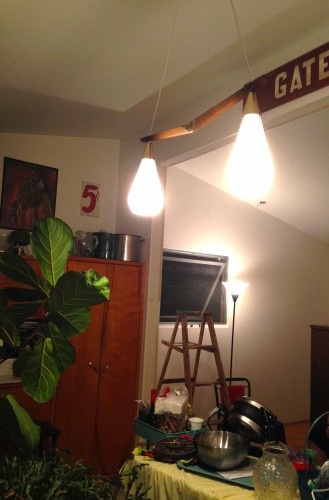 On May 7 the construction started to get real! Here is one last shot of my old kitchen intact.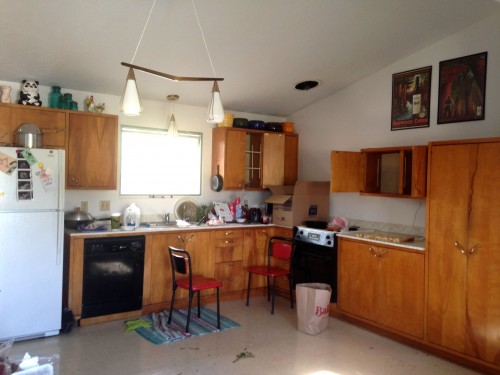 My little man had to help in the renovation. He did not hesitate to swing the rubber mallet.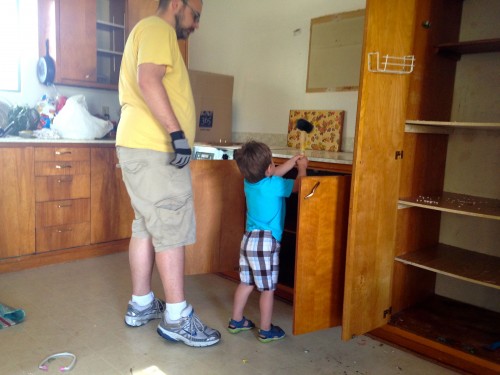 When I was making one of a thousand trips to Home Depot my husband had ripped out the cupboards on the south wall which included my faulty tiny oven. I was thrilled when I saw that hunk of junk on the driveway.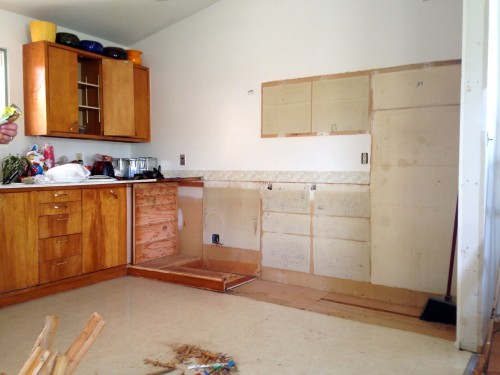 Since I was 37 weeks pregnant at the time I was not allowed to tear out the cupboards. I shouldn't actually call them cupboards though since they were actually more like built-ins. Just one of the many "fun" things you learn about your house when you start construction. They were not easy to tear out. Alex persevered though and torn them out piece by piece.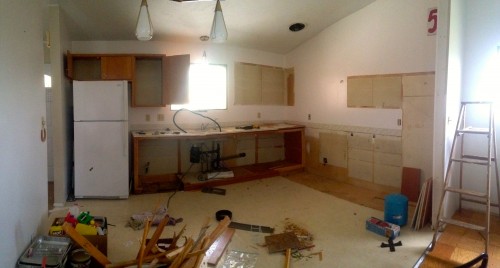 May 9: Â Everything is out and it looks so small emptied out.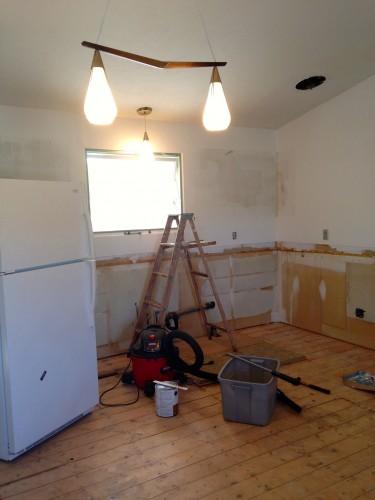 My brother came down today and he and Alex picked up the cabinets and got to work.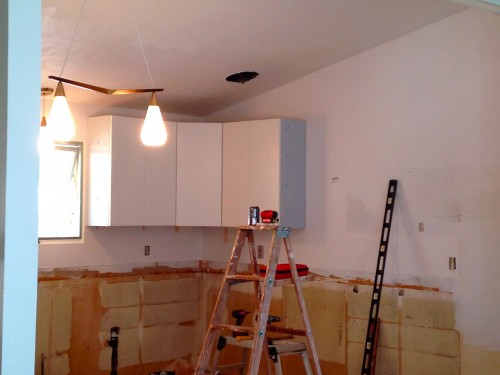 May 10: My dad and father-in-law come down to help lay down the new wood floor.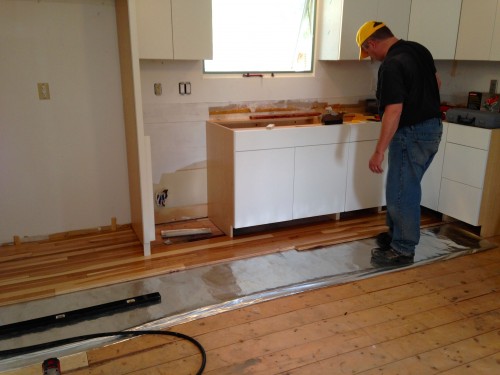 By the end of the night my wall cabinets were all in and the fridge was set in place. The new kitchen floor was laid.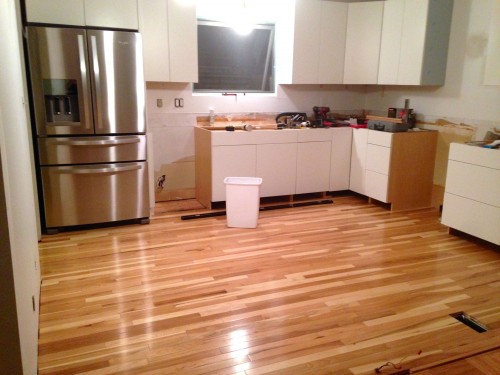 May 11: My brother and Alex set the cabinets for my peninsula. This is probably one of my favorite parts of my new kitchen.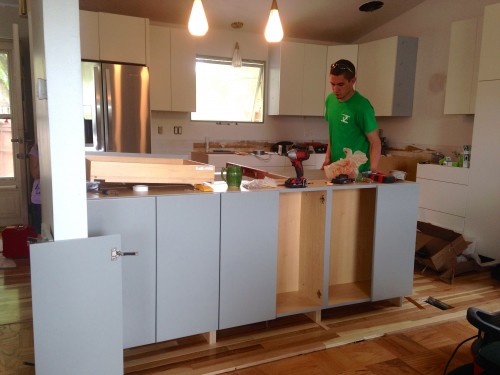 By the end of the night I had a room that looked very much like a kitchen (sans countertops & sink).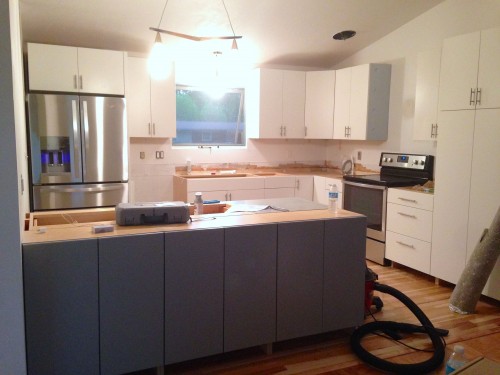 We had the hardest time finding new lights that would fit the style of our home. In the end we decided to keep the original 1962 fixtures and just spray the gold silver. I think they work.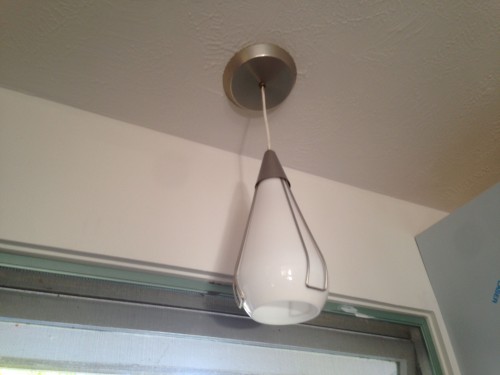 Remember, I was due with baby #4 during this remodel. Chaos, I know. This is what my dining room/living room looked like for most of the month of May.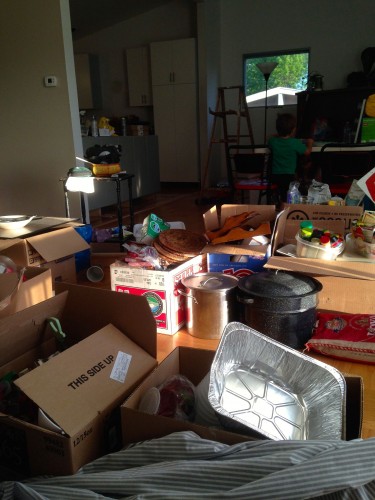 Our countertops came in the following week and we were able to put it back together 11 days before Felix was born. Thank goodness! Now are you ready to see it all finished?!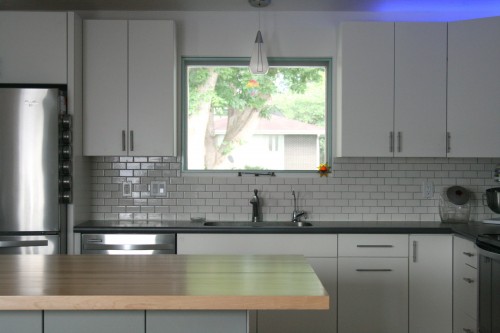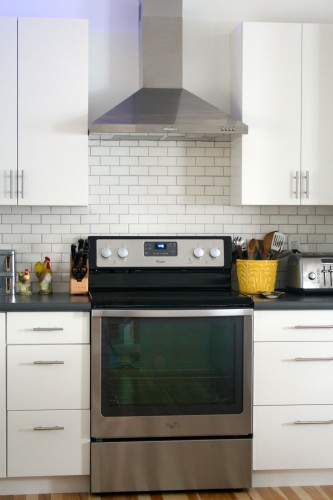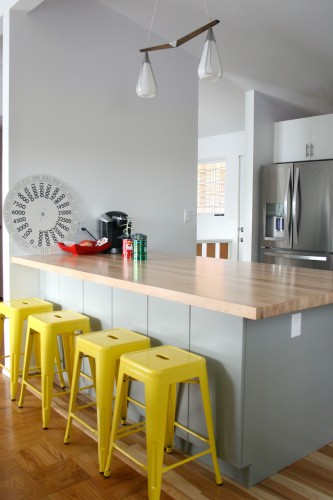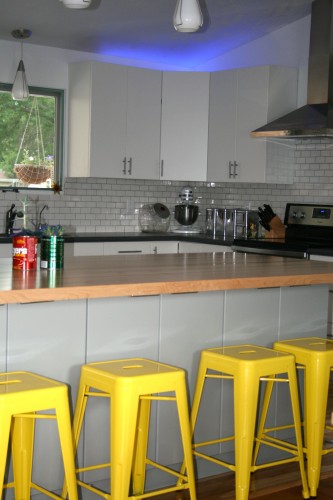 Alex got some fun Hue lights to add to the tops of the cabinets and under the peninsula.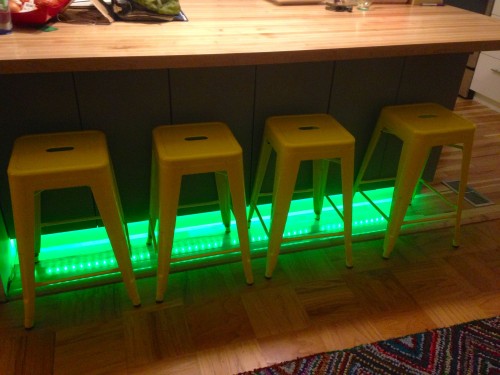 I love it! After cooking and entertaining it in for two months now I can say that I absolutely love it. Thanks to the hard work from my brother, husband, and our dads I was able to have a functioning kitchen after two weekends of hard work.
The lady at Home Depot told me it would take four months of construction to have a new kitchen (if we used their team) well I laugh in her face ha-ha. I am thankful I have a super skilled, hardworking brother to lead our remodeling team.
Here are some of the details:
Cabinets: Cabinet Factory Outlet (Holiday Kitchens, Slab style door in white Thermafoil, peninsula cabinets are Slab style door painted gray)
Hardware: Liberty Stainless Steel Pulls
Tile backsplash: 2×4 Subway Tile  and Delorean Gray grout
Countertop: Â Formica Laminate in Storm Solidz
Butcher Block Peninsula Top: John Boos
Flooring: Â 2-1/4″ Natural Hickory Hardwood by Bellawood from Lumber Liquidators
Stools: Tabouret Metal Counter Stools from Overstock.com
Appliances are all Whirlpool Stainless Steel (I can give specifics if you want)
Above counter and below peninsula lights: Phillips Friends of Hue Lightstrips
Sink: Extra large, undermount, single bowl Karran Edge Stainless Steel sink
Dining Table: Norden Extendable Table from Ikea (seats 10+)
We opted to put our microwave in our peninsula. I am so glad we did. It is so great to not have a giant ugly microwave taking up counter space or in my line of site.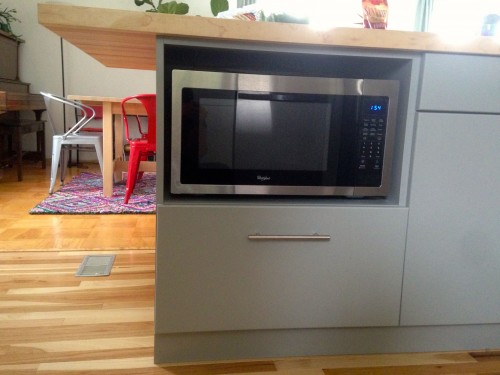 The giant drawer under the microwave has all the plastic kiddie dinner ware and lunch box stuff. Which is perfect because Kasper can easily unload his stuff from the dishwasher.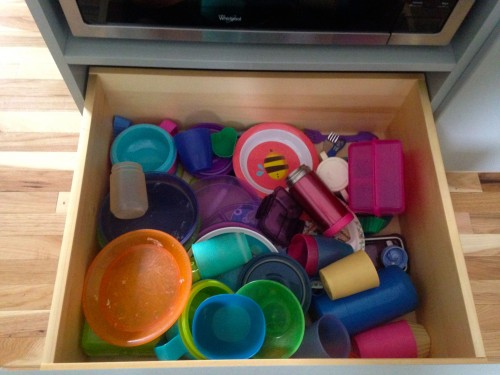 We also opted to skip the lazy-susan in our corner cabinet. This is perfect for me because I can stack up my pans and organize them how I use them.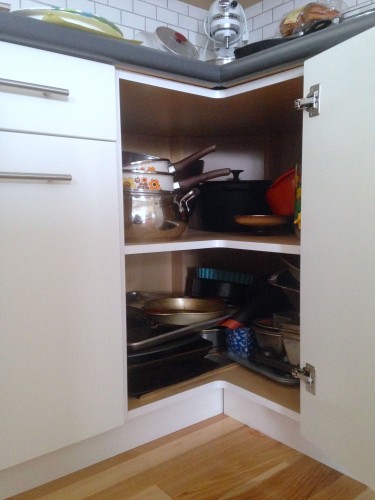 Another favorite is my decision to put cabinets on both sides of the peninsula. The dining room side cabinets are shallow, only 12″, but they are perfect to store so much stuff. No more running downstairs to grab extra glasses or plates when I have a dinner party.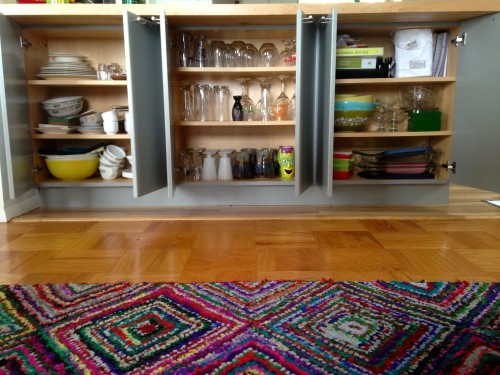 Two more bonus shots off my very open living/dining/kitchen area. View from the living room.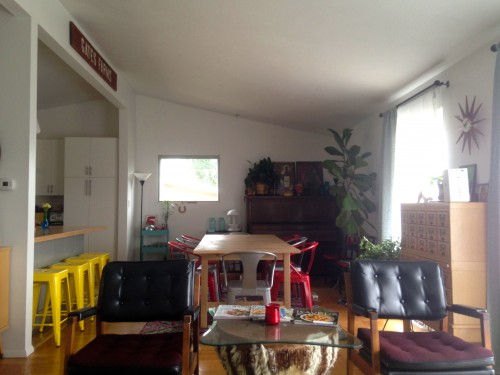 View from dining room. We are still on the hunt for a dining room light. Do you have a suggestion?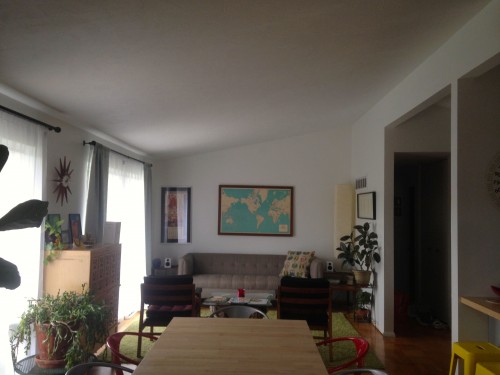 And lastly a few fun things that make me happy to when I see them.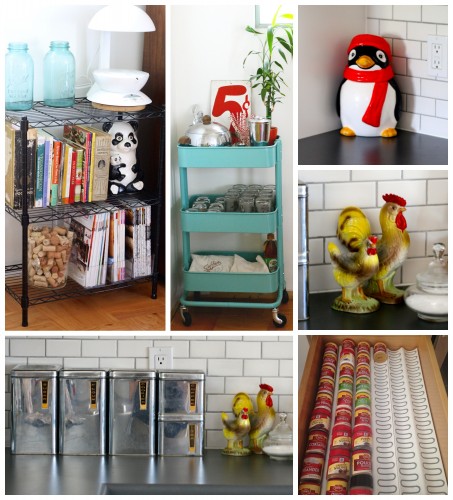 1. Â My wire shelf holding some vintage Ball jars, my AeroGarden, cookbooks, panda bear cookie jar, bucket of wine corks, and cooking magazines
2.  My Ikea Kitchen cart holding some vintage bar supplies
3. Â Penguin cookie jar holding beer koozies
4. Â My great grandma's chickens
5. Â My drawer with Ikea Variera spice jar inserts
6. Â My husband's grandmother's vintage tins
I hope you have enjoyed taking a look at my new kitchen. If you have any questions leave them below in the comments and I will do my best to answer!
Cheers!