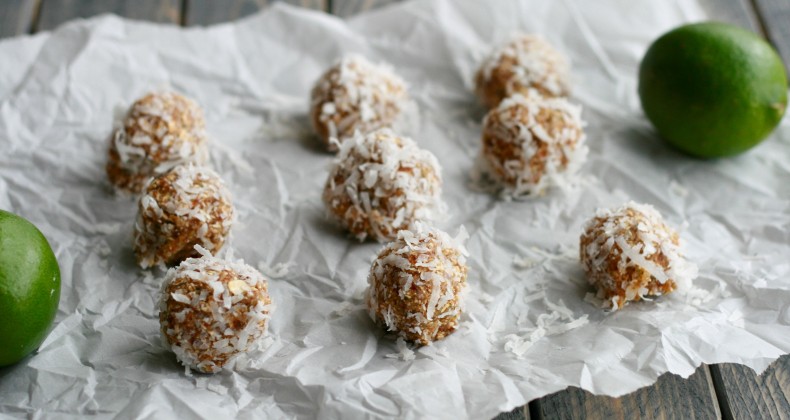 Busy? Who isn't these days? As a busy mother of four young kiddos I know how handy it is to have something to snack on that provides an energy boost, tastes good, and can be eaten with one hand.
It would be slightly embarrassing to tell you how many times I have dropped food on my baby's head while nursing him or carrying him in the Ergo. There may or may not have been a ramen incident last fall.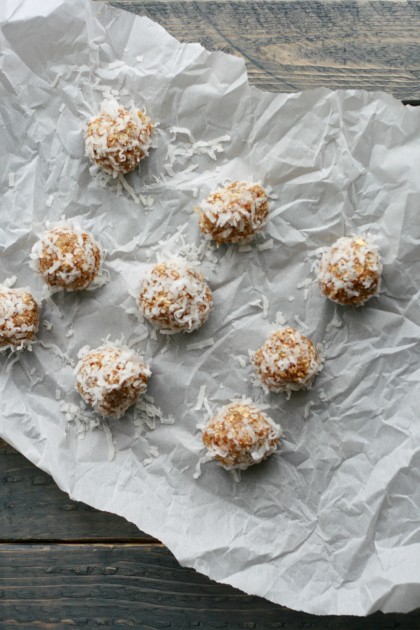 These Coconut Energy Bites can be enjoyed without incident. They are easy enough to eat with one hand while you're busy snuggling a wee baby with the other. No baby? No worries just grab two energy bites — one for each hand!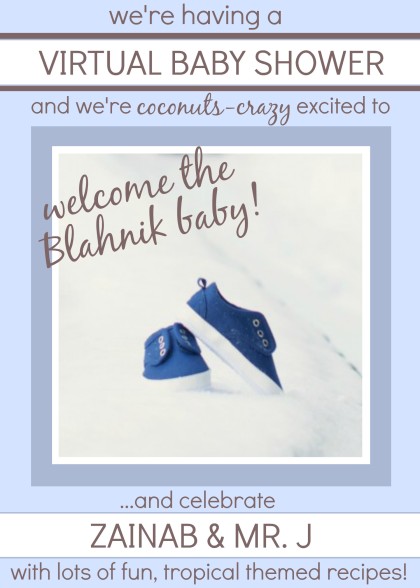 This recipe was created in honor of Zainab for her virtual baby shower. It has been fun watching Zainab create decadent desserts over the last few years. One thing is for certain Zainab LOVES coconut and all things tropical. I can't wait for the Blahnik baby's arrival. I am hoping baby will be born on August 3 so he will share a birthday with my son Kasper. 🙂
These (lime) zesty and coconut bites are filled with lime zest, lime juice, and rolled in coconut. They pack the perfect tropical punch. A bonus is they also contain rolled oats which are good for nursing mamas. What's not to love?
Congratulations Zainab & Mr. J!
Here is a list of other bloggers honoring Zainab with a ton of mouthwatering sweet & savory tropical themed recipes. Stop over and say "hi".
Blackberry Coconut Cupcakes, by Baking a Moment
Blueberry Coconut Meusli Bars, by The Spiffy Cookie
Blueberry-Ginger Coconut Cheesecake Popsicles, by Floating Kitchen
Caramel Coconut Cluster Bars, by Eats Well with Others
Chocolate Coconut Cake, by Brunch with Joy
Coconut Breakfast Pudding with Sauteed Nectarines, by Cooking and Beer
Coconut Cake, by I am Baker
Coconut Cream Pie Ice Cream, by The Recipe Rebel
Coconut Energy Bites, by The Kitchenarium
Coconut Key Lime Angel Food Cake Roll, by Flavor the Moments
Coconut Key Lime Pie Cookie Bars, by Two in the Kitchen
Coconut Key Lime Macarons, by Life Made Sweeter
Coconut, Lime, and White Chocolate Milkshake, by A Clean Bake
Coconut Pineapple Banana Smoothie, by The Bitter Side of Sweet
Coconut Pineapple Fried Rice with Shrimp, by Healthy Nibbles and Bits
Coconut Sweet Potato Muffins, by Luci's Morsels
Double Chocolate Chip Cookies with Toasted Coconut, by The Cooking Actress
Key Lime Coconut Button Sandwich Cookies, by Culinary Concoctions by Peabody
Key Lime Coconut Pound Cake, by Grandbaby Cakes
Lavender Coconut Macarons, by Broma Bakery
Macaroon Tarts with Ginger Coconut Whipped Cream and Pineapple, by A Cookie Named Desire
Mango Coconut Donuts, by Chez Catey Lou
Mango Coconut Smoothie, by Jessica in the Kitchen
Mango Summer Cake, by Keep it Sweet Desserts
Mini Coconut Cream Pies, by Hip Foodie Mom
Pina Colada Pie, by Life, Love, and Sugar
Skinny Blueberry Lime Scones, by Club Narwhal
Spiced Lentils with Toasted Coconut, by This Gal Cooks
Toasted Coconut Banana Meringue Pie, by The Sweet {Tooth} Life
Triple Coconut Rum Layer Cake, by bethcakes
Tropical Pineapple Coconut Sangria, by Shared Appetite
White Chocolate Coconut Key Lime Cookies, by Culinary Couture