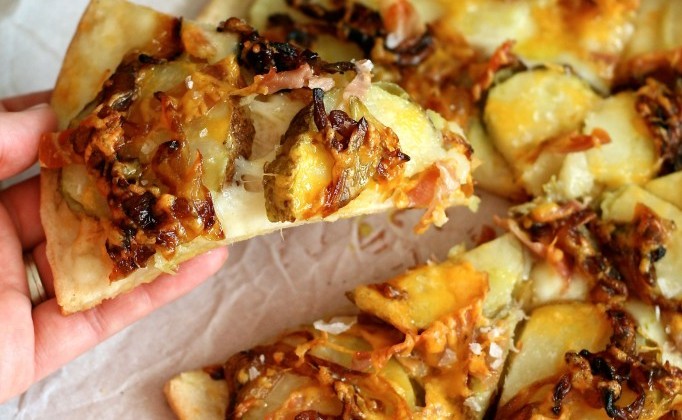 Prosciutto Potato Pizza with Caramelized Onions
I have died and gone to carbohydrate heaven. This pizza was superb. There are times when we are sitting around the dinner table and I look over at my husband and tell him that I really don't want to toot my own horn, but….."toot, toot". Delicious dinners should be celebrated I think. This Prosciutto Potato Pizza is something I would serve to guests without a doubt. In fact, as soon as my kitchen remodel is done I might have to have a pizza party with this pie on the menu.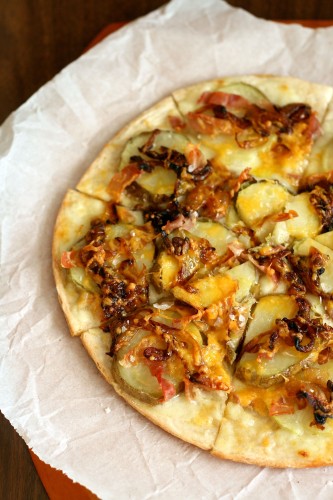 This pizza combines some of my favorites. Baked potatoes, prosciutto, and caramelized onions. Don't you just love those ingredients too? Caramelized onions are divine. They are so sweet and wonderful. I actually have been known to eat them by the fork full straight out of the pan. The only downside to caramelized onions is that they take time to make. If you see a recipe that says you can have caramelized onions in 20 minutes they are a bunch of lying liars. I have seen so many people claim you can have them that quickly but I have never (ever) had any luck. I usually end up with slightly burnt onions, which I actually like, but I know it isn't everyone's cup of tea.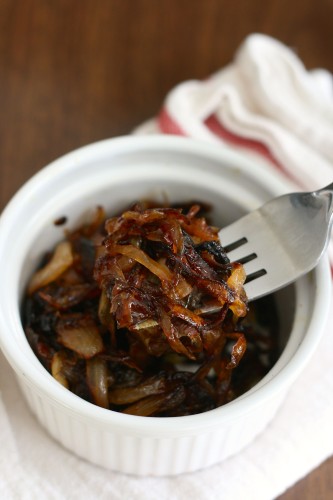 Perfection cannot and should not be rushed. Plan to spend about an hour cooking them and gently coaxing out the sweet oniony sugars. Patience pays off here folks. Since they cook down so much you will need lots of onions to start off. I zip mine through my food processor to slice them uniformly thin.
You can eat them plain, put them on eggs, stir into a dip, serve with a steak, or on a pizza like I did. The options are scrumptious and endless. How do you like to use caramelized onions?
This pizza is topped with a thinly sliced leftover baked potato. No baked potatoes on hand? No worries! Wash up a potato then give it a few therapeutic stabs with a knife. Pop it in the microwave for 5-7 minutes (depending on the size of your spud) until it slightly gives when squeezed.
The pizza crust is from the frozen section at Trader Joe's. It was really good. The crust is brushed lightly with olive oil, topped with a light sprinkle of mozzarella*, then thinly sliced baked potato, some prosciutto, caramelized onions, cheddar cheese, and is finished with a sprinkle of Maldon sea salt flakes when it comes out of the oven. Mmmmmmm!
Welcome to carbohydrate heaven folks! I think this pizza would pair so well with a glass of red wine which you can be sure I will be trying as soon as this babe is born. Make sure you don't go overboard on the cheese with this pizza. Usually I would say pile it on high but in this case, it is all about the potatoes, prosciutto, and onions. Let them have their moment in the spotlight.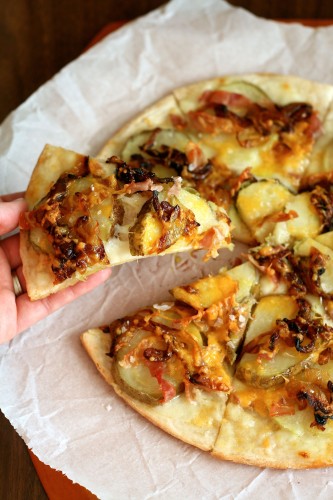 What is your favorite pizza topping?