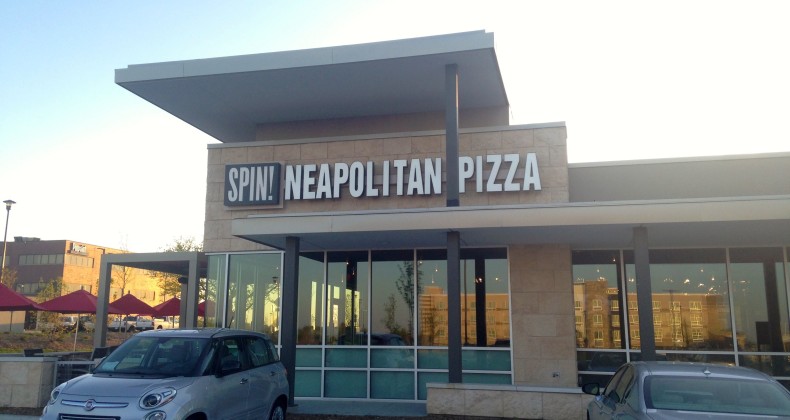 Omaha Eats: SPIN! Neapolitan Pizza
The wonderful guys at SPIN! Neapolitan Pizza invited a group of Omaha bloggers to a pizza tasting the other night. Tasting a bunch of different pizzas and getting to meet local bloggers? YES PLEASE!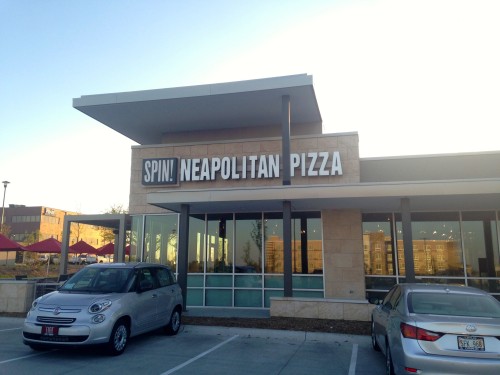 SPIN! started in 2005 in Kansas City with the Papillion location (just south of Omaha) opening in October 2014. With so many new restaurants opening up across the city you may have missed it. That's ok because May 7  from 4-6 pm they are having their official ribbon cutting and Open House. You won't want to miss it!
Why SPIN? The founders liked to ride bicycles and "to ride" in Italian translates to "giro" which means spin. Spinning bikes, spinning pizzas, well it just works!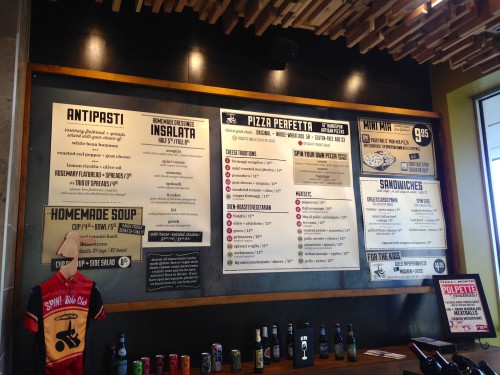 SPIN! falls into the category of "fast casual" dining. You are greeted with a giant menu board when you walk in. You walk up to the counter, order, get your 2×4 with a number on it, find a table, and your food will be brought to you by a super friendly member of the wait staff.
If giant menu boards make you anxious (like me) I'd recommend peeping the menu online before you go.
This would be a great lunch option if you're in the area. They are shooting for 7 minute wait time from order to eating. At dinner their wait time is about 12 minutes. Damn fast!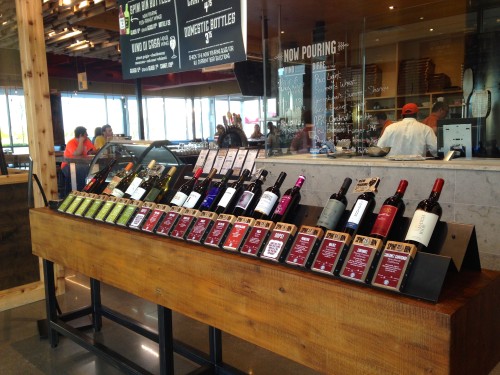 So many wine options!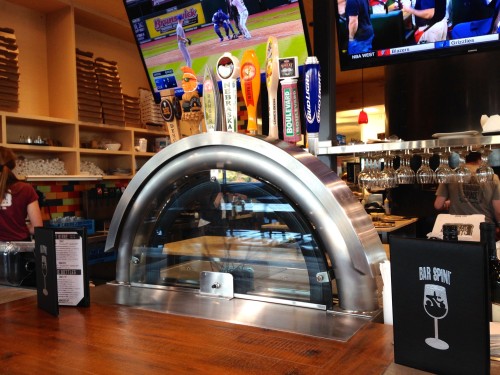 and cold beer! With local Nebraska Brewing Company beers served too.
Loosen your belt because here comes the food!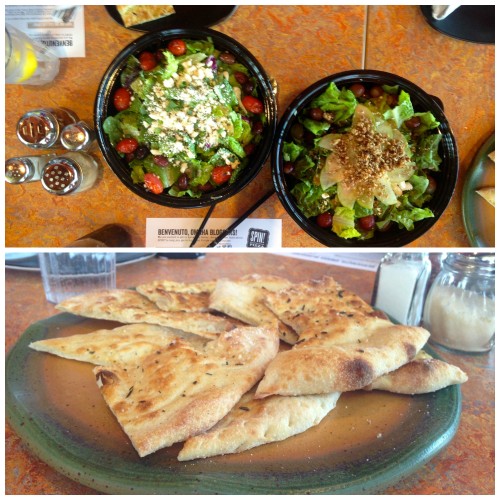 We were served three of their salad options Greek, Sonoma, (both pictured above), and Caesar. They make all their dressings in house and you can tell because the flavor is off the charts. The Caesar dressing was perfectly salty and slightly fishy. It was the BEST Caesar dressing I have ever tasted. I HIGHLY RECOMMEND you order the Caesar!
You can order flatbreads + spreads to go with your salad or soup. I wish we could have tried the spreads but the rosemary flatbread on its own was wonderful. Guess who will be making some rosemary flatbread at home to get her fix?! (hint: ME!)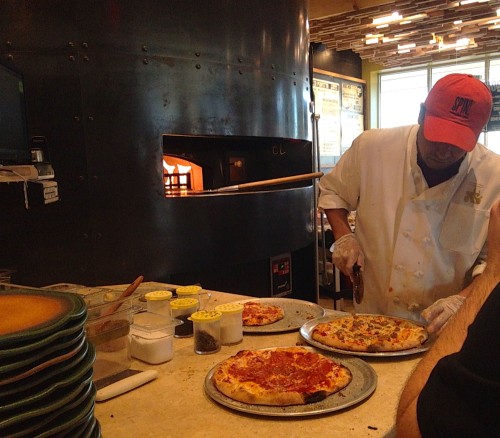 SPIN! cooks their pizzas in a giant round stone oven. That baby gets HOT! and cooks the pizzas in a jiff. Get this, the inside of the oven…. spins! The pizza dough is made daily in small batches so it is always fresh.
The quick cooking stone oven and Neapolitan style pizza crust is a perfect combo. The crust is an important thing to get right and at SPIN! they have nailed it.
It is thin and crispy. Not crispy like a cracker more crispy chewy. So it is thin, crispy, and chewy, which I think is what all pizza crusts should be.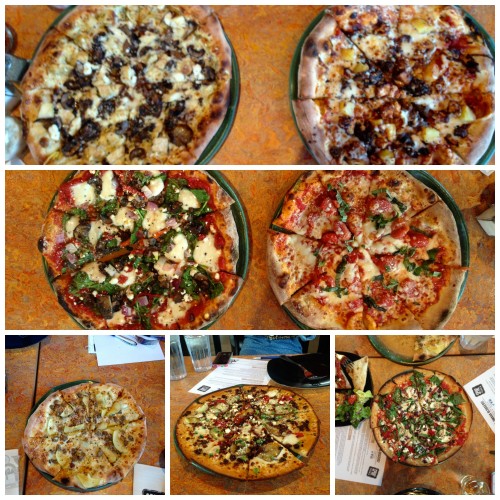 We got to try so many pizzas. The ones in bold I personally tasted
First up Pollo Arrosto + Chevre (Chicken, mushrooms, and goat cheeses) and BBQ di Pollo + Pineapple (BBQ chicken, two barbecue sauces, and pineapple) Â It was both smokey and sweet.
Second Primavera (Roasted Vegetable) and SPIN! Roasted Margherita On the website it says they use fresh mozzarella however ours was served with a SPIN! blend of shredded cheeses. I would have preferred the fresh mozzarella but the roasted tomatoes were a nice spin on the traditional margherita. See what I did there 😉
Lastly: Italian Sausage + Apple, Roasted Potato + Pancetta + Goat Cheese (on gluten free crust), and Greco (on gluten free crust)
My favorite was the Roasted Potato + Pancetta followed by the Italian Sausage. That being said, of all the pizza I tried I would happily gobble up any of them if I *had to* 🙂 The quality of the meat, cheese, and vegetables is fantastic and I am certain you will love SPIN!
You can also SPIN your own pizza variety if you are feeling adventurous.
Gluten free friends they also offer a gluten free crust. It was crispy and paired so well with the roasted potato and pancetta pizza.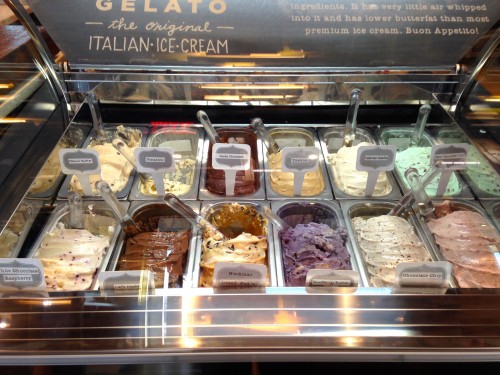 After indulging in all that savory you will need something sweet. SPIN! has you covered. They serve up 12 different types of gelato. They rotate the flavors frequently.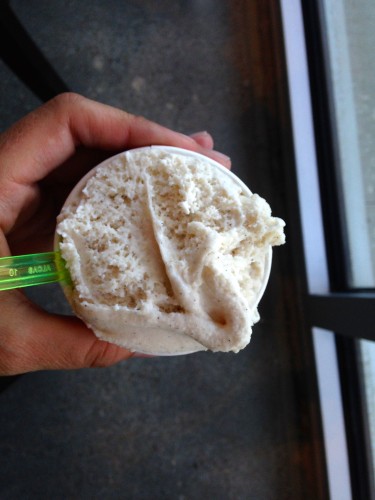 I tried the basic Tahitian Vanilla. Let me tell you it was anything but boring. It was so thick and uber creamy. Basically, like a triple thick milkshake in a little cup. The vanilla was speckled with vanilla bean flecks. I was in love! It was a great way to end a wonderful dining experience.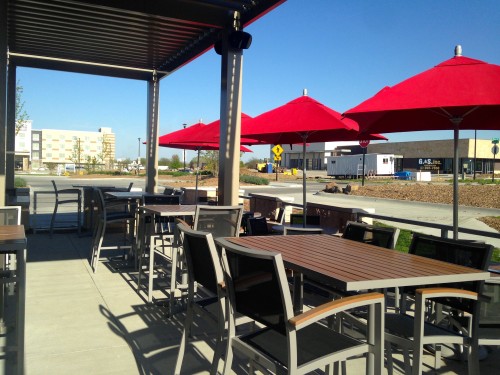 With the weather warming up enjoy cold beers and hot pizza on their patio!
tl;dr
SPIN! is a new fast casual pizza joint in Papillion, NE in Midlands Place (84th and Hwy 370)
*Sun-Thurs 11am-9pm
Fri-Sat 11am-10pm
Sensitive to allergies: offer gluten free crusts and vegan cheese
EVERYTHING is homemade (including soups, dressings, and croutons)
Upcoming events:
OPEN HOUSE is May 7 from 4-6 pm
Wine, pizza, and art on the patio
Pups on the Patio fundraiser for Town and Country Human Society
Soon they will host SPIN! Bike Rides on Tuesdays at 6
GIVEAWAY!!!
One lucky reader will win a $25 gift card to SPIN!
*disclaimer* This post is sponsored by SPIN! all opinions are 100% my own