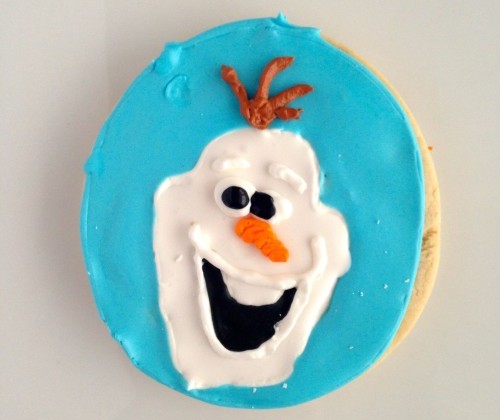 I hope you and yours had a very Happy Thanksgiving. Ours was a wonderful one. My family and Grandparents joined us for my first Thanksgiving. Everything was delicious and I'm certain everyone left with a happy heart and a filled tummy. That was my goal! We then joined my in-laws and spent the day with them on Friday. It was so nice to see everyone.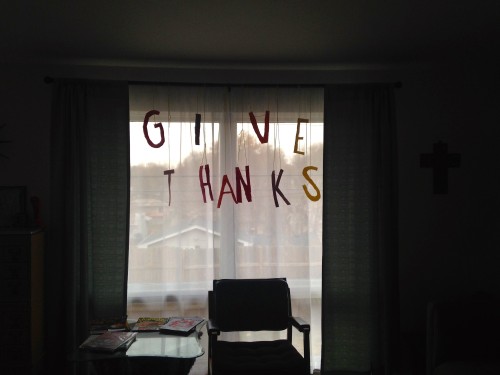 Here is a real life snap of me with my oven roasted turkey. I am tired and sweaty after cooking all day Wednesday and my kitchen is a mess but my heart was happy and I was so proud of my turkey.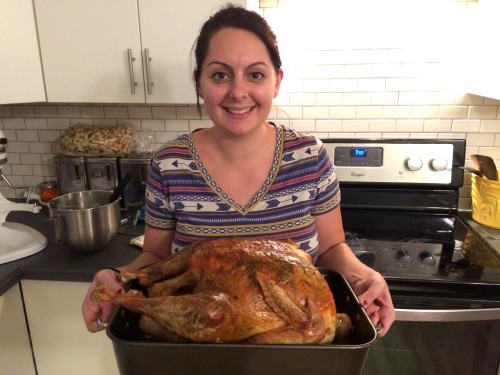 Now that Thanksgiving is over I can start thinking about Christmas. Christmastime is a wonderful time of the year but I won't start thinking about Christmas until Thanksgiving has passed. I hate the holiday creep. It is officially December so that means Christmas cookies!
There is this movie that Disney released about a year ago. It takes place in the winter, everyone seems to be wearing their winter jackets throughout most of the movie, there is even a very cheeky snowman in it by the name of Olaf. This movie is called Frozen in case you haven't heard of it. 😉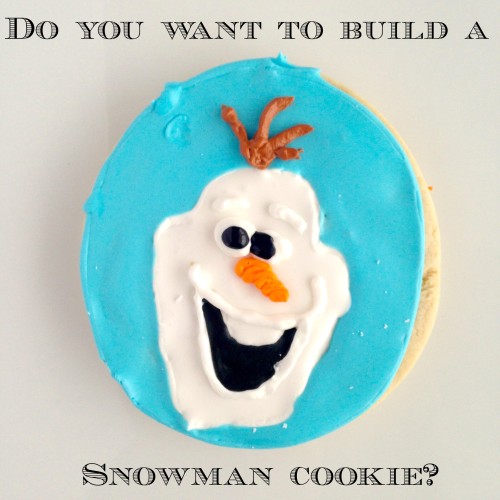 Do you want to build a snowman? I made a batch of these cookies for the school bake sale back in September. Let's just say they lasted as long as a snowman would last in the heat of the summer.

Decorating sugar cookies is so fun. However I am not an expert (sure wish I was though!). Since I am not an artist and could not trust myself to freehand a snowman that would resemble Olaf I went to the internet for help. I found a coloring page image of Olaf, printed it out, and cut off his head. I only had room on my cookies for the head.
Place the cut out on top of your cookie, using a toothpick dot around the features so you can trace them with the icing, lastly I traced the outside of the head and mouth and the outside of the cookie with icing first. Letting that harden before flooding it in. They were so fun to make and my girls loved the snowman surprise when they got home from school.
Making the icing has a bit of a learning curve, but don't fret! You can do it! The icing you pipe around the shapes needs to be thicker so it will hold up. The icing you use to flood the shapes will be thinner but not thin. Think like syrup or honey. It will spread out slowly. I have linked below to a very helpful tutorial about decorating.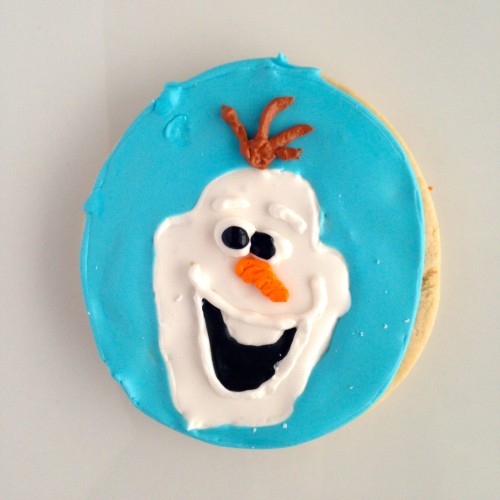 My favorite products to make this recipe easier: