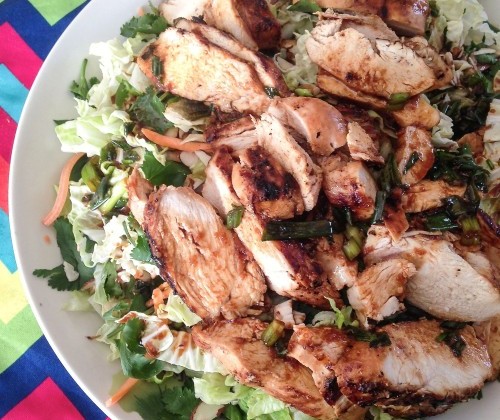 Spring is a season of renewal and growth. It is where we dust of the cobwebs of winter. We trade in our heavy jackets for hoodie sweatshirts, our casseroles for sandwiches, our heavy soups and stews for light and fresh salads. I love this season of change. I shared with you last week about my love for salads as the main course. This napa cabbage salad works as a wonderful side dish to compliment your dinner or it will stand up and be the main entree if that is what you ask of it. Versatile. I served it to my family as dinner one night and then mixed up another batch (without the chicken) to bring to a cookout last week. Same salad twice in one week.
Lately I have been loving making my own vinaigrettes. It is so easy and fun mixing up custom flavors to compliment whatever type of salad I am serving. A little oil + a little vinegar + some herbs, spices, or seasonings all tossed into a jelly jar, give it a quick shake and you have yourself a tasty vinaigrette or marinade. Easy peasy!
Some of this vinaigrette was used as a marinade for a few chicken breasts that I served on the salad. The ginger and soy flavors came through in the chicken. It was so tasty. I had two heaping bowls of salad for dinner and I may or may not have licked my bowl clean. This might be the best salad ever. Ever! It will be served many times this summer I have no doubt about that.