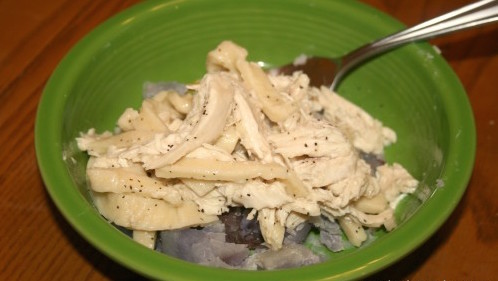 Homemade Noodles with Chicken
The holidays tend to be a time overflowing with traditions. May that be a specific meal or dessert your family serves or a specific place your family always gathers. For my husband's family homemade noodles with chicken over boiled potatoes on Christmas Eve at his mom and dad's is a tradition we all look forward to. My mother-in-law makes the most delicious homemade noodles with chicken. While sitting at the table on Christmas Eve, I realized I had never attempted this dish before. After my husband made a comment about how it was too bad that we only eat this meal once a year, I knew I had to try to make it at home.
The temperature here in Omaha has been several degrees below zero for what seems like the past month, with last week finally giving us a must needed reprieve with temperatures near the freezing mark. With all this cold weather I figured no time like the present to try to make this dish. After shoveling snow (and giving myself a fat lip with the shovel handle) I knew that homemade noodles with chicken would be the perfect meal to warm me up.
I am warning you that this isn't an impulse dish. After the noodles are rolled and cut, they need to dry for two hours, so plan accordingly. I have made homemade egg noodles in the past, using my Great Grandma Dorothy's recipe. When making the noodles this time I had forgot all about her recipe and used one from an old cookbook (which I will post about later since after googling it I learned it is worth more than the $4 I paid for it at the antique store).
My mother-in-law makes her homemade noodles with chicken using chicken broth to add moisture. I used boneless/skinless chicken breasts, which I thought were slightly dry. I thought the noodles and chicken needed something a little more substantial than broth to bring it together; so I mixed up a little chicken gravy and added it to the dish. It brought it together nicely. This dish was very warm and comforting on cold Nebraska night.