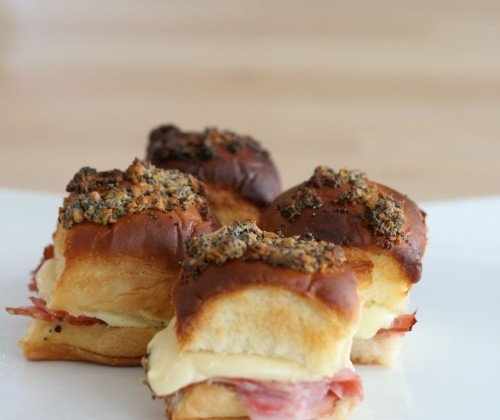 Hawaiian Ham and Cheese Sliders
We are all friends here, right? So I am going to be honest with you, since having Felix it has been hard getting back into the swing of recipe writing and posting. I mean I have many new recipes to share with you. They are even photographed. The problem is finding the time (and energy) to edit photos and write up posts. BUT I am determined to get back into the swing of things because I miss you and I miss sharing food with you.
Last month on my Facebook page Mary asked for this recipe. I love taking requests. In fact making people something that I know they will like makes me the happiest. I set off to work in the kitchen right away whipping up these sandwiches. Today I am finally sharing them with you!
Have you seen those Kings Hawaiian rolls in the grocery store? They are the ones in the orange packaging. The slightly sweet roll pairs so well with the salty ham. Traditionally they are made with Swiss cheese but I made half my sliders with havarti cheese which melts really well and isn't as strongly flavored as Swiss.
What takes these baked ham and cheese sliders from ordinary to extraordinary is the oniony-poppy seed mixture that gets poured on top before baking. It is to die for.
Do you have any recipe requests for me? Leave me a comment below or head over to my Facebook page and let me know!