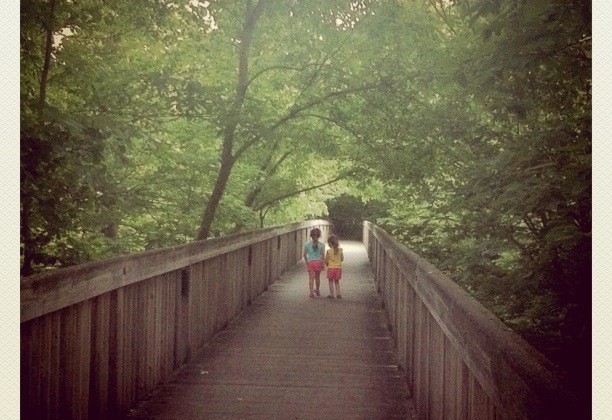 Goodbye 2011 and Hello 2012! part 1
Once again we are gearing up to ring in another new year. It hardly seems possible. Looking back on 2011 it seems like a blur. I remember when I was little 365 days seemed like a long long time. Now days I blink and a year seems to have flown by. Crazy!
2011 was a great year. The highlights reel:
At the beginning part of the year we became a minivan family. I never saw myself as a minivan Mom, but with baby #3 on the way, there was no way another car seat was going to fit into our Honda Civic. After getting rear-ended and totaling our minivan we quickly replaced it with another minivan. Seeing how well the van took the impact and protected my children, I will gladly be called a minivan mom.
At the beginning of May I did some recipe development for Diabetic Living. I wrote six slow cooker soup recipes for a bookzine they released. It was so much fun writing and testing recipes for them.
In June we took our new to us minivan on a family vacation to Lied Lodge in Nebraska City –very, very beautiful! And then headed a little further south to Kansas City where we took the girls to their first baseball game. It was a wonderful time.
During July we had unbelievably hot temperatures. Several days in a row the thermometer reached 100+ degrees F with heat indices in the 105-110 range. Being 9 months pregnant it was incredibly hot!
Finally 10 days after his due date our baby boy arrived -I just new I was going to have an August baby! A week and half after Kasper's birth Sasha started kindergarten and I began packing cold lunches (I packed 78 lunches the first semester!).
The last few months have been full of traveling to see family.
Last year's resolutions:
My biggest resolution last year was to not eat at McDonald's. I went all the way until June before I broke this one. We were traveling and Mc Donald's was right off the interstate (damn them!). I had McDonald's a total of 3 times this year, all while traveling, so I think I did pretty darn good.
FOOD GOALS 2011
Bake more bread (FAIL My bread maker died and I don't have a dough hook for my mixer so I didn't make very much bread this year. It will go on my 2012 goal list)
Make delicious flour tortillas (I did this a few times and they were good!)
Master naan (FAIL)
Have a freezer stash of stock (No stash, but I did make stock several times over the year)
Make jam/jelly (Canned my first strawberry jam during the summer. I am looking forward to more jelly/jam making in 2012)
Try canning (Canned only jam. Husband bought  me canning supplies for my birthday, I'm hoping to give them a good workout summer of 2012)
Make my own sourdough (Tried a couple times but never followed through)
Figure out how to make a good dal & saag (FAIL)
Make cheese (Made paneer)
Expand the soups in my arsenal (SUCCESS! I even got paid to do it!)
To cook more from the recipes I have cut out or bookmarked (FAIL)
Come up with a creamy baked macaroni and cheese (FAIL! Anyone know a good creamy baked mac & cheese recipe?)
Make my own pasta (Made egg noodles a few times. Would love to make lasagna and fettucini. A pasta roller would be nice)
Make my own mayonnaise (FAIL my blender broke, but I did get a new one for Christmas so this is going on the 2012 list)
Check back tomorrow for my 2012 plans and resolutions!