Today's post highlights my trip to Savannah, GA with my mother and sisters-in-laws. Get ready for lots of pictures!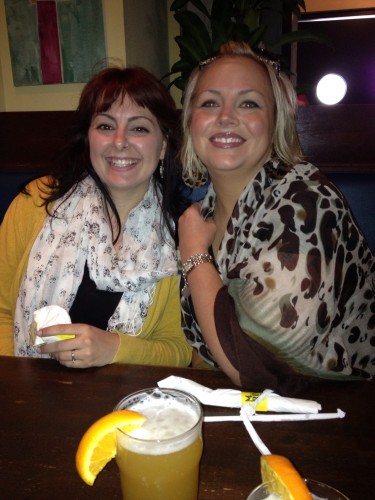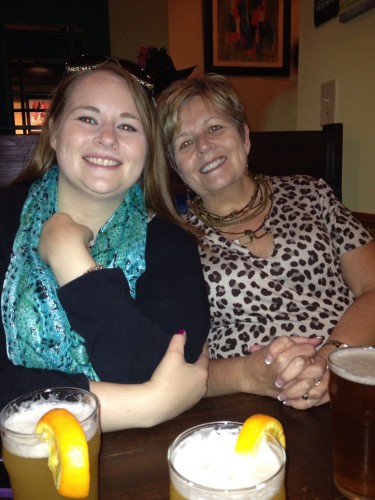 I went to Savannah with my my mother-in-law and sisters-in-law. We met up with my MIL's best friends from high school and their daughters. It was so nice to put faces with names and hear old stories about my mother-in-law when she was just a girl. Shhhhh I will never tell 😉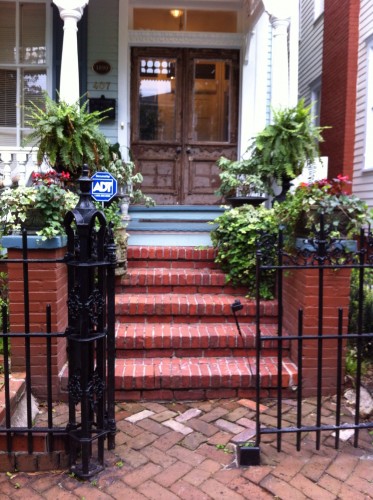 This was our weekend house. Right in the historic district. Which made it very convient to walk to the river. It was built in 1890 and is cute as a button. The inside was elaborately decorated.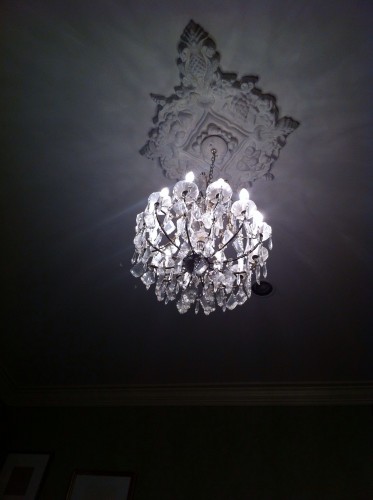 A chandelier in almost every room –including the restrooms.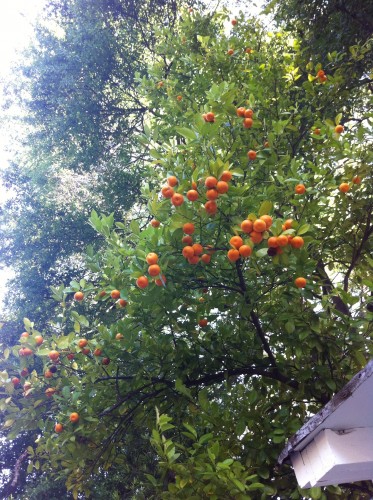 There was even a kumquat tree in the back.
Savannah is a beautiful city rich in history. I really want to go back and spend more time there.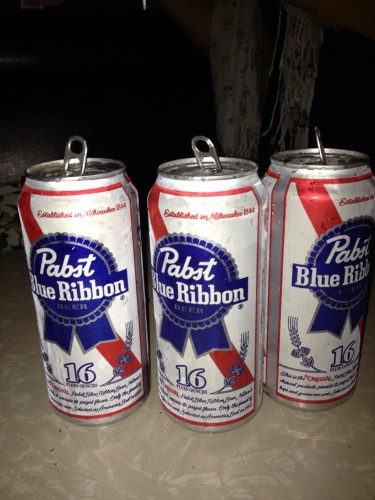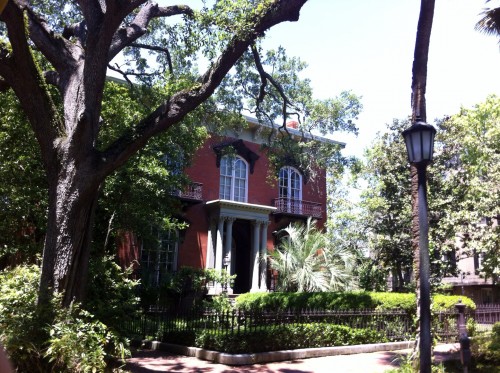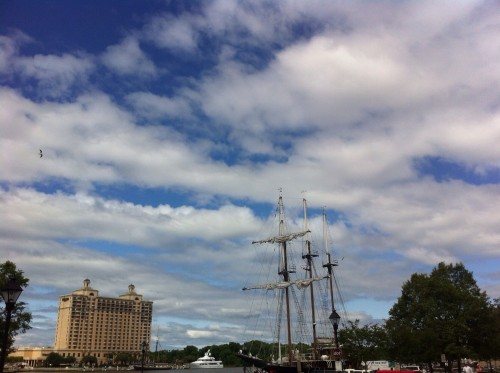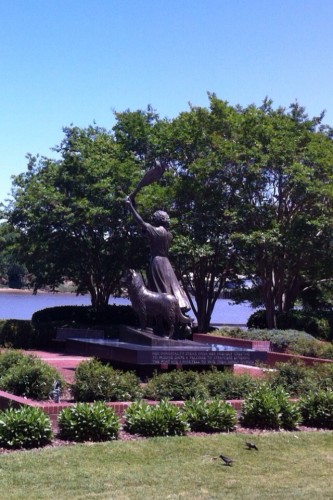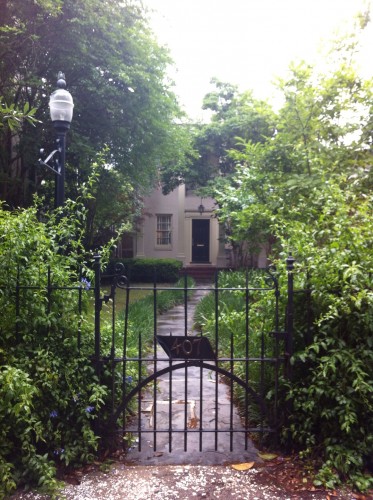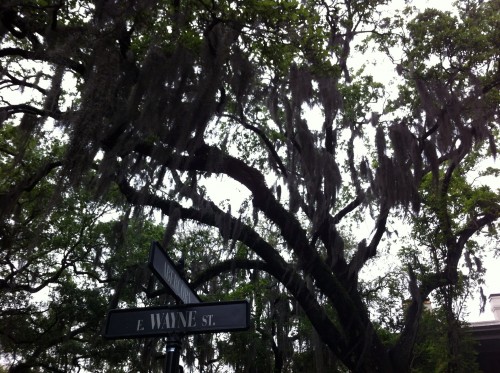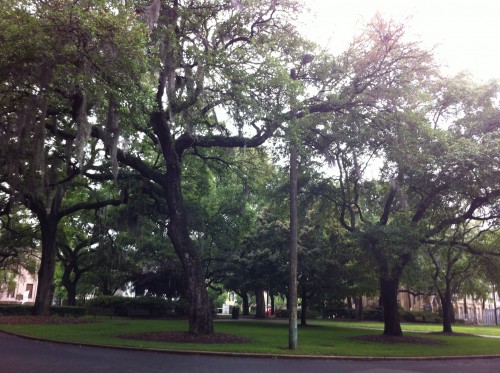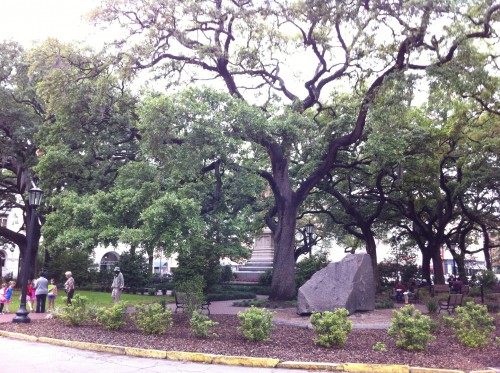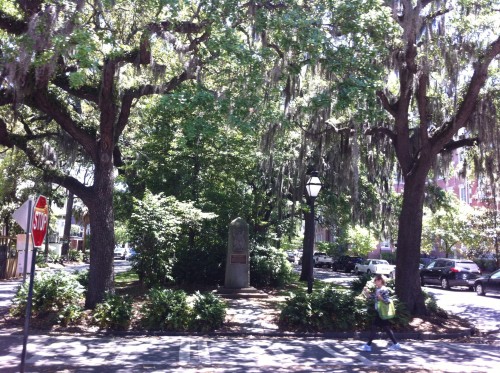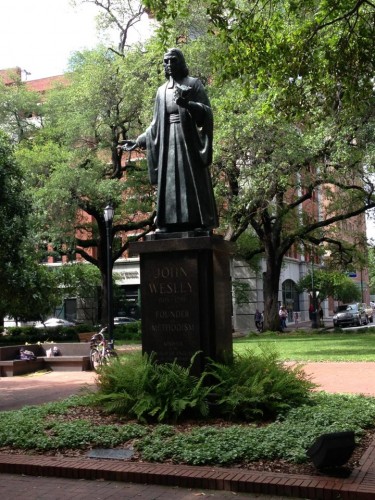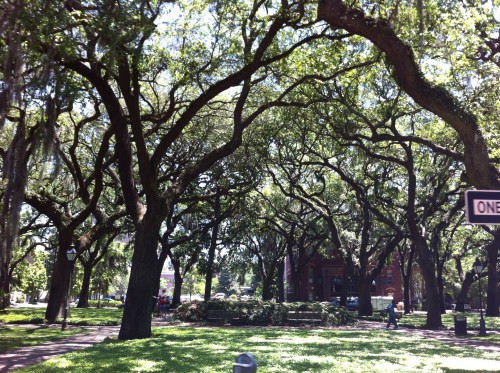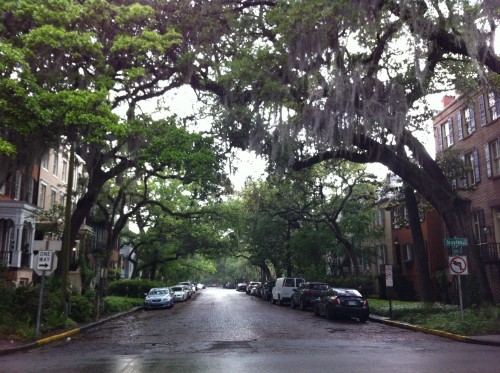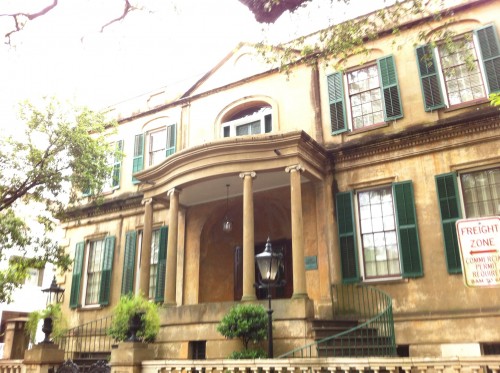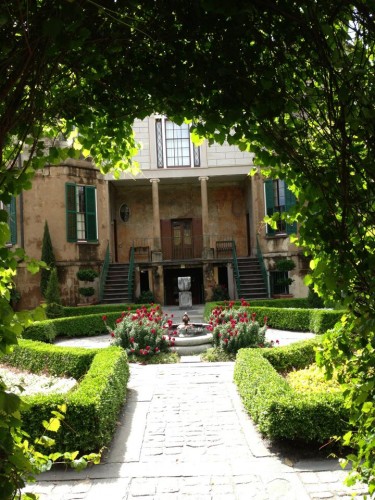 We walked through Colonial Park Cemetery. It was started around 1750 with the last burials taking place in the 1850s. If I heard our tour guide correctly almost 8,000 are buried here, many victims of the yellow fever are also buried here. There are so many large monuments and tombs in this cemetery. I loved looking at the inscriptions on the grave stones.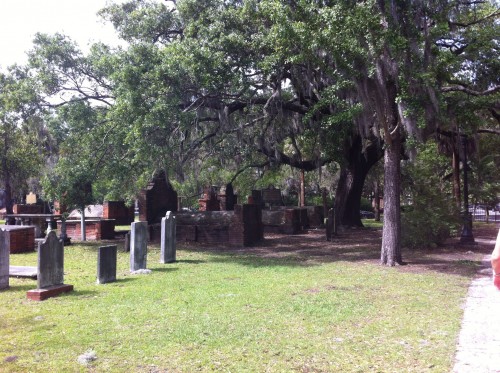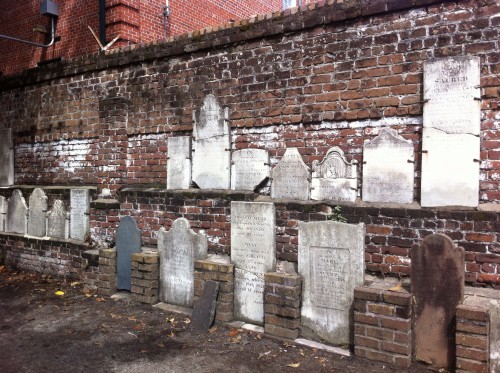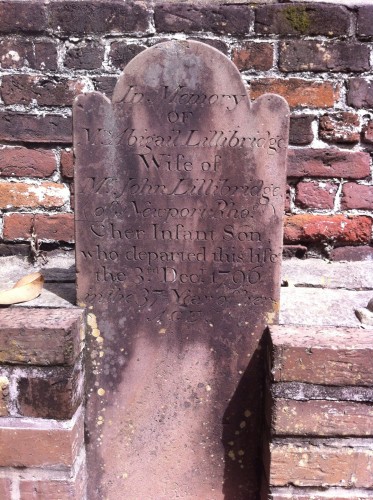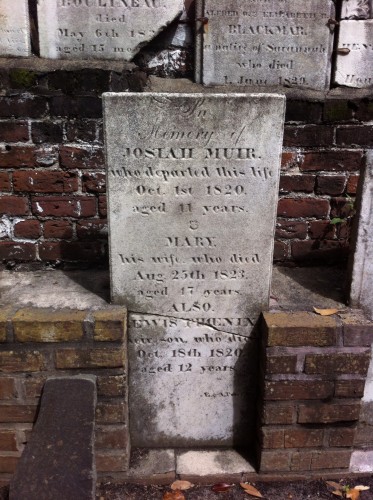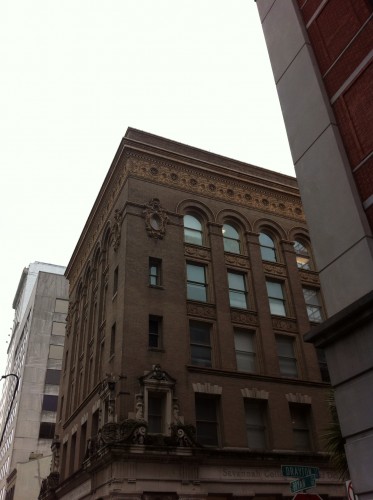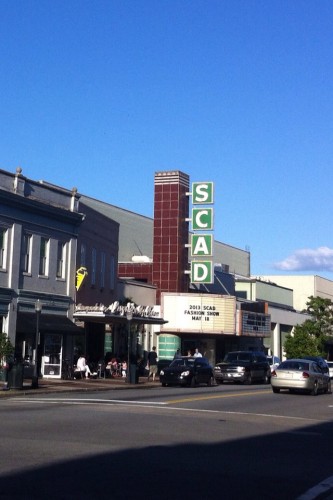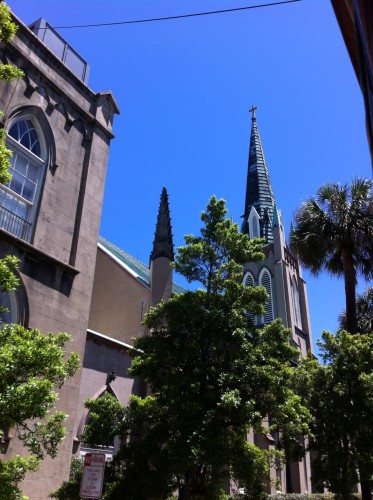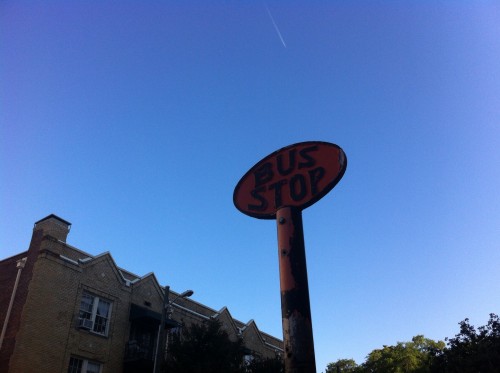 Go visit! It is a beautiful city. Go on a bus tour first thing when you arrive. We went on a bus tour and a horse drawn carriage tour. Each of them different and learning so much history from both our tour ladies.
Now most people know Paula Deen has a restaurant in Savannah. The Lady and Sons is her famous restaurant. It is a vacation destination restaurant. People line up down the block to eat here. They wait for hours in the Georgia sun to have a bite of something linked to the famous Paula Deen. So of course we ate there. We made reservations for dinner on Saturday night and didn't have to wait in line in the rain. If you want to eat there I recommend reservations. I am glad we went. Here is a conversation I had with a friend about Paula's restaurant.
I've heard from someone that lived there that it was good when she first opened it up. The more famous she became the worse it became I guess. I was disappointed in the options. No diabetic could eat there without blowing their carbs for the entire day. Which is disappointing since Paula is a diabetic. Even her salads were loaded to the brim with stuff.
Did y'all know that the main thing about Lady and Sons is that it is a buffet?! The buffet ($18) was fried chicken, catfish, roast beef, mashed potatoes, mac-n-cheese, green beans, black eyed peas, collard greens, yams, and that's about it. You're served a garlic/cheese biscuit (like Red Lobster's) and a griddle cake. Dessert options were banana pudding, gooey butter cake, and peach cobbler. You can order off a small menu with prices starting at $20.
We dressed up all fancy but many of the people were in sweat pants. Can you blame them though, they were eating at a buffet and probably wanted to make the most of their $18.
Cracker Barrel has better southern food than she did. She is running her restaurant on her name and her name only –the food is meh at best. There were a few from our group that ordered off menu and it took 90 minutes for their food to arrive!! We had 8pm reservations so the restaurant wasn't really overly busy. Not busy enough for a 90 minute wait!
The only reason I would consider it a "destination" restaurant is because of the following conversation:
A: You went to Savannah?
B: Ya
A: Did you eat at Paula Deen's restaurant?!
B: Ya
A: How was it?!?!?!
B: Meh
Come on Paula, I expected better from you! I have made several of Paula's recipes and they are delicious. My MIL owns several of Paula's cookbooks and has made her delicious recipes. Paula is a good cook, you just wouldn't have known it by going off her restaurant alone.
I heard that if you are looking for real southern food you need to eat at Mrs. Wilkes. I am so bummed we didn't get to eat there. We had planned to eat there on Friday after we arrived in Savannah but our flight was delayed causing us to miss our connection. So instead of arriving around noon we arrived around 8:30 pm. Our tour guide said before there was Paula there was Mrs. Wilkes. She started serving her southern food in 1943.
So that is my Savannah trip is a nutshell. It was a fun spending all that time with my sisters-in-law and mother-in-law. I hope this is an annual thing 😉
I will be back next week with more recipes! YAY!
Happy Friday everyone! Have a fun and safe weekend.
Also happy mother's day to my mother and mother-in-law.
Love ya!